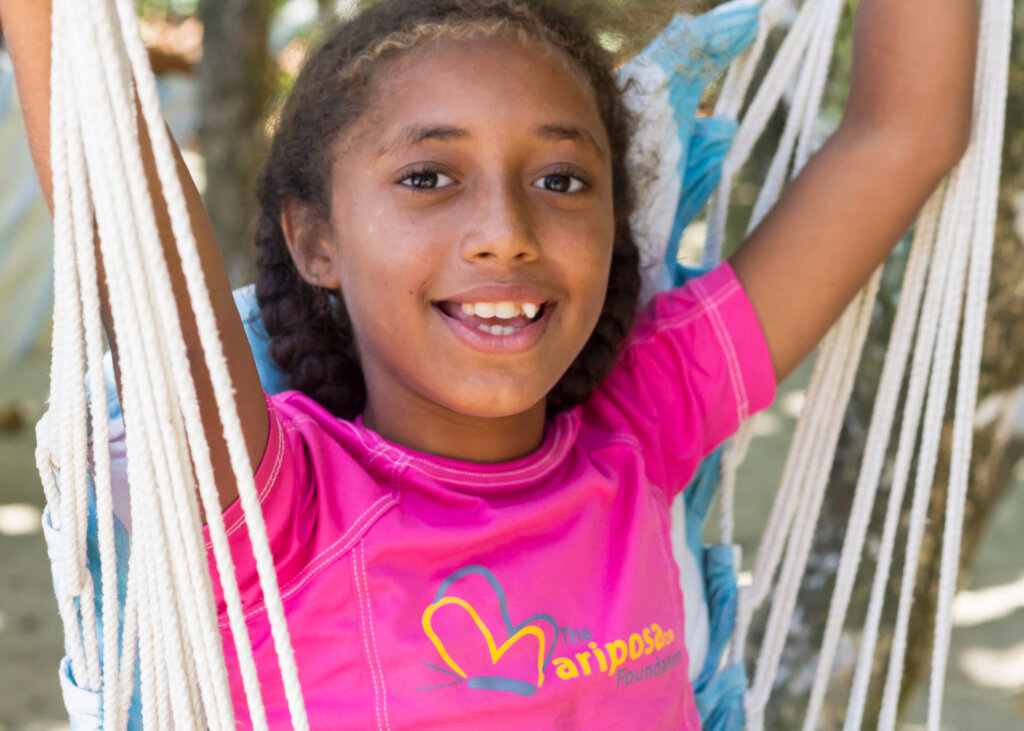 Meet Nicole- a true testament of resiliency, determination, and success. Nicole joined the Mariposa DR Foundation at age 9, ready to take full advantage of everything it had to offer. Now a freshman at Whitman College in the United States, Nicole's journey is an inspiration and an example of what can happen when a young woman is empowered and given opportunities.
Thanks to generous donors like you, many of our girls benefit from educational scholarships to attend local private schools in Cabarete. When Nicole began Mariposa, she was enrolled at Coral where she excelled until she received a scholarship to transfer to ISLA Academy at the age of 15. ISLA Academy is a private, International school in Sosua that offers a high-quality, rigorous, and personalized curriculum taught primarily in English. After graduation from ISLA, Nicole's post-secondary journey took her to United World College (UWC) in Costa Rica. UWC's 18 schools and colleges are set on 4 continents and deliver a challenging and transformational education to over 10,500 students each year. UWC prepared Nicole for university-level curriculum and her continued diligence and work ethic paid off as she is now a four-year Davis Scholarship recipient, covering all expenses for her undergraduate degree from Whitman College in Walla Walla, Washington, USA.
A recent conversation with Nicole gave a glimpse into her life and her admirable educational journey:
What were your most significant challenges while attending school in Cabarete?
The most difficult thing was getting the necessary tools needed to keep up with my tasks and my homework. For example, having a computer or even when I did have a computer, I did not have the internet at my house and it was very difficult to access.
Looking back on your educational journey so far, what are you most proud of?
I am very proud to be able to study what I like. I am also very proud of fulfilling my dream of being able to travel to other countries.
What are the most essential skills you learned at Mariposa that have helped you get where you are now?
I feel that Mariposa always taught me very useful things. Math classes especially helped since this was an area that did not always come easy to me. Developing my writing skills and learning how to construct an essay definitely helped me applying to United World College.
What interested you about United World College and why did you choose to apply?
I was very interested in cultural exchange and I was determined to reach a higher educational level. I knew UWC was an avenue to achieve this goal.
What colleges did you apply to and why did you ultimately choose Whitman College?
In addition to Whitman, I applied to Furman College and College of the Atlantic. I decided on Whitman because of its science program. I also got a very good academic scholarship. AND, my best friend came with me!!
What are you studying at Whitman?
I haven't decided for sure but something related to science- most likely biology. I also like psychology.
What has been your biggest challenge attending a university in the United States?
Adapting to a new culture. The language barrier for sure because my English is still not fully fluent.
What advice would you give one of our current 10-year-old Mariposa girls?
Never give up and keep going. Dreams do come true!
Our donors and volunteers are the backbone of the Mariposa DR Foundation. Opportunities like Nicole's are possible because of the support received. A tremendous thank you, for Unleashing the Leader in our girls, and helping make their dreams come true!