Project Report

| Dec 17, 2019
In Her Own Words: Music, A lot More Than Lyrics and Sounds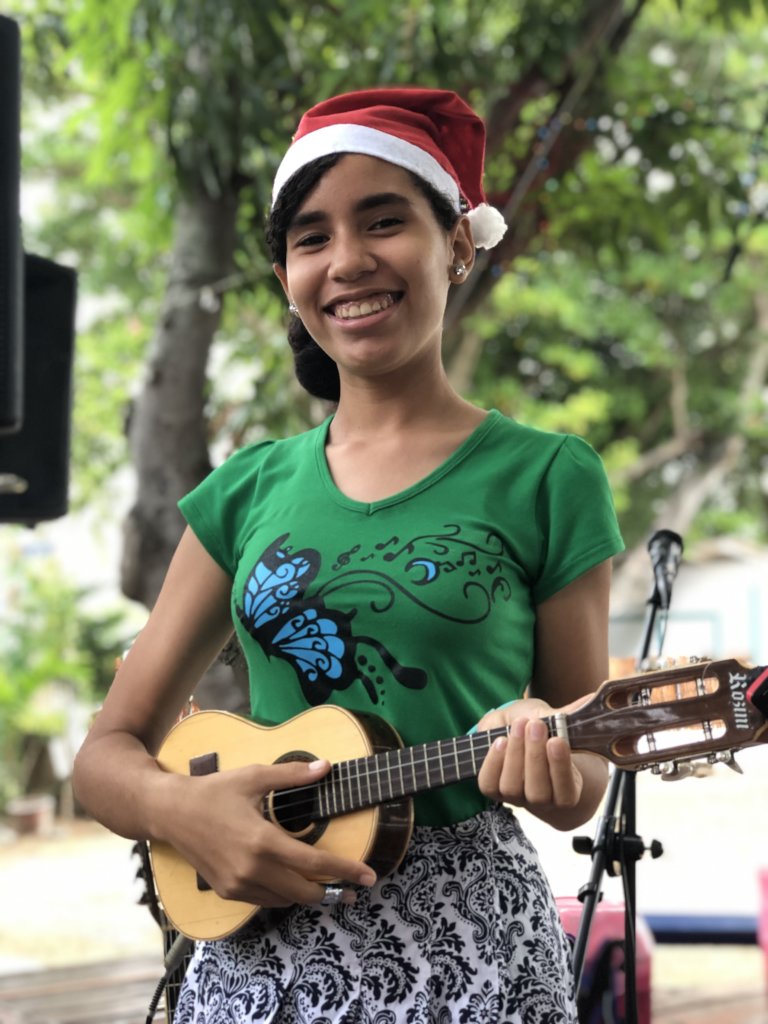 Below is written by Detiny, a Mariposa who is currently in high school and has been in our programs since she was a small girl. Detiny is a superstar at Mariposa. A strong leader, she has incredible academic prowess and is an amazing mentor to the younger Mariposas. From the beginning she has been involved in the music program at the Mariposa Center for Girls and as you'll read below, it has had a big impact on her. We are also impressed with her strong abilities in English, her second language! It is through the generosity of donors like you that we are helping to unleash the leader in a girl.
As long as I can remember, music has always been by my side; no matter if I was happy, sad, or angry. I remember the songs that my father and I used to listen together before he died. It is incredible how music is not only one thing, but how it has a lot of meanings at the same time. Music is memories, moments, feelings, a way to express yourself, a way to communicate, a way to have fun, and a way of life. Music has shaped part of who I am today. It has changed my life, my social environment, and my emotions. What I am trying to say is that music is not just lyrics and sounds; music is the most powerful force in this world!
Feelings are often very complicated, and it is sometimes difficult to explain or know what you feel in certain moments, but fortunately, we have music to help us with this. When we play an instrument, dance, or sing these are often the best ways to express those emotions that are impossible to understand. Even this paragraph would be easier to comprehend if I take my instrument and sing a song about music. Music helps me to communicate each thing that I want to scream to the world, but am unable to. With it, I can tell the world how I am thinking, what do I feel, who I am, and, most importantly, that I have a voice that can be heard. Music helps me open my whole soul, and helps me be myself. When I am on stage playing my ukulele, or playing my piano, or dancing, I show everyone, everything that I have inside me to share. In those moments of nervousness, adrenaline, and passion, the real Detiny comes out to take possession of every single thing.
My social life also has been impacted by music. In my experience at the Mariposa DR Foundation, I have had to socialize with different people around the world, and I had learned one important thing. The best way to make friends is through music because it is that special magical thing that can connect people that don't even speak the same language. A fun group dance, a karaoke of a famous song, or playing instruments together, (even if someone may not know how to play well). This will create unforgetting moments, unforgetting feelings, and unforgetting friends.
At last, music has given me a place in this world! Thanks to music I can have something that makes me unique and equal at the same time. Also, I have something that represents me, and I can say that I am part of. Now, because of music, I have one more magical thing living inside me, one feeling that makes me happier; more hopeful, more joyful, more human. I am a piece of something big that connects me with each person in this world, and I am a piece of one language called music. I am part of playlists, concerts, music videos, musicians, pianists, ukulele players, and I am part of one voice. I have one power, I can be noticed, I can say "I am here".