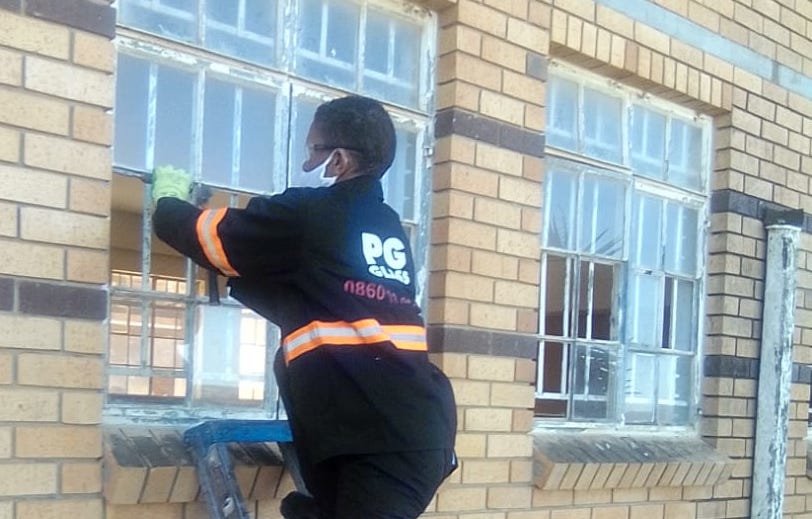 Dear All:
As you well know by now, GlobalGiving asks that we write quarterly reports to update donors about the status of each of our GlobalGiving projects. You're receiving this update because you so generously contributed to our South African Wellness and After School Program at Samkelwe Senior Secondary School.
Despite the brutal impact of COVID-19 around the world, we have managed to carry on with a number of our initiatives in South Africa. During this pandemic, we even "adopted" a fourth school and received its Top 10 wishes for change, and we've been moving through Samkelwe's Top 10 wishes as well. We've just begun wish #7, which is the renovation of all currently used classrooms. I've attached photos of the start of the windows replacement project, which will not only be more aesthetically pleasing, but will also keep students and educators warm during the frigid South African winter; yes, it gets very cold in South Africa.
We've also continued to support Vusumzi Primary School by funding the Computer Lab Coordinator position and by creating and funding a Library Coordinator position. At the same time, we've purchased the school's library software program and continued populating the shelves with books.
The pandemic, however, has slowed the Samkelwe students' use of the Wellness Studio. The government has prevented the choir from singing in enclosed spaces, due to the exhalation during rehearsal, and that decree was issued for other activities, as well, such as dance, yoga, etc. The school is eagerly awaiting the END of COVID, as we all are, so the students may use that space on a regular basis.
So, there is more to come; in the meantime, I thank you for your patience and altruism.
Martha T. Cummings
Universal Promise
Executive Director