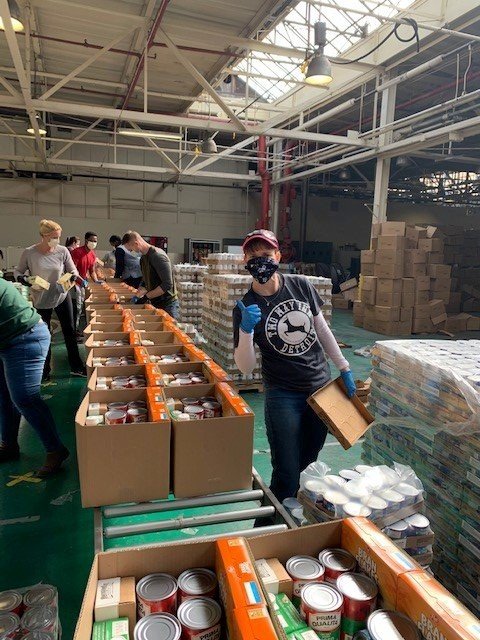 On March 16, United Way for Southeastern Michigan launched the COVID-19 Community Response Fund, a centralized fund to rapidly deploy resources to community-based organizations offering emergency relief to those in need, particularly those serving vulnerable populations, such as seniors, children, and low-income families. Our efforts included:
Operational support to front-line agencies providing essential basic needs services to vulnerable populations during this crisis, so they can continue doing so safely and efficiently.
Enhanced operational grants to organizations providing crucial services on a larger scale across our region.
Support to collaborative, community-wide efforts to respond to the crisis and bolster emergency food, housing, and healthcare efforts.
Operational grants for early childhood providers, particularly the licensed childcare centers serving children of essential employees still reporting to work during the crisis.
Grants to education and youth services providers to continue to provide engagement services and wrap-around supports to students who have had their services disrupted by school closures. This has also included efforts to close the digital divide for students in high-needs districts.
Microgrants, or direct financial support to individuals facing a gap in income to cover urgent, essential expenses, such as rent, food, or utilities. These funds are being distributed by the Family Independence Initiative, in collaboration with local Community Action Agencies.
Good Neighbor mini-grants to grassroots efforts to respond to community needs during this crisis. This includes efforts to distribute quality information, supports for vulnerable groups, and the distribution of other basic needs resources to community members.
The procurement and distribution of Personal Protection Equipment (PPE) to front-line agencies and childcare providers who continue to provide essential services during the crisis.
Results:
Thanks to the support and generosity of donors like you, United Way for Southeastern Michigan's COVID-19 Community Response Fund has awarded 580 grants to nonprofit agencies, childcare centers, community institutions and projects, totaling more than $24.5 million, ensuring that they could continue to provide their critical services to those in need during these unprecedented times.As of July 24, our partners have served 1,682,355 unique individuals in our community and provided more than 8 million meals.
Additional impact highlights:
109,412 individuals received physical health services.
53,489 individuals received behavioral health services.
28,539 students received distance learning services, while another 11,382 individuals received technology to access distance learning.
17,896 individuals received homeless services
As the need for health and human services continued to grow, agencies and institutions found it increasingly difficult to obtain the personal protection equipment (PPE) necessary to protect staff and volunteers on the frontlines. We mobilized a network of partners to coordinate the procurement, storage, and distribution of PPE. We continue to receive generous donations of PPE, funding for logistics and to purchase PPE, and tips on procurement and purchasing for items that are not being donated. As of July 24, we have delivered a total of 207,969 units of PPE to more than 300 sites, including service providers, homeless shelters, school food distribution sites, food pantries, and childcare centers. This included 156,845 disposable masks, 27,000 disposable gloves, 15,726 reusable masks, 6,860 face shields, 1,510 five gallon containers of hand sanitizer, and 29 cases of spray disinfectant.
We have also continued utilize our volunteer portal to connect individuals and groups with both virtual and socially-distanced volunteer opportunities. Opportunities include donating blood, packing and delivering meals to seniors, and tutoring students virtually. Currently, 30 organizations have listed 56 different volunteering opportunities on our portal, including in-kind opportunities. Since the start of the pandemic, over 1,860 community members have registered for volunteer opportunities, providing more than 5,000 hours of service. If you are interested in volunteering, please visit United Way for Southeastern Michigan's volunteer portal here: https://liveunitedsem.galaxydigital.com/.
As we continue to receive reporting from grant recipients, we have developed a dashboard to display the impact of our COVID-19 Community Response Fund in real time. Please visit the dashboard here: https://unitedwaysem.org/covid-19-impact/
We have also captured a number of impact stories related to our COVID-19 response efforts on our website, which can be found here: https://unitedwaysem.org/post_categories/covid-19-response/
Links: