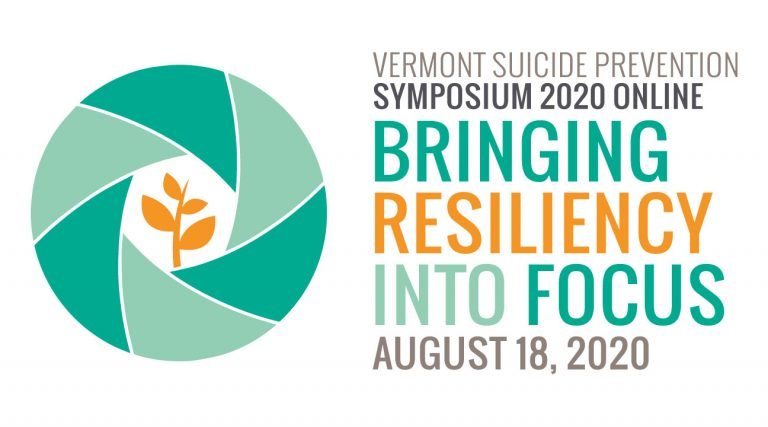 On August 18, 2020, the VT Suicide Prevention Center (VT-SPC), in collaboration with the Center for Health and Learning (CHL), presented the Vermont Suicide Prevention Symposium 2020: Bringing Resilience into Focus. The virtual Symposium was a huge success and attracted over 350 participants from healthcare, social services, mental health, community-based organizations, state agencies, policy makers and people with lived experience.
The goal of the Symposium was to empower and engage community-wide stakeholders in Zero Suicide strategies, evidence-based practices, and lessons learned in the field. By facilitating connections between misuse and suicide prevention stakeholders, it will become easier to advance effective prevention strategies. These connections can create new ways to form innovative collaborations and increase knowledge about risk and protective factors and recommend strategies for working with vulnerable populations. This is especially important in Vermont where suicide rates are higher than the national average.
The Symposium brought together national, regional, and local keynote and workshop presenters covering a wide range of topics including youth, older adults, LGBTQ+, lethal means, law enforcement, veterans, telehealth, peer support, social justice and racial equity. Each speaker shared powerful and compelling stories revolving around their own lived experiences with suicide and mental health and/or professional experience from the field.
Keynote and Workshops presentations at the symposium included:
Widening the Lens: Social Justice and Racial Equity in Suicide Prevention
Away from No way: Every Child Has a Story, Every Story Deserves Heroes
Community Collaboration for Zero Suicide: The Lamoille County Experience
Zero Suicide Pathway to Care - Addressing Challenges for Systems Engagement
Integrating Suicide Focused Care in Primary and Specialty Care
Reframing Resiliency: Doing More and Asking Less Of The LGBTQIA+ Community
Telehealth & Suicide Prevention: Supporting Mental Health Clients Remotely
Lethal Means Safety and Suicide Prevention: New Approaches for Firearm Safe Storage Counseling
Care Transitions: Best Practices, Innovation, and Community-based Connections
Comprehensive Suicide Prevention in K-12 Schools
Strategies for Engaging Students in Success and Building Resilience
The Nature and Roles of Mental Health Peer Support
A Veteran's Perspective on Suicide Survival and Prevention
Drowning while Flying High: When a Leader Struggles with Depression and Suicidal Thoughts
See more of what took place at the Symposium by visiting https://vermontsuicidepreventionsymposium.org/
CHL and the VT-SPC would like to thank our event sponsors, including:
The Vermont Deparment of Mental Health
C&S Grocers
Chroma Technology
The Mental Health Technology Transfer Center
UVM Medical Center
Blue Cross Blue Shield of Vermont
OneCare
North Country Hospital
New England Publlc Health Training Center
Northeast Telehealth Resource Center (NETRC)
Vermont Care Partners
Vermont Department of Health
Invest EAP
NAMI-VT
Mt. Ascutney Hospital and Health Center
Links: