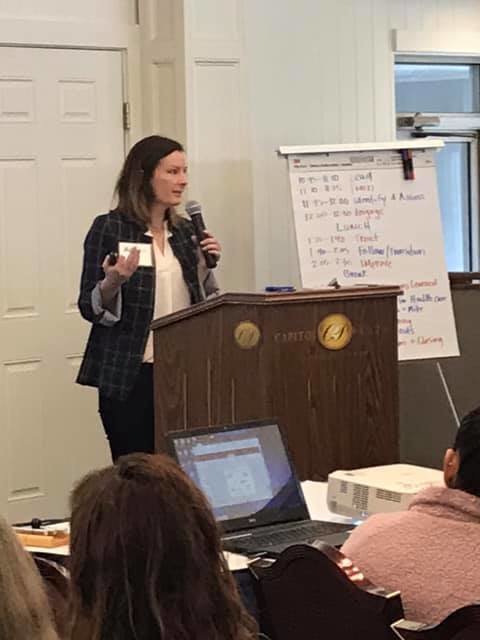 What is Zero Suicide? Zero Suicide is a commitment to suicide prevention in health and mental health care systems. It involves the implementation of a set of evidence-based tools and strategies used in a pathway of care for people who are suicidal.
When implemented effectively, Zero Suicide reduces suicide deaths.
The VT Suicide Prevention Center presented this year, for the first time, our Zero Suicide Practice Institute. The Institute included two full days of teamwork and learning from national speakers and Vermont colleagues. It engaged leadership teams to understand Zero Suicide at a deep practical level, and to promote and support its implementation in their own health systems, in collaboration with state and community systems.
15 teams from a variety of healthcare settings participated, including Mental Health Agencies in VT, hospitals, primary care and elder care, and representing Blue Cross Blue Shield, One Care and VT Blueprint for Health . Guided by Dr. Michael Hogan, a national Zero Suicide Consultant, these teams assessed organizational readiness to provide suicide safer care and identified next steps for their work. Dr. Steven Broer of Northwestern Counseling and Support Services, a pioneer of Zero Suicide in Vermont, and Dr. Thomas Delaney, UVM, suicide prevention evaluator and researcher, served as faculty presenting Vermont data and models. Teams also focused on clinical elements of screening, assessment, treatment, lethal means restriction, follow-up, care coordination, caring contact and considered linkages between organizations for suicide prevention.
The event was sponsored by:
The Family of Alan Lopez Gottesman
Blue Cross Blue Shield VT
Brattleboro Retreat
Chroma Technology
Kinney Pike Insurance
North Country Hospital
One Care
UVM Medical Center.
Many thanks to all who sponsored and attended for moving forward with this important work.