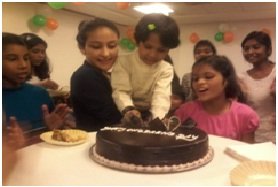 About our Sunshine Homes

-
With your constant support these SunShine Homes have nurtured over 406 children with love and protection in 13 Homes across Delhi, NCR, Kurukshetra and Jaipur. Presently, there are 196 children across all homes. Every moment these little kids make us feel like proud parents; sharing with you all one of those proud moments below.
Abha (Name Changed) came to Udayan Care when she was only 9 years. She had been handed over to Udayan Care by Palna (Delhi Council for Child Welfare) by the orders of Child Welfare Committee, Kingsway Camp, Delhi for long-term care, support, rehabilitation and better education. As per the records available with Palna, Neetu was declared an abandoned child.
Being a child with Low I.Q. level, she wasn't stretched much towards academics rather facilitated to learn stitching and tailoring. She also showed interest in managing house independently. Keeping her this interest in mind, we provided her an opportunity in Kids Kingdom play school to learn skills and to earn money.
Just like any other girl she too desired to get settled through marriage, fortunately we found a nice match for her and got happily married on 3rd November 2014. The ceremony took place in the home at Greater Noida, where she grew up.
Presently, she has adjusted well in her new family life, performing her roles very well. She is also participating in taking care of the family business and facilitating the business in her leisure time.
Parul (Name changed) was born in Kolkata. After losing her father at a very young age, Pinky's mother struggled to take care of her and her sister. Her mother worked in an export warehouse where she barely made enough to support herself. Pinky arrived at Udayan Care, Mehrauli Ghar, through child welfare committee. For three years, she lived together in the Mehrauli home with about a dozen other girls. With active and caring mentor parents, Pinky remembers feeling truly cared for, for the first time.
Udayan Care developed a tie up with a very prestigious private school in Greater NOIDA she was then offered a freeship to attend Delhi Public School School in Greater NOIDA and thus had to move to the Greater Noida home.
Parul has been living independently, since, supporting herself with a good job as a Booking Relations and Senior Executive in a building company. She has become a successful, independent, and driven young woman. Her early childhood years, however, were neither easy nor pleasant. She believes that although she has made decisions that she has had to learn hard lessons from, Udayan Care has been a massive opportunity for her, crediting it with where she is today. By the help and support of her Mentor Parents, Supervisors, Care Givers, Social Workers, and other Udayan Care employees, she feels as though she was given a second chance at life, and is currently making the most of it.
She got married recently to Sumit (Name Changed), on 7th December, 2014, at Bulandshahar, a small town in Uttar Pradesh, about 100 kms away from Greater NOIDA, a place which is ancestral home to her husband's family.
Workshops during this Quarter
Like every quarter, this quarter also we conducted several workshops with children, caretakers, coordinators, mentor mothers. These workshops were conducted on various topics as per the need.
"Oral hygiene" – Taking into consideration the dental reports of the children at homes it was decided to conduct a workshop with the caregivers in order to enhance their awareness towards Oral Hygiene. As a result on October 29, 2014 a workshop was conducted on "Oral hygiene"by Dr Shalini (Name Changed) who is a dentist by profession and runs her dental clinic in Gurgaon.
"Child Sexual Abuse" -Child Sexual Abuse is the most heinous of all sexual crimes that can be perpetrated against children. Most of them suffer silently and often bear the mental and emotional scars the entire life therefore on October 31, 2014 by the mental health consultant of Udayan Care Dr Dillip (Name Changed) on the topic "Child Sexual Abuse"with the Mentors and the Coordinators taking care of the children at home. Dr. Dillip (Name Changed) at Head Office conducted a workshop with the caregivers on November 28, 2014 on the topic "Child Sexual Abuse". The purpose of this workshop was to enhance the awareness of the caregivers about "child sexual abuse at foster care".
"Poetry & Creative Writing" - On November 6, 2014 Prof. Arunima (Name Changed) conducted a workshop with a brief introduction about the workshop upon "Poetry & Creative Writing" with the children. She started on a light note and described the usage of bilingual language in social media these days and its relevance in present scenario, which is highly influential in their verbal and written communication. Dr. Dillip (Name Changed) at Head Office conducted a workshop with the children on December 13, 2014 on the topic "Child Sexual Abuse". The purpose of this workshop was to aware children about the good touch and bad touch and how strangers can handle them and what they have to do to avoid such happenings.
Mental Health and Interventions for Better Care and Management of Institutionalized Children and Young Adults - On December 19th and 20th training was also organized by Udayan Care in support with UNICEF which was Workshops onMental Health and Interventions for Better Care and Management of Institutionalized Children and Young Adults at India International Centre, New Delhi. The key objective of this workshop was to train and build capacity in therapeutic techniques of NGOs staff, volunteers and professionals in addressing mental health issues, related to attachment, loss, grief and trauma, faced by institutionalised children.
"Communication Skill, Self, Team building and Crisis Management" - A workshop with caregivers was also conduct on December 24, 2014 working upon their "Communication Skill, Self, Team building and Crisis Management".
Recreational activities were organized in collaboration with Corporates (CSR), who is our direct/ indirect stakeholders Such as home visit by ASOS to couple of our children' home. Children of Udayan Care are given all possible exposure to fly high & touch the sky. As a result a small group of 12 – 13 children having interest in creative writing, reading and eager to know more about editing and publishing were taken for a visit to Dorling Kindersley, one of the international publishing company specializing in the creation of high-quality, illustrated books and online resources.On October 8th, 2014 the children visited Dorling Kindersley's of at NOIDA where in they were welcomed by the team there. Children were served refreshments and were introduced to the team of DK representing various departments. Children were made to go through an exhaustive power point presentation to explain them the concepts of writing and most importantly the various dimensions of the planning, making, different styling, designing & publishing.
On November 14, 2014 children of the home located at Sant Nagar celebrated children's day along with the team of Make My Trip Pvt. Ltd. Children danced on Bollywood Songs with the MMT Staff, Played Musical Chair, Snacks were served to the children and care staff, ripped Cake, Gifts were distributed (bags, bottles, tiffin box etc.). The children had great time and enjoyed a lot. They were really excited after receiving gifts. The children interacted with the MMT staff and promised to visit our home.
Standard chartered visited Gurgaon home on November 13, 2014 to celebrate children's day Ms. Garima, the coordinator and their team was very happy to be with the kids. They expressed that it was an amazing experience and we were touched to see the spirit of Mr & Mrs Ghosh along with the coordinator Ravi Francis. She said that it is a place where I would like to come again to contribute not only in monitory terms but also for the development of the children! Thanks for making it a memorable experience.