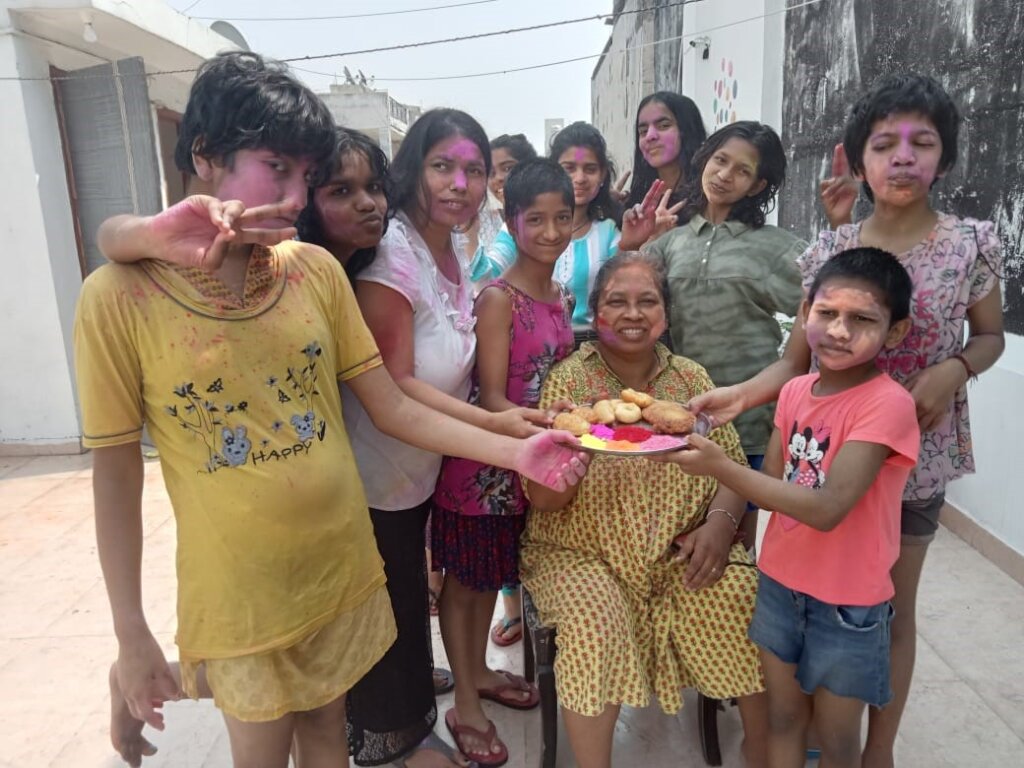 Hello all,
Love and Greetings from Sunshine Homes!
I am Isha. I am 13 years old and currently staying at one of the Sunshine Homes run by Udayan Care in Faridabad. I am delighted to connect with you and share updates about the fun that I and the other children of Sunshine Homes had during the last few months, by engaging in various activities and sessions. Before going forward, I would like to introduce myself!
It's important for me to share my story because I have achieved a lot of things, big or small, since I became a member of Sunshine home, Faridabad. I'm voicing my story with people so that children from humble backgrounds, who are devoid of basic necessities, even a family, get help to reach out for their right to celebrate their childhood, with proper care and education.
In 2019, I came to Udayan Care along with my younger sister, Shivi. I was only 10 years old while my younger sister was 8 years old when I came to Sunshine home in Faridabad. This was after our parents left me and my sister to be taken care by our maternal grandmother. My grandmother was growing old and due to the financial constraints, she couldn't look after us for long. My younger sister and I were deeply affected when we were cut off by our parents which affected our overall development, it took away the charm from our childhood. However, the stars aligned for us when we become a part of Sunshine Home in Faridabad. The care and support provided to us by our lovely Sunshine Home family added colors to our life.
My family at the Sunshine Home gave me so much love and care that it strengthened my well-being and I was able to build a better version of me. The love & affection of the Mentor Parents and the staff at the Ghar did not, even for a moment made me feel alone.
I along with my sister soon started going to school after a long break. I got the opportunity to learn new things and made so many new friends! Along with educational development, I honed my extra-curricular skills by taking part in the activities that were organized at the Sunshine Home as well as the school. Over the years, I have developed a confidence in my capabilities which gave me the courage to dream about a vivid future! All the members at my Sunshine home, especially the staff put in relentless efforts over the years to enable me to do my best in order to achieve my aims.
Today, as I strengthened my academic base, this academic year, I became a part of one of the most prestigious boarding schools in India that is not only known for its academic curricula but also has a wide range of extra-curricular activities ranging from swimming, horse riding among others. I always look for opportunities to get exposed to new and different experiences which help me develop my personality. A plethora of opportunities have opened up for me and going forward, I'm so excited to know what's in store for me!
Well, that's all about myself. Children like me, can touch the sky if they are provided the support and love needed to flourish. I hope my story raise awareness among the masses about children like me and I really wish more and more people support children without family care.
Now, let me take you through some of the fun and learning engagements that took place at Sunshine Homes –
adidas-Udayan Care Virtual Winter Carnival
Keeping up the spirit of oneness and being together even in the tough times is what defined "Umang - adidas-Udayan Care Winter Carnival 2022". The virtual event on 21st February 2022, consisted of children grooving to their favourite songs and preparing fun advertisements. The event was filled with fun with the mind- blowing magic show, zumba and interesting energisers. Sparky dance performances and creatively amusing AdMad acts put together by the children and staff of Sunshine Homes, added zest to the carnival. Over 250 kids and youth, 100 staff members and mentor parents, volunteers from adidas India team and numerous guests came together to enjoy the day filled with fun and excitement.
Women's Day Celebration
On the occasion of Women's Day, the children of Sunshine homes celebrated the achievements of women. Stories of various successful women who fought patriarchy in various ways- culturally, politically, socially- were presented to the children, while discussing the significance of Women's Day. The children expressed gratitude to all women who take care of children and resonated that the carers are Pillars of Strength. The children prepared a skit, had a dance performance and prepared cards for all.
Setting up Upcycled Edible Gardens at Sunshine Homes
With an initiative towards environment sustainability which would children closer to nature by inculcating a sense of ownership and responsibility, team adidas and Udayan Care have come together to build upcycled edible gardens at Udayan Ghars. The upcycled edible garden means a garden which has been set up using waste material such as bottles, tyres, drums etc. to grow vegetables, fruits or other edible plants within a confined or limited area. In association with Ashim, an environmental consultant, children were sensitised on Upcycled Edible Gardens and set them up in their Sunshine Homes.
Trip to Agra and Bharatpur
In the month of March, children of Sunshine Home in Faridabad, went for a 3-day fun-filled trip to Agra and Bharatpur. The marvelous Taj Mahal and Agra Fort were visited. We enjoyed this educational visit, as a guide explained them the history and some interesting facts related to the Taj Mahal as well as the Fort. After spending the night at an aesthetic and peaceful hotel in Bharatpur, the following morning, we visited Keoladeo National Park, where we saw many species of migratory land and water birds. We also learned the names and nature of the birds they saw, with the help of a guide. Visit to this 'Bird Paradise' was a unique experience for us, as we had never witnessed anything like this before. After returning from the park, Holi was celebrated at the hotel with vibrant colours and playful shenanigans, this was the first time that we celebrated a festival outside the home, since the pandemic. The trip was truly wholesome in every aspect!
Holi Celebration
From tainting each other's cheeks with colours to relishing sweets together, the festival of Holi is celebrated with exuberance, every year. The festival of colours always brings joy to the children. Celebrating Holi in the true spirit, this time it was even more colourful with everyone coming together to play with natural colours and enjoying a special meal.
Earth Day Celebration
On the occasion of Earth Day, officials from MG Motors visited Boys Sunshine Home, Gurugram. The day was marked special as MG Motors officials brought various saplings for the children to celebrate Earth Day by planting them together. All the children along with the staff representatives and MG Motors officials planted the outdoor plants in the open ground available in the home. During the plantation drive, the officials got to know the children better as they worked together to do their bit towards long-term ecological sustainability. The interaction also touched upon the need to preserve earth and cherish the beauty of Mother Nature. This synergy to make the home greener was captured in vivid photos.
Trip to Golden Temple
A city with historical significance, Amritsar is one city of India which attracts many worldwide. After the long time spent indoors due to the Pandemic, in April, children from the Greater Noida Sunshine Home went for a one-day trip to Amritsar where they witnessed the sanctimonious Golden Temple and also got a chance to be at one of borders of India taking them through the stories of Partition. The children enjoyed the trip and came back with a bag full of knowledge.
Art Workshops by ArtReach India Foundation
Art is the expression of the mind and translating this expression on paper is the essence of the workshops by Artreach India Foundation. These workshops facilitate catharsis with colors, for the children. Children across the Sunshine Homes engaged in creating masterpieces while experimenting with collages, abstract art and portraits.
This was a peek into the fun and learning engagements during the past few months. After two years into the pandemic, two years of not being able to go for an outing, children of many Sunshine Homes were able to go out on much-needed rejuvenating trips/outings during the reporting period. In a way, these jaunts lauded our resilience and patience, which helped us overcome various unfamiliar challenges that came our way, over the past two years. Settling into the 'new normal' has made me appreciate relentless efforts of Udayan Ghar Family and support from like-minded people/organizations, to provide us with the best healthcare, education and support, all the more.
This is all what I had to share on behalf of the children and team at Sunshine Homes. With this, I thank GlobalGiving and the associated donors for their sustained support which has helped us to continue to flourish in our Sunshine Home family.
Hoping to connect again.
Thank you!
Isha