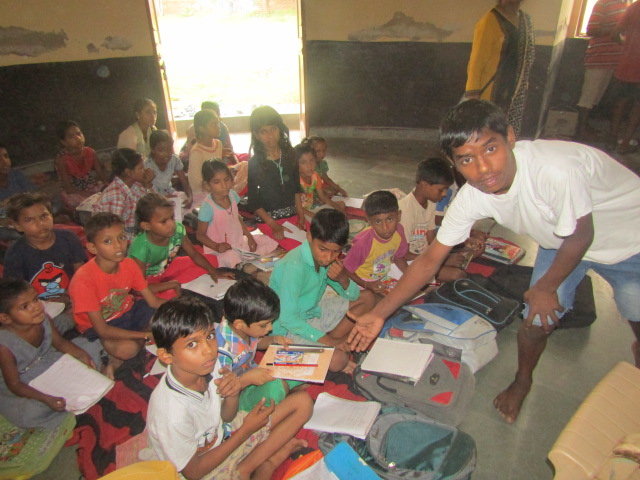 Udayan Ghar Programme
Udayan Care had set up its first Udayan Ghar (Home) for children in 1996 and created its own model of LIFE: Living in Family Environment. This model enables erstwhile children in need of Care & Protection in to grow in a loving family environment. In these homes, the children are loved and cared for by a group of Mentor Parents-socially committed individuals (volunteers) who groom the children with a team of Coordinators at homes, along with resident Care Givers, Supervisors, & Volunteers.
These homes are located in busy, middle class neighborhoods, so children can reintegrate themselves into society through direct community involvement which helps mainstreaming the children ahead. Our children and young adults are receiving quality education in some of the best educational institutions such as: The Sagar School at Tijara, Alwar, Mata Bhagwati school, Genesis Global school, Tagore International School, East of Kailash, Banyan Tree School, Global Indian International School etc and colleges/ universities like College of Vocational Studies, University of Delhi, Hi- Tech Institute of Engineering, Ghaziabad, Punjab University, Lingaya's University etc.
Since inception Udayan Ghars have nurtured over 800 children with love, care and protection in 13 Homes across 4 states of India. Presently, there are 187 children across all homes. 27 of our young adults are also been supported through our After Care Programme.
Workshops/ Activities during this Quarter
During the period of September - November, 2017 the team continued working for the betterment of children and the programme. The quarter went well with children engrossed in studies preparing for their mid-term examinations and a few corporate engagements. Workshops being a monthly affair addressed several concerns pertaining to Children, Care-givers, Mentor Parents and Coordinators.
Workshops were held with all the programme stakeholders (mentors, coordinators, caregivers, and children). In order to strengthen the stakeholders.
Since, in a constantly changing environment, having life skills is an essential part of being able to meet the challenges of everyday life, Life Skill workshops at home were also held like every other quarter which focused on various subjects like self awareness & self identity, coping with emotions, relationship building, healthy & unhealthy relationships, knowing self, decision making, stress management, healthy habits; family & community, communication and problem solving.
YP Foundation, conduct workshops twice in a month at Ghaziabad girls ghar. A range of topics has been selected under the broad topic of sexuality.
Mentor father, Mr. Deepak Sharma ensures that girls at Greater Noida ghar do not lag behind others in any respect and always try to get inspiring figures to interact with and motivate the girls. In the month of October, Ms. Suniti, S.P, Rural-GB Nagar was invited to guide girls about importance of education and how goals are set to achieve a career of choice.
Psychologist, Ms. Dipti Dash conducts life skill workshops every month with both Noida Boys and Girls. The topics covered so far include, knowing Myself, Managing Emotions and Relationship.
Opportunities, Events and outings are some of the things that never end for our Udayan Ghar children. The major recreation and co-curricular events that took place during the quarter include –
HUDCO Painting Competition
On 3rd September'17, a Painting Competition was organized by HUDCO at the HUDCO Art Gallery, New Delhi. The first Monday of October has been designated by the United Nations as the World Habitat Day. Every year, as part of the celebrations to observe the World Habitat Day, the Housing and Urban Development Corporation Ltd. (HUDCO) organises a painting competition for underprivileged children, on themes related to habitat issues.
A total of 10 children from Ghaziabad, Sant Nagar and Mehrauli Homes participated in the competition where they were asked to draw and paint on the theme, 'My City of the Future'.
Talent Hunt Event by Cognizant
On 10th September'17, Cognizant organized a talent hunt programme at Airforce Grounds, Subroto Park, New Delhi. The full day event had number of activities planned where the children were given the opportunity to participate where their interest lies. A complete manual was given laying out the rules and regulations for participation. From Udayan Care, Mehrauli Homes, Greater Noida Home & Gurugram Home participated and won prizes.
There were different competitions scheduled in the programme which were divided according to the classes of the children. Group I consisted of children till V standard and Group II had children from VI to XII standard. All the children were given amazing lunch boxes and school bags too!
Dan Utsav (Joy of Giving Week) Celebration
"We make a living by what we get. We make a life by what we give." - Winston S. Churchill
The first week of October is celebrated in India as Joy of Giving Week.
Dan utsav was celebrated across different Udayan Ghars while spreading the joy among the ones who know the joy yet, metaphorically have hardly witnessed it. Children across ghars gave away their belongings such as clothes, stationary, toys and even some eats bought from their pocket money to children in the nearby community, slums and/or under privileged schools.
Visit of K9 School at Noida Girls and Boys Ghar
On 8th October, 2017 a team consisting of behavioral psychologists, volunteers and Stella and Phulki (therapy dogs) visited from K9 School our Noida Boys and Girls Ghars for interaction with the children. The basic objective was to introduce canine therapyidea and practices of canine assisted activities and canine assisted therapy which are being successfully used in many parts of the world in schools, homes, hospitals to address the needs of special children and provide supportive therapy to those dealing with grief, loss, childhood trauma associated with abuse, and a variety of cognitive, emotional and behavioral issues.
Auro Camp, Nainital – 18th October to 22nd October'17
This Diwali, we thought of gifting a wider smile to our ghar children and planned to take them for Auro Camp at Van Niwas, Nainital in association with Sri Aurobindo Asharam. The objective of the camp was mainly to celebrate Diwali, and provide fun & thrill, build courage, stamina & self confidence and channelize energy of children towards value added activities. Children were engaged in activities such as trekking, rock climbing, rappelling, meditation etc. catering to their all round personality development.
A team of carers also went with the children where, apart from their engagement in activities, they also got an opportunity to revive their relationship with children and rejuvenate themselves.
Diwali Celebration
We immensely thank Mercer and Benetton forlighting the contours of hope, joy and happiness in the lives of our children and making this Diwali a memorable one!
Children were invited at the corporate office of Benetton on 17th October'17 and a group of employees from Mercer visited our Jagshanti Udayan Ghar for Girls, Greater Noida on the same day to celebrate Diwali. Children were engaged different activities such as dance, games and rangoli making.
The children were given refreshment after Pooja and later gifts were also distributed among them.
MAMD Family Day Celebration by Baxter
Every year Baxter celebrates MAMD family day in which all the employees along with family members come together and celebrate the auspicious day. Likewise every year, Baxter has invited the Udayan Care children to be a part of the celebration. Twenty eight children from Udayan Care Home, Gurgaon participated in the event organized at Tivoli on Oct 29th, 2017.
The children have given an amazing group dance performance and won the heart of everyone over there. Activities such as Tattoo making, shooting gun, football board, remote car racing, and fun house for the younger kids. Apart from these thrilling activities, children enjoyed delicious eats as well.
New Home (Udayan Ghar for Girls) at Faridabad
Udayan Care proudly announces the establishment of its 14th Udayan Ghar at Faridabad, Haryana. The ghar would cater to the protection & developmental needs of orphaned, abandoned and at-risk girls. The ghar will soon be operational.
Saksham Pedal Delhi
On 5th November'17 Children from different Udayan Ghars participated in the event, Saksham Pedal Delhi. The event was an initiative by PCRA aimed at propagating the importance of fuel conservation and efficient energy utilization among citizens. As a part of the event, children pedaled bicycles for 5 km. Later, they were given refreshment.
Theater Show by Salam Balak Trust
Sheroes, a theatre show, written, directed and acted by the children of Salam Balak Trust was something really enjoyed by the children across different Udayan Ghars. The children were truly motivated and shared a good feedback.
Art Room Programme
If children are exploring, thinking, experimenting and trying new ideas on their art notebook, then creativity and inventiveness has a chance to blossom.
ArtReach India continued to organize art workshops where children are being provided with a platform to learn, explore and enhance their artistic talent. During the quarter, the workshops were conducted on 9th September, 14th October & 11th November at Sanskriti Pratishthan.
Success Story (any one)
"Keep your face always toward the sunshine—and shadows will fall behind you"
- Walt Whitman
The pain of losing parents is too overwhelming to be contained in a little child's heart. By 2006, Muskaan had lost both her parents and was just six years old when she was handed over to Udayan Care by her uncle.
Udayan Ghar team consisting of mentor parents, social workers and, care staff nurtured Muskaan and helped her develop a sense of trust, bonding and security. The caring, non-judgmental and loving environment provided by the Udayan Care family helped her grow into a sincere, hardworking, and cheerful girl. Now, Muskaan is not just a sincere student but is also a good writer who likes to pen down her thoughts as beautiful poems.
This year, she appeared for the XII board exams and secured 74.6%. Her belief in herself was reinforced by motivation from her mentor father and she got admission in the prestigious Ashoka University with full scholarship. Now Muskaan is all set to give a constructive shape to her career.