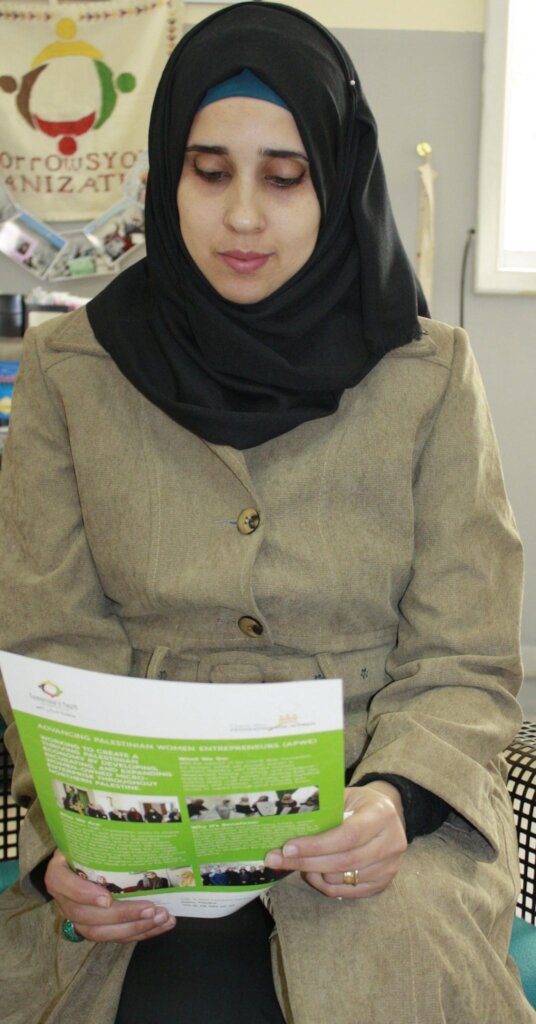 "My dream keeps me trying no matter what, even through the darkest times," Safaa reflected.
Originally from Jenin, Safaa has experienced struggles in her entrepreneurial journey and deep personal loss. Even through the most difficult moments, she has found the strength to continue working toward her dreams.
When she first joined the Entrepreneurship Program in 2015, she had a sense that she wanted to start her own business, but couldn't imagine what that would be like. Her family emphasized the numerous barriers she would encounter especially as a woman, and warned her about insufficient funding, difficulty balancing business and family life, and limited business opportunities. Even so, she persisted in attending the Entrepreneurship Program and learned about identifying customer needs, business planning, and public speaking along with many other skills.
"I decided to start my company Soft Drop and sell natural beauty products because there are so many women who don't know how harmful chemical products can be to their bodies and the earth." She decided to spread awareness about her business on television and radio. People started recognizing her and understanding the benefits of natural products. Beyond helping her develop technical skills, the Entrepreneurship Program helped her build the confidence needed to believe in her vision and her company.
While she was growing her business, she faced devastating times in her personal life. Her husband had an accident and couldn't walk for two years. She was able to support her family without needing help from anyone.
Most painfully, however, her son passed away 3 years ago. "This broke me into a million pieces and I decided to stay in bed forever," Safaa remembered. "I felt regret that I didn't spend every single minute with him and that I was working." After months of grieving, she remembered her son Zain wanted her to be happy. "He would say that my business is like his brother. Zain really wanted me to succeed."
When she returned to work, she could remember other women judging her for working again only months after her son's death. "I know that no one knows what I really feel inside, and what is pushing me to continue," she said.
Sometimes she would sit in front of the mirror and cry from the intense stress she was experiencing but wake up the next day full of energy and passion, committed to working hard toward her dreams. Even after the program, she continued finding support in the TYO community. During difficult moments, she would call Hend, the Entrepreneurship Program Manager, and feel empowered to persevere after their conversation.
Today she wants her brand to expand internationally and her products to be sold in Saudi Arabia, Turkey, Europe, and Jordan. Her advice to women is to never stop dreaming and working toward their dreams. "I used to be scared, but now I am confident and believe in myself. My entrepreneurial journey taught me that I am strong and that I can do anything. I can see how my kids absorb my strength and pride. If you feel strong, your community will feel your positive energy and respect you no matter what."