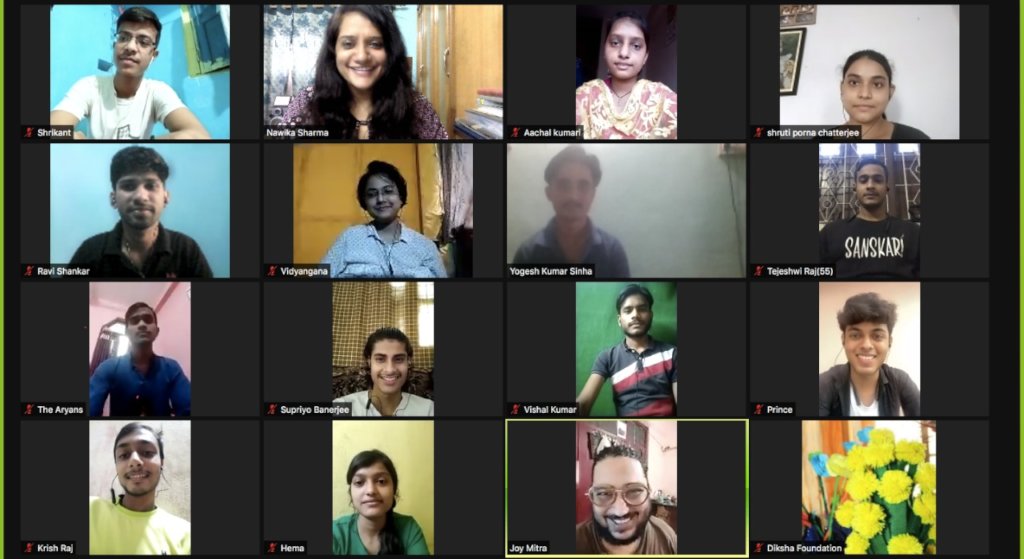 Greetings from Diksha!
As part of the effort to contain COVID-19 spread, all the public spaces such as schools, offices, universities, educational institutions had to close down to prevent everyone from the hazardous effects of the disease. Taking the government protocols and COVID-19 safety measures we had to shut down the KHEL centers, during the quarter of April to June we engaged in different activities of the KHEL project and in order to stay connected with our students.
Major Activities –
The major activities that took place in this quarter are as follows:
Further, it was getting incredibly difficult for us to stay in connection with our students as we had to close our center due to government regulations. Thus, to remedy the situation we started the facility of tele-counselling whereby children could discuss their situations. During these sessions, we got to understand their financial problems as their parents had lost their livelihoods, due to lack of smart phones digital divide is being created.
Under our relief work we provided relief kits including nutritional kits and medicine kits to our students along with distribution of ration in the later stage, by far we have provided these relief materials to 250 students of our center.
FINANCIAL ASSISTANCE TO THE PARENTS OF OUR STUDENTS
COVID-19 has resulted in loss of livelihood opportunities especially with the daily wage earners, in order to support our students and their parents financially, we are providing them with grant amount in order to start new business opportunities or to expand their existing business which we help them in sustaining financially also will build a strong relation with our students.
ENGLISH ACCESS MICRSCHOLARSHIP PROGRAM-
Under this program the students are being trained and groomed by facilitators on different areas of studies that will help them in becoming a global citizen, in this quarter the students learnt about 21st century skills, Official Communication- IT and computer skills-email etiquette, and pride month.
LIBRARY AT YOUR DOORSTEP-
Since many of our students don't have access to digital mode of learning, we brought learning to their doorstep by providing books from our library and helping them stay connected to academia and work on their communication skills.
DISTRIBUTION OF STATIONERY ITEMS-
We even distributed stationery items to all our girl students of KHEL center, to motivate them and keep them connected to the fun and learning process.
Volunteer Activities –
During this quarter our volunteers even helped us with tele-counselling and keeping a check over students mental health as well as their family conditions and issues/challenges they have been going through, apart from the same they even actively participated in the process of relief work by volunteering in the distribution process as well.
Future Plans –
Through Tata-tele conferencing we will help in bridging the digital divide for our students and help them with their studies, it can be access by everyone with or without internet and also smart phone is not mandatory for it.
Taking into account the government guidelines and protocols we will re-starting our vocational course training for the elder students by maintain proper distance and also will take consent from the students before beginning the in-person sessions.
With decrease in case and government guidelines we will soon re-open our center for the elder students in batches, so that there is minimum gathering and get started with their academia and supplementary classes
SUPPORTING STUDENTS WITH HIGHER EDUCATION-
Through one of our project one of our donors is willing to support around 7-10 students who are financially weak but are focused and dedicated towards their studies and future, by taking charge of their higher education, from preparing them for interested course to college fees to other requirements