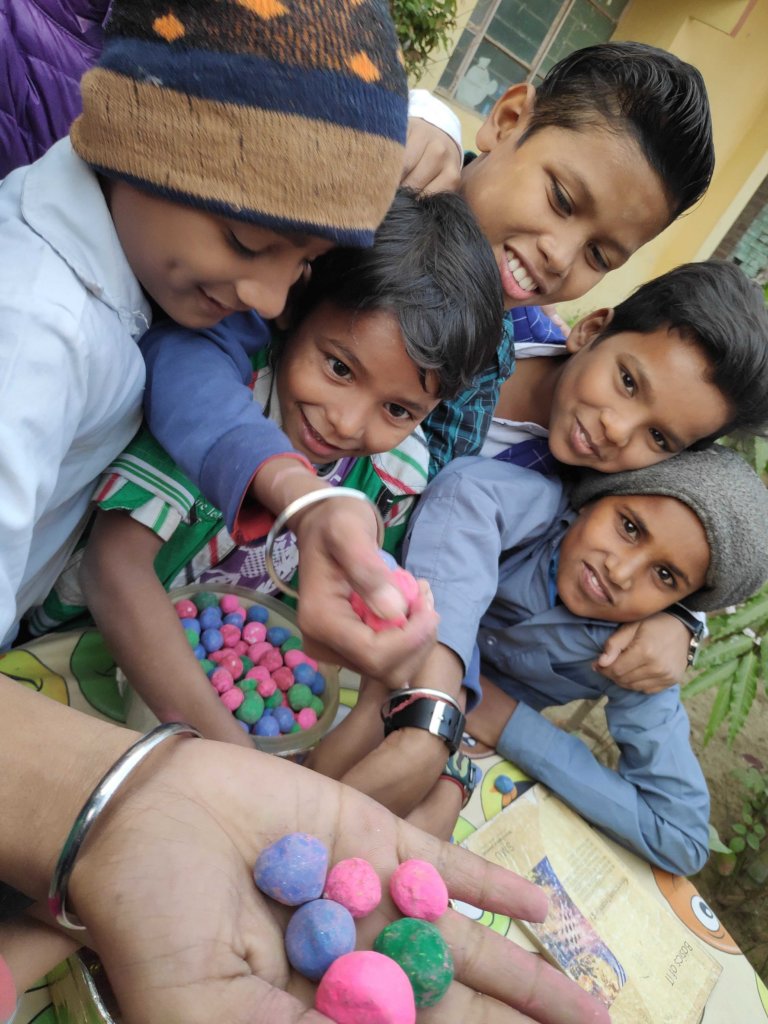 Greetings from Diksha!
Dear Contributor,
Thank you so much for all your confidence and faith in our work. We are constantly working hard to make this world a better place for children, the first step for which is education.
Last year in 2019, the money raised was mostly used to enhance activities, build capacity of existing staff, modify Library and upgrade KHEL Learning Centers.
Despite only a short time passing since our last update, we are happy to reconnect with you and share updates about our project. In the last quarter, we have experienced improvements in the overall percentage of girls over boys and we are thrilled to inform you that with 60% of girls in Patna and 54% in Hilsa, with a total of 291 active and regular students in the last quarter, our goal of empowering girls and making them independent adults is moving forward.
"To be able to present our thoughts and the luxury of being listened to, has developed a belief in oneself and confidence in us",
two of our kids from the youth group, Dharamver and Mithun, who got a chance to take part in the MLMF Funders event at New Delhi, shared this in a Facebook Live Video. This program at KHEL has really helped develop some public speaking skills in our children.
How a random day at Diksha look like?
In a

group activity

, children searched for pollution related news in the newspaper and also discussed solutions for it. Children also jotted down plans on how they can overcome this at a community and broader levels. Group reports were beautifully made on chart papers. One chart paper, two newspapers and colour pencils were utilized by the children of Groups B and C, (age group -10-15) for this activity.

Saturdays are devoted to creativity and innovations

with paint brushes. Children made some beautiful pictures on greeting cards for New Year which showed their skill and articulation ability. Kids from all the groups have come together and decorated the center and also made a Christmas tree.
Nurturing self-confidence through:
BAL Sansad focuses more on values and respect for children's opinions and capabilities. This innovative platform provides students with the opportunity to actively participate in the running of the center through a democratic process that is above gender, caste, creed or economic situation. Some decisions taken by our Bal Sansad members in this quarter are - Complaint and suggestion box will be prepared by the Ministry of Art.
- Advisory committee needs to be formed as soon as possible for the Sports Ministry.
- There should be language inclusivity in math classes.
Matrix Mela

, the yearly activity at KHEL, is a reason to celebrate Maths and remember the great mathematician Dr. Ramanujan. The games and activities like counting the balls, Raja ka paisa, Tera-Mera, on the day of Matrix Mela have a purpose of igniting an interest and love for Maths in children. Children organized many mathematical activities for this day and the day was celebrated well. Parents and community members also joined us in this Mela and it helped to increase the interest of children towards learning math and also developed their leadership skills.
Celebrating Life!
Makar Sankrati,

the day was jam-packed with activities like Kite-making, informatory sessions in the classroom and both the staff and the children flying kites on the terrace.

Our children are growing and are becoming aware; they now understand the Constitution. With some civic as well as Environmental Education thoughts in our minds, we devoted this year's Republic Day

to Part IV of the Indian Constitution - the Directive Principles of State Policy - Article 51-A (g), making them realize that it is their duty to protect and improve the natural environment and to have compassion for living creatures. Children prepared and made presentation in groups on 'climate change'.
Volunteerism
Volunteer activities have also increased at our center in the last quarter; they have come up with some vibrant energy and a wave of enthusiasm for our children. We took help from four Volunteers on the theme of Self-development and organized a session on incorporating the Art of Self Love with the Group C students. The day of Love has got a new meaning, at the end of the session they expressed their understanding through the paintings.

Nitika Satya (Miss Corporate India Universe) visited our KHEL center and shared about her journey, inspiring our kids to follow their dreams and aspire high to achieve it. Such sessions demonstrate innovative career paths to the youngsters. She briefed the kids from Groups C and D (age group 13 to 22) about the pageant. There were games like Dumsaraz, dance and all where everyone enjoyed their best
Workshops and Trainings
Diksha is devoted to creating learning experiences for youth through workshops, field exposure, internships, camps, and projects
We understand that in the journey of becoming Global Citizens, the first step starts with strengthening the roots, the very culture of Bihar.

Fifteen children

from KHEL participated in "Parivartan"; an event organized by

HDFC Bank

and got to know about the cultural history of Bihar.

Our staff member Shivam attended a self exploration and rural immersion program at Ahmedabad. This program was organized by Youth Alliance

where around 30 youth from all over the country came up and participated. There was also a rural visit at Kutch Gujarat where the facilitator learned about the socio-cultural norms of the state and one another. It was an overwhelming experience overall.

Our Communications coordinator, also participated in the first L1 Facilitator Training & Educator Prep Workshop, towards expanding our understanding of SEE Learning

and the commitment to use and implement the tools of love and compassion necessary in a classroom.
We thank you for accompanying us on the journey of seeking education to bring in the cultivation of inner values and skills to our children.
As a partner, we believe it is important to let you know your resources are well managed and truly serving the children.
If you would like a complete copy of our Annual Financial Report, please send us an email on contact@dikshafoundation.org