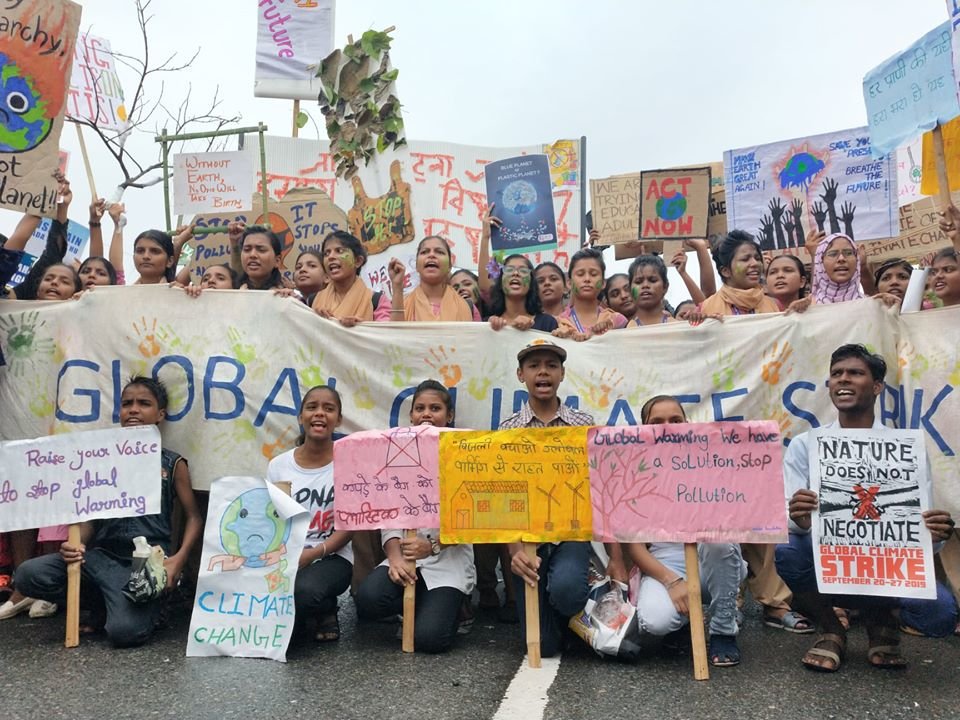 .
We are happy to share that in the last 3 months there was an addition in the number of students, we are now an extended family of 334 students at both our centers of Patna and Hilsa. The bifurcation of this number in terms of boys and girls are 145 and 189 respectively.
It is a great pleasure to share with everyone that a number of 103 young boys and girls have started their journey with our program named "My Life Mere Faisley", where they are building and nurturing their decision making capacity and skills which will help them in the long run, and will make a difference in the society.
We also have a Vocational Training Program which runs in both the centres, there are about 28 girls and 09 boys who are currently enrolled in this program. Over the last 3 months, 05 girls have already completed this training program.
Contributing towards building a better society, this year, we are going to start the Jagrik with 250 adolescents. The Jagriks will take initiatives based on Fundamental Rights and Duties, and SDGs within their communities. The program aims to create awareness about rights and duties amongst adolescents and inculcate constitutional values in them. We are hub of Bihar collective which comprises of 12 youth and adolescent centric organizations. Each organization is going to take the Jagrik program to the ground with 250 adolescents each.
The blend of Democracy, International Day for Child Rights, Gandhi Jayanti and Constitution Day in one quarter (Sep-Nov) in a way helped our children understand their rights, duties and the kind of change they can bring about in the society with their actions. The Climate Strike was such learning and a wakeup call for all.
Over the past three months, some of the key highlights at Diksha are as follows-
1- In the memory of the great philosopher-author and our first vice president Dr. Sarvepalli Radhakrishnan, on 5th of September children celebrated Teacher's Day and made it a memorable event for all of us. They surprised all the teachers with their creativity. They made an appreciation box, a beautiful piece of art made out of plastic bottles which showed their creativity and jugaadu skills in this area.
2- Children celebrated the International Day of Democracy on 15th September. Times change in politics and also the people in power but what doesn't change easity is the fallen benchmark and what we sow for the future. We tried to enhance and enrich their understanding and knowledge regarding the same. Children were able to understand that democracy is built on inclusion, equal treatment, and participation and it is the fundamental building block for peace, sustainable development and human rights. They also had child parliament election in same session where they became part of this festival of democracy.
3- Authentic and meaningful communication should be the goal of classroom activities. Other than the local dialects, Hindi remains an important language for our learners. 14th September 'Hindi Diwas' was a good day to know the history and importance of the most spoken language in India. The Alphabet tree made by the children at our center was another creative technique to involve the children in classroom activities.
4- Globally called movement "Fridays for Future" was to demand some aggressive actions from the government and the international community and it was organized at Patna on 27th of September. Understanding the rising pollution levels and the need to act the earliest, our children participated in a rally from Patna Art College to Income Tax crossroad. Students from various colleges of Patna participated in the event. This initiative by the kids was an awareness campaign for the locals and the children aim to continue doing so in the future for environment safety.
5- "Be the Change you want to see in the world", the ideologies and thoughts of Truth and Non-violence shared by Gandhi needs to be taught to all generations. Children shared their views on Gandhi Ji and self-reflected at the current scenario of the society By applying the thoughts of Gandhi in one's life and by following the path shown by him, only we can pay tribute to Gandhi Ji, .
6- We celebrated the Indian culture and diversity in its togetherness by organizing Garba dance during Navaratri. Team and children performed their best and enjoyed every bit of it.
7- We try to celebrate the festival of lights "Diwali" in the most eco-friendly way. Rangoli competition was organized on 26th of October where all the ministries of children's parliament showed their talent via their Rangoli, making the learning center a colorful space.
8- Children's day- We organized a session on children's Day where they were told about their rights which they have got through the constitution. On this occasion we remembered Pandit Jawaharlal Nehru our first prime minister of independent India.
9- UNCRC-30- the 30th anniversary of United Nations Convention of Rights of the Child was observed. On this occasion children were made aware about their 54 rights which they are entitled to and that are mentioned in UNCRC. We also discussed on how we can identify and claim for our rights in the society. We have tried to inculcate the values (Love, freedom, prosperity, hope, trust, equality, rule of law, peace, dignity) on which these rights are based. They also made a beautiful painting on this occasion.
10- Constitution day- We celebrated the Constitution Day on 26th Nov with the youth and adolescents, they talked about the soul of the Indian Constitution, the Preamble. In this, the underlying words like non-aligned, socialism, secularism, freedom of expression were discussed. The amendments till date and the future possibilities of amendment in the preamble have also been discussed.
Workshop-Our two adolescents participated in a workshop on "Un-stereotyping Cinema" based on gender issues which was organized by Oxfam India. The workshop basically focused on how critically the message intended in the movie is reviewed from/by highlighting the women's rights and gender equality. They came to know about the concept of Gender stereotype and its impacts through collaborative learning, discussions, group exercises and experience- sharing during the workshop.
Volunteer's participation-
There was an engagement of 21 volunteers in total. They have incorporated their learning and knowledge into the kids and made learning fun, what Diksha even aims at. They helped us in various ways throughout the learning procedure especially during the club activities and English classes.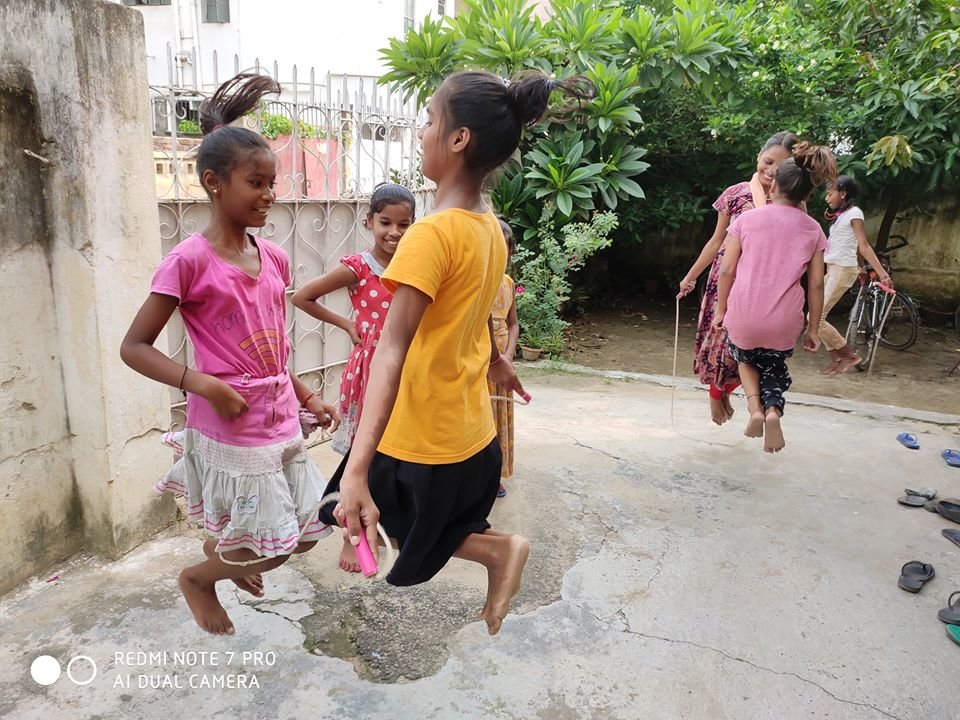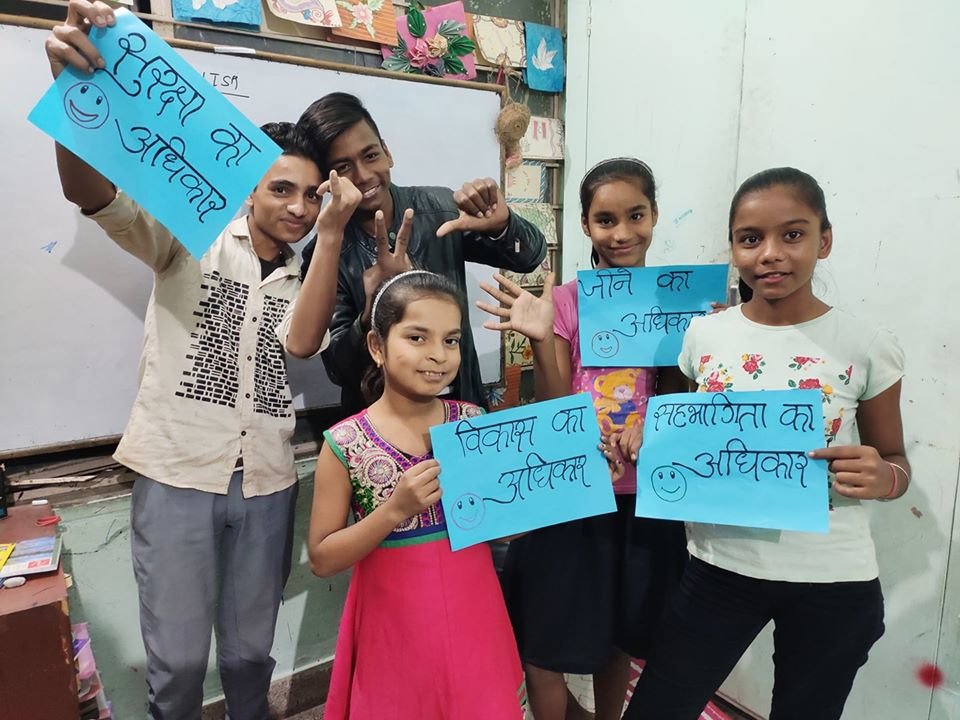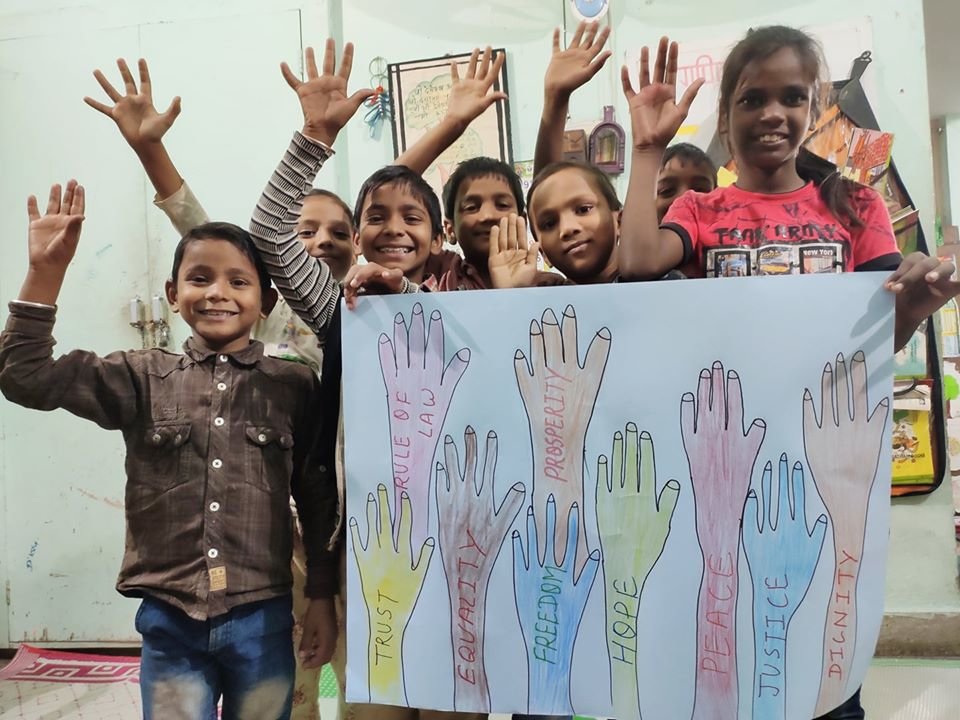 Links: