Project Report

| Aug 21, 2014
Recent re-visit to Tsagnoria school site - What is happening?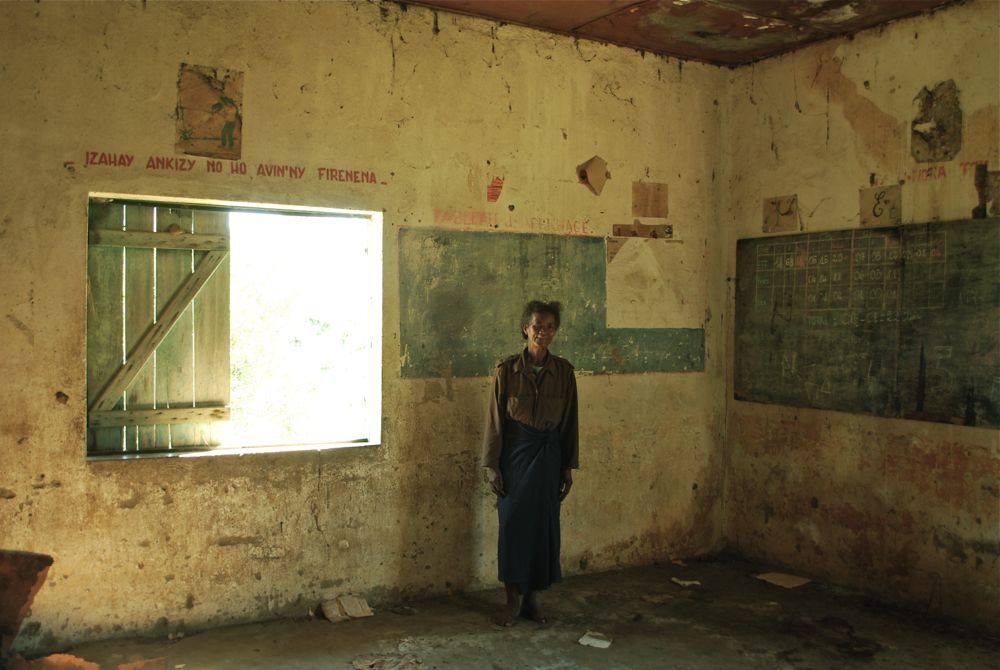 I recently went out to Madagascar on a field visit, and during my time out in the rural areas, I had the opportunity to walk up to Tsagnoria village to see the school site.
We visited on market day, however to get to the main village we had a further walk and had to cross a river. Unfortunately the bridge is now too damaged to use so you have to wade through the water. Many people were doing so whilst carrying pots and planks of wood. Once the other side, we approached the school building through the village and were able to straight away see the state of disrepair. We were informed by someone living in the village that it was now too dangerous to teach there. And I could see why; the ceiling was not secure at all, and everything inside was rotting and moulding due to water damage from heavy rain.
The school was opened in 1967, and we met a pupil Gilette who studied there all those years ago and still now lives in the village. She shared her memories of the inaugeration with us, apparently there were lots of dignatories who visited the village!
A very sad thing for me, a person who loves reading and writing, was to see all the discarded and again moulded books, which are just unable to be protected from the severe and wet weather conditions. Paper covered the floor, and every page showed me a lost opportunity for learning.
Outside of the building on the grass that surrounds the school, is a broken well and a delapidated teacher's house which also needs to be repaired. A latrine block which was built by Azafady in 2006, needs some structural work doing so that it is useable again.
After we had seen the school site, we were taken to where pupils are currently learning, a small church in the village. Unfortunately the fact that the lessons are held in a religious building is inhibiting the attendance of children whose families hold traditional spiritual beliefs.There are currently 72 children aged from 7-16 being taught there, but there are at least 50 more children who are not currently receiving any education. There is one teacher for the school, who accasionally has a voluntary assistant to help in class. The church has no desks and only a few small benches, which the children use to write on whilst sitting on the floor. The room is very dark and would also not be very weather proof in a storm. Needless to say this is not an ideal learning environment, but at the moment there is no other option for the teacher and pupils.
On a positive note it was uplifting to hear that the teacher of the school is very enthusiastic and we look forward to seeing him teach in the refurbished school building when this is completed.
I am very glad to have been able to personally visit Tsagnoria and to see the school site. I am determined to work to get this refurbishment fully funded, as I have now seen for myself what a difference this will make for many young people who are either not currently attending school or having a limited education due to the facilities and resources available.
Thank you to everyone who has supported this project, and those who are regularly donating to the school fund. If you have any friends who may be willing to donate to this project, please do share the link with them. I can honestly say that the money is going to a school in a community which greatly needs somewhere for the children to learn.