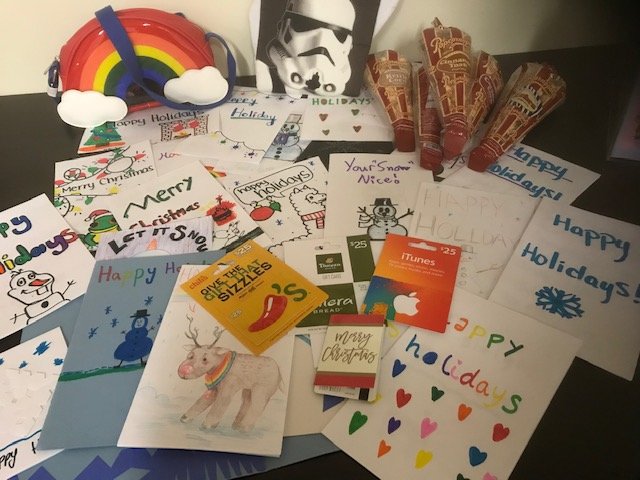 The holidays are over, but the memories that you helped create are lasting. Our annual "Donate a memory" program was a huge success this year because of folks like you.
More than 100 people donated things like movie tickets, theater tickets; hand-made holiday cards, Starbucks cards, and the like. We passed those donations along to our mentor-mentee pairs.
Ellington High GSA made very sweet holiday cards, raised money for a variety of restaurant tickets which we gave out to our youth at the holiday party.
Because of folks like you, we were able to give every mentor/mentee pair movie and dinner tickets. Might not sound like a lot, but it is huge for kids who have so few opportunities for special events, especially around the holidays.
Another donor offered two VIP tickets to a production at Theater Works. We used those tickets to provide an activity for a potential mentor/mentee pair that led to their decision to become a new match.
The key with all of these gifts is that they offer not material things, but lasting connections and a sense of belonging. They offer the opportunity for a youth who has been rejected by their families to build new memories during a difficult season.
We are very grateful!
PS. We also used your donations to provide more than $10,000 worth of scholarships for our annual conference – a life-altering annual event. Almost 300 kids are able to come because of folks like you!
Thank you!