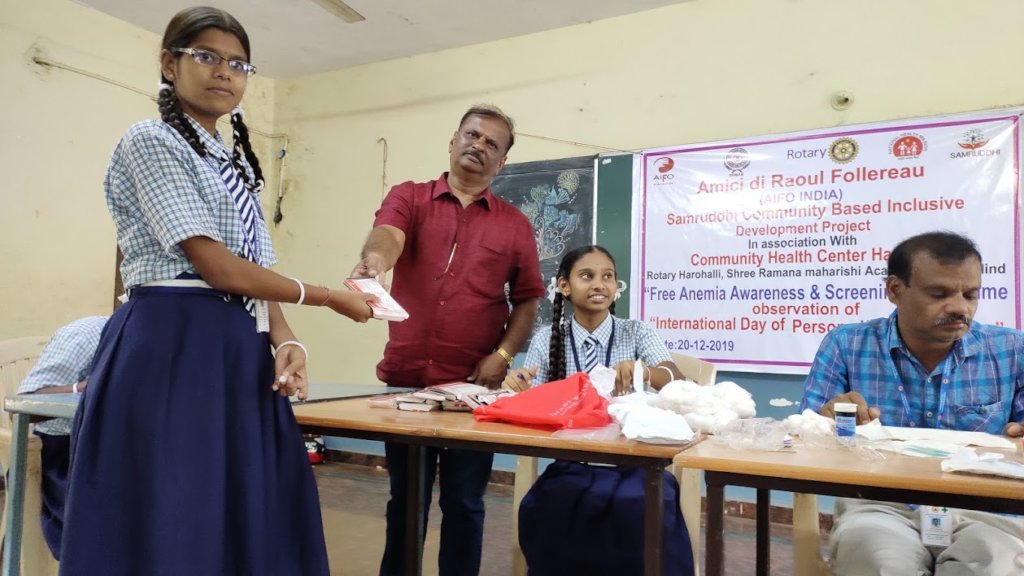 Samruddhi project of AMICI DI RAOUL FOLLEREAU (AIFO India) in association with community health center (CHC Harohalli), Shree Ramana Maharishi Academy for the Blind (SRMAB) and Rotary Harohalli, The project team conducted anemia awareness and screening camp on 20th December – 2019. On the same day, the project team also Observed the international day of persons with disabilities and conducted the camp at Kariyappa college auditorium in Harohalli.
Dr.Raghu T Ghokale children specialist CHCs Harohalli inaugurated the program and spoke about adolescent girls and pregnant women's health issues due to anemia and lack of nutrients foods. He advised all adolescent girls and pregnant women shouldn't neglect to make healthy food and nutrients in everyday life. They Should get early treatment for anemia in every local hospital without any delay. These kinds of programs are very essential for the community in general and useful to girl students-women. He continued saying, if we didn't prevent anemia in an early stage, it leads to many problems among the students like lack of concentration, dizziness, weakness, looking pale and also it affects physical growth, and mental stress. He further continued his speech and said about student's irregular food intake, exercise, and poor diet and poor nutrition its leads to anemia. Dr.Raghu advised the students to make use of this opportunity in the proper way and do keep the follow up the treatment.
Dr.Jayanth Kumar program head of AIFO introduced AIFO's activities, explained the importance of the international day of persons with disabilities. He also mentioned the aims and objectives of the Samruddhi CBID project. So far 813 adolescent girls and pregnant women assessed and took free medication by eight anemia screening programs help in collaboration with community health center Harohalli. They have taken medical advice about healthy food and healthy practices. As a result, the HB level a month the girls and women increased as many reported to the CHC doctors. Dr. Jayanth thanks to the community health center and all the collaborators, supporters, volunteers and the students.
Mr.Mahamad Ejas Ex Rotary president participated as a chief guest and he congratulated the Samruddhi CBID project programs. Mr. Cheluvaraju president of the Karnataka state level disabilities association he oriented about the Rights of persons with disabilities act 2016, and it's advantages and its importance.
During the same program, 5 persons with disabilities were honored who achieved medals in Para Olympic in various events of national and international levels. Two technicians also honored who supported the Samruddhi programme and particularly the screening camps. Seven persons with different disabilities distributed wheelchairs, water bed, walker, mobility cane, auxiliary crutches, and regular crutches.
Mr. Bharath president of the rotary Harohalli presided over the program. Dr.Jose .M.V. Director of AIFO, Surekha head Ms. Kasturaba English medium high school Harohalli, Vedavathy voice principal Mahatma PU college Harohalli, Dayananda Sagar hospital doctors and Dr. Pranesh ex Rotary president has participated as a chief guest. College lecturers, high school teachers, school and college students have also participated in the program.
After observing the world disabled day program, the project team conducted anemia screening camp at Kasturba English medium high school. There were 65 girl students participated in the screening camp. The medical team assessed all the students and distributed the iron-folic acid tablet for 51 girl students, 9 students have advised nutrition supplementary food and 5 students referred to the hospital for injection. All the students were very happy about their increased awareness of Anemia, screening camp conducted and expressed their gratitude to the project team.
Mr. Mahanthesh Samruddhi CBID project coordinator welcomed all the guests and he also conducted the concluded session Mr. In the concluding session, Mahanthesh thanked all the collaborators, CHC team, guests, college-school management, teachers and the students.