Project Report

| Jan 6, 2020
Anemia screening camp report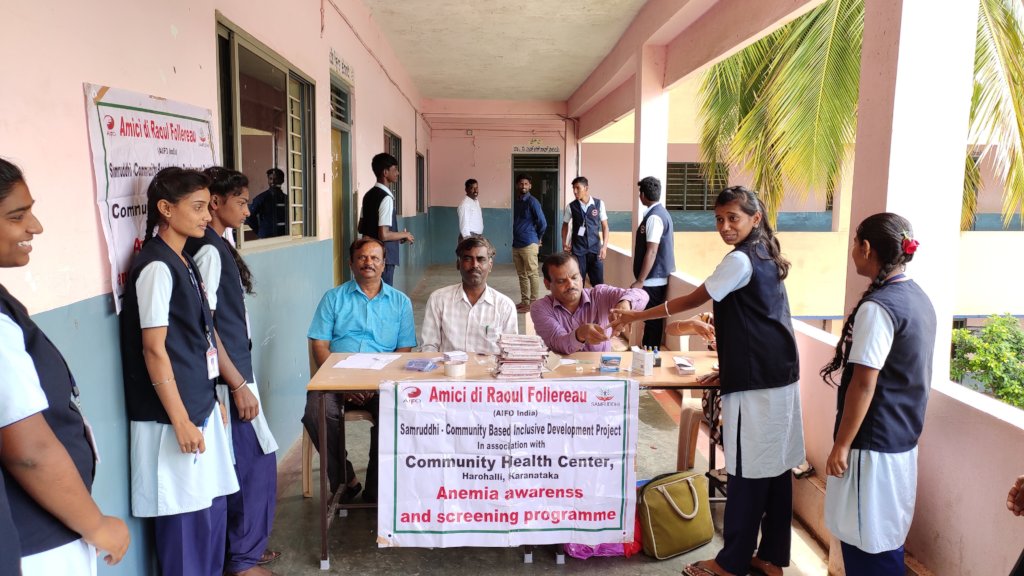 Dear well-wishers,
WISHING ONE AND ALL A VERY HAPPY AND PROSPEROUS NEW YEAR - 2020 !!!
Anemia screening camp report:-
Anemia awareness and screening program were conducted at Mahatma Gandhi PU College in Harohalli on Tuesday 24 September 2019 in collaboration with Community Health Center (CHC) Harohalli Thaluk of Ramnagar district. This program was organized only for PUC 1st year (11th Standard) fresher students.
Mr. Krishnappa principal of Mahatma Gandhi PU College inaugurated the program and appreciated the efforts of the Samruddhi CBID project and AIFO activities in Harohalli. He spoke about the screening camp/program that is very essential and useful especially for young girls and girl students. if we don't prevent anemia in early-stage its creates many problems among the girl students like, lack of concentration, dizziness, physical weakness, looks pale and also it reduces physical growth, psychological and mental stress. He continued his speech and expressed because of School students' irregular food intake, exercise and poor diet and nutrients it leads to anemia. He advises the students to please makes use of this opportunity in a proper way and get treated by the medical team.
Mr. Mahantesh in charge of the Samruddhi CBID project explained the aims and objectives of the project. The project is an important step towards preventing anemia, especially for high school and college students, pregnant women with anemia and creating awareness on the importance of nutritious food, treatment, and free medicine through the project. Mr. Mahanthesh thanked the College management and the medical team from CHC for their support and collaboration.
The outcome of the camp: A total of 100 girl students participated in the screening camp, most of them expressed their increased awareness of anemia and realization of the importance of nutrition food. The medical team screened all the 100 students and distributed the free iron-folic acid tablet for all the girl students. 10 students were advised for nutrition supplementary food and 2 students further referred to hospital for injection.
The College faculties and the students expressed their happiness about anemia awareness sessions and screening camp. In particular, the college management expressed their gratitude to the CHC team, Samruddhi project and extended their further collaborations for other programs.