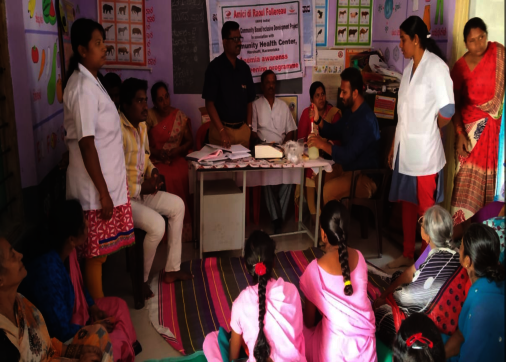 Amici di Raoul Follereau (AIFO India), Samruddhi Community Based Inclusive Development project Harohalli conducted "Free Anemia Awareness, Screening, and treatment program" in association with CHC Harohalli on 9th January 2019 and Primary Health Center, Domaradoddi on 23rd January 2019. Total of 150 women benefitted from these two camps.
Camp 1:
Anemia screening camp was conducted at Harohalli CHCs on 9th January 2019. Thirty-five pregnant women were participated and screened by doctors. Doctors distributed Iron plus tablets and nutrients supplements for all these women.
Camp 2:
Free Anemia Awareness, screening, and treatment program" in association with Primary Health Center, Domaradoddi and Department of Women & Child development department, Harohalli.This program was conducted for pregnant women, self-help groups' members, and adolescent girls on 23rd January 2019, at Anganavadi center in Kadasikoppa village, Harohalli hobli. Total of 116 women screened for Anemia, out of whom 57 women distributed Iron plus, 45 women distributed deworming tablets, and 14 women referred for further detailed investigation.
Mr. T.S.Gangadhar Senior Health Inspector, District health office, V.B.D.C. Division Ramanagara participated as a chief guest in the program and spoke about the effects of anemia on mental and physical health. Anemia prevalence is high in children, pregnant women, and teenage girls. The Anemia affects 67% of children below 5 yrs., 58% of pregnant women, 50% of reproductive-aged women, 17-25% of teenage girls. Interestingly, 20-40% of mothers are dying due to anemia in India. Failing to recognize and treat anemia in children leads to a lack of concentration in studies, negligence in pregnant women leads to child development issues and disabilities.
Mr. Mahantesh project coordinator introduced the aims and objectives of this project and spoke about the importance of organic food, kitchen garden, and a healthy diet. Miss Jayalakshmi, Counselor, HIV/AIDS prevention division of Harohalli CHC spoke about the importance of healthy living and ways to maintain the same. She spoke about HIV and AIDS prevention too.
In the program self-help group members, Anganwadi teachers, AHSA workers, and health staffs have participated. Miss Tara Anganavadi teacher expressed the vote of thanks.