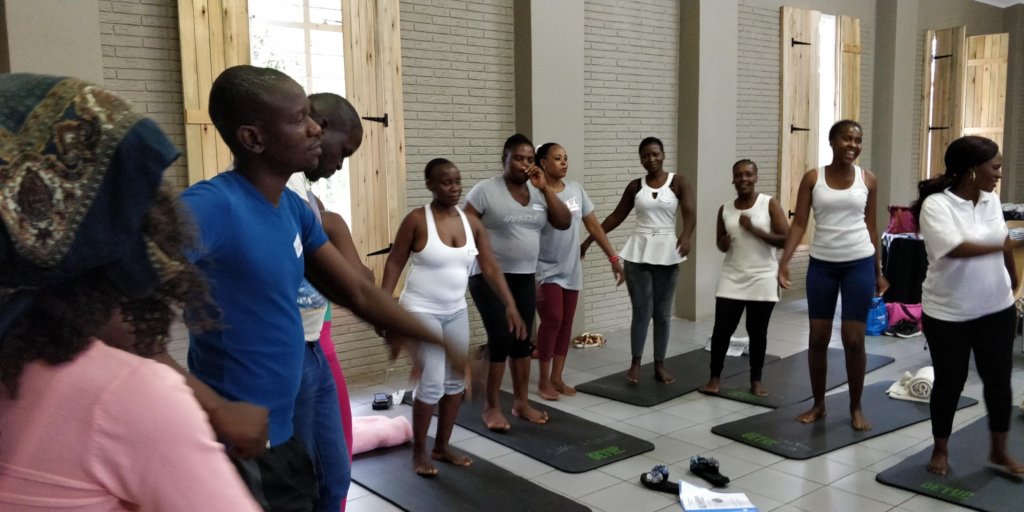 Since our last report in January 2019, our Trauma Releasing Exercises (TRE) community facilitators have been hard at work and the next round of training has started. Thanks to the funds raised by our GlobalGiving family, they are bringing relief to individual clients as well as Hlokomela field staff on a weekly basis.
Success stories
A local lodge owner referred one of their employees to Hlokomela for TRE after being through a very traumatic experience. The lady is about 38 years old, does not have a child of her own and suffered a miscarriage last year. After so many years of trying to conceive at all, she has been struggling to accept the miscarriage.
One of Hlokomela's in-house TRE facilitators, Tshepo Lewele, did TRE with her and after the very first session, she had a peaceful nap after a long time of not being able to close her eyes during the day due to flashbacks of the trauma.
Two days after the session she called the facilitator and said that she is very thankful for the TRE because she is now feeling positive about life, and TRE has helped her to accept and move on.
Training new TRE community facilitators
Word about last year's pilot Community Facilitators TRE training has spread and we had lots of applicants who wanted the benefits of the 6-month program for themselves and for people in their community. They wanted to experience the release of years of tension and stress and begin to heal from trauma, which is all pervasive in the Limpopo rural communities.
We were able to select 14 applicants from the Hoedspruit area to attend the training 1 ½ hours away in Tzaneen, Limpopo. There, in a church hall, Dr Erika Coertzen is teaching a total of 23 participants (9 from the Greater Tzaneen area) on 9 Fridays from March 2019 to September 2019. We have 2 translators, Kgopotso and Elizabeth, both TRE qualified, and a number of TRE facilitators who volunteer their time to assist in this exciting and rewarding project.
In the first 3 training days, we have seen the 4 men and 19 women start to process individual traumas within the safe space of the group. One mother was finally able to release the grief for her stillborn child, another woman took two sessions, filled with both crying and laughing, to let go of a knife attack that injured her badly. However, usually, people don't know and don't need to know what specific trauma and stress they are releasing. It is the great advantage of TRE as a modality that it evokes a physiological body reflex and does not require talking about the trauma.
Participants find that pains and headaches are disappearing, they are reporting better sleep, higher energy levels, fewer menstruation problems and improved sex! These are usually the first signs of reduced tension in the body and as the process deepens it can lead to more peace of mind, clearer thinking, more balanced temperaments and less anger and frustration.
Last year's graduates have a standing invitation to join and Grace, a social worker, came recently to share her experiences. Her insight and personal growth with TRE is inspiring!
Links: