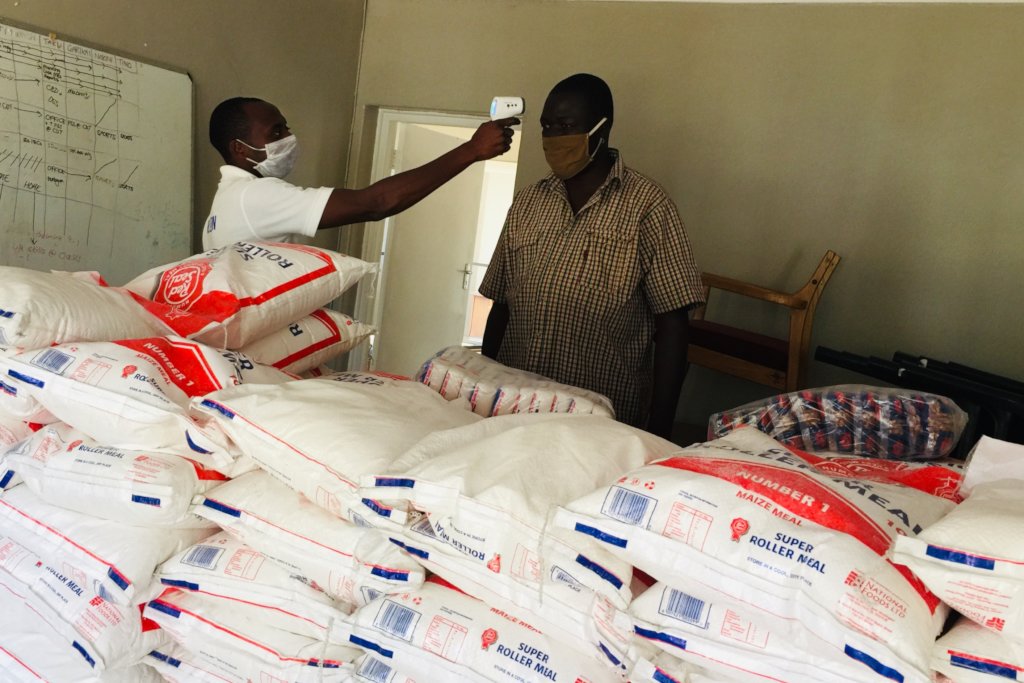 Alright, so we admit it, we spoke to soon! We've gone from jokingly referring to how entering into 2020 had not quite met the Jetsonesque flying car expectation of a few decades back in our last report, to the world being locked down and quarantined due to a virus in a matter of months! 2020 is, apparently, 2020 after all!
Our greatest hope is that you and those you love and get to do life with are well and safe.
Here in Zimbabwe and in our communities that we love and are doing life with, we too are in indefinite lockdown. The impact of this crisis' impacts are disproportionately severe for so many here, however. For our high-density communities that make up a majority of our work hubs, social distancing is a physical impossibility. More than one family often occupies just a couple of rooms. Homes and shelter structures do not have internal running water in these areas, and so community members must queue at communal water points each day. The idea of using much of this water to consistently wash hands for 20 seconds is difficult one that does not bring comfort to the mother, father, daughter or son who have had to wake up at 4am and stand in line to get a precious bucket or two for the days' needs. Simply put, the luxury of protesting confinement, let alone being protected by it, does not live here.
Most of our families in these areas, led by the women in and assisted by our SWATT TEAMs, survive by operating informal small businesses. These businesses sustain families' hand to mouth at the best of times, and as a majority are small sales-based they are unable to legally operate under lockdown with the exception of some regulated informal business types. Within two weeks of lockdown, starvation, not the risk of COVID19 infection, became the more tangible threat.
As a team, we are finding creative ways to connect online where we are having to miss each other in person. Just hearing each other and community, using mobile networks to send out mindfulness tips and exercises, working with our network of teachers and community facilitators to call people in an effort to notice and be able to respond to assist the most vulnerable of the vulnerable. The truth is, that we very often feel overwhelmed in the face of the need, but our shared motto these days is that we will "See today what our best opportunity is and focus our action, big or seemingly small, around that". Two of our primary goals in this are to identify where we see severe hunger, and to keep checking in on family and household relationships, including abusive situations and sexual gender-based violence incidents where we can to provide emergency assistance and referrals. Just as in other nations, our domestic and gender-based violence incidences have increased significantly under the COVID19 crisis, but in survival mode, these cases often get concealed deeply under what is considered to be the more urgent need. We certainly know that the trauma and mindset work and training that we do under our SWATT TEAMs work is going to need to be ramped up as a part of trauma recovery following this pandemic.
This GlobalGiving platform is amazing in the way that it allows us to connect, catch up and in ensuring that the money you give gets to us! This month, we received a grant of US$1,000 from GlobalGiving itself to help us respond to the COVID19 crisis in any way we need to! This means that we have been able to purchase basic food packs for nearly 200 of our most vulnerable of vulnerable families and this week will be able to see at least some of the women we are missing so much (with social distancing of course!), and to have the brief opportunity to see their eyes, hear them, and remind them that they are seen and are not alone.
Thank you again for your ongoing support. We hope that the realization that you are a part of impacting of all of the beautiful faces we will get to see over the next week will do your heart as much good as it does ours. It truly is your individual support that is enabling us to keep doing what we do, at present.