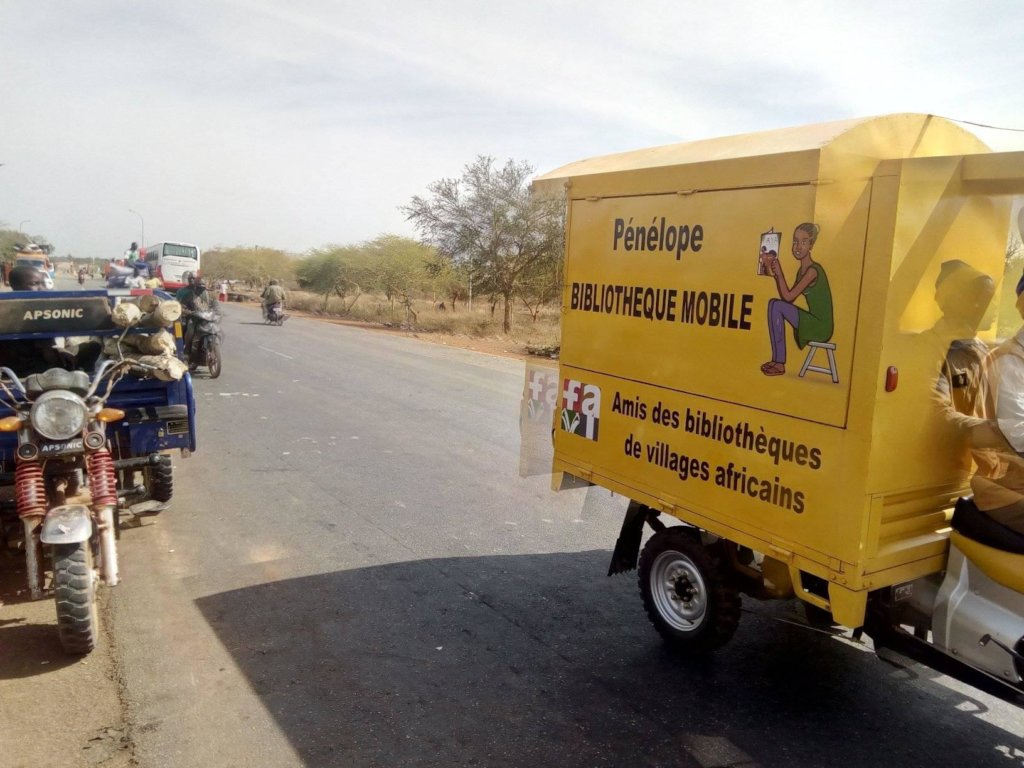 In our last report we noted that the security situation in Burkina Faso had worsened and so FAVL was moving the mobile library (BMP, or Bibliothèque Mobile Pénélope) to the town of Houndé. A partnership agreement with the office of the mayor was finally signed in November. $200 worth of new books was purchased at the end of November at the International Ouagadougou Book Fair (FILO), thanks to a generous donor. We had an advertisement for recruiting a librarian/driver, but unfortunately only one person responded and they were not qualified. So we have to continue to try to recruit someone who can begin operations. It is a half-time position (20 hours a week) and many educated young people are constantly looking for full-time, longer term work. So it is hard to recruit successfully. This moving of the library has taken a long time. We are frustrated, and know that donors also are frustrated. Patience, though, is the way to effect some good.
Some brief updates about other library support: The Kitengesa library in Uganda continues to thrive. This year a health reading camp was held for adult women, focusing on women's cancer. Another reading camp was held for teenagers, and a further women's reading camp is planned for later in the year. The Kitengesa Library Band continues to practice and perform.
In Burkina Faso, we are currently supporting 34 community libraries. Terrorist activity in northern Burkina Faso unfortunately has meant that four libraries are temporarily closed due to danger (schools and administrative buildings are targets.) For the libraries that are open, we continue to do the best we can to provide regular assistance to mayors and rural councils in managing the libraries, supply select libraries with new books, train librarians, and offer salary support for some of the librarians. Our Burkina team continues to produce photos books for young readers as well as books written by young people and illustrated with local illustrators.
In Ghana, our able partner organization CESRUD and its library coordinator Paul Ayutoliya continue to manage the three libraries of Sumbrungu, Gowrie-Kunkua, and Sherigu. These libraries regularly receive 30 or more visits a day- about 1,000 visits each month. They are open for night reading, as they are now connected to electricity. Donors this year helped fix the fans (it gets to 110 degrees during the day!). After school reading programs were held in September and are planned for this summer. All three libraries received several hundred new books over the course of the year thanks to support from Biblionef Ghana and the Ghana Book Trust.
Updates and lots of photos from all three countries are regularly posted to the FAVL blog