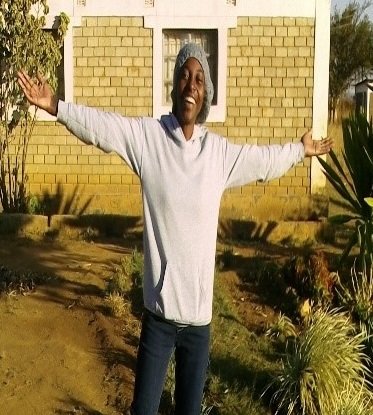 We thought you would be interested to read real stories from 3 of the students who have recently benefited from attending Kaliyangile vocational training centre. Thank you so much for your support which enables this ongoing work to happen and transform lives!
My name is Annia L and I am now a student at Mulungushi University.
This beautiful smile I wear today (above) is because I chose rightly by spending time studying at Kaliyangile when my dream of going to college was dim and seemed far-fetched.
My father worked in a bank and life was good until he was made redundant in 2005 when I was just in nursery school. Since that time, we have struggled as a family. Being the first born, dad left me with my grandmother here in Chisamba to help with farm work so I could raise money for school fees.
By God's grace and the help of well-wishers, I completed Grade 12 in 2015. But my life came to a standstill as I had no money to go to college and my father had to raise school fees for my siblings. That's when I learnt Kaliyangile Training Centre was offering computing basics. I enrolled in September of 2016 - we were the first students! It was really hard for us because the centre relied only on the laptop that was used for administrative purposes. That did not discourage me. We would have our lessons in the manager's office as we were only the three of us. This created a very close relationship between us and we worked as a team through assignments. In a few months, I had learnt a lot, especially how to use Microsoft Office. I became efficient at typing and with this skill I managed to get a job as a shopkeeper from which I was able to raise enough funds for my college.
I am now on 75% bursary at Mulungushi University and in my second year. I don't regret having taken computing basics at Kali because it has helped me a lot with my school assignments and research. In giving back, I am always available to help out with new computing students at Kali and give encouragement during holidays.
I am happy that we now have five desktop computers thanks to the support of Hands around the World!!!
May God bless your efforts in reaching out to our community.
Pauline writes:
My name is Pauline B and I was born in the year 1997, I come from a family of three and am the second born daughter. I did my Grade one to nine at Chisamba school and was later moved to Olympia Park secondary school in Lusaka where I completed Grade 12 in 2016.
My parents could not raise the money to take me to college. I applied for ICT Information and Technology Studies at Kaliyangile skills training centre starting in October 2018, looking forward to learning everything about a computer. Since I joined I have learnt the importance of modern technology in our daily operations, school, businesses and work. I know how use Word and can type any document without difficulties, though this was a real struggle at first.
I am certain that it will help me in sustaining my needs because I look forward to work in a business as a cashier. Our instructor has really been good to us; she is understanding and helps us. I am sure this will help in the near future and I therefore look forward to the day I will graduate.
To Hands around the world the sponsors of the project we are very grateful, for without their financial support we wouldn't have been here to acquire knowledge and computing skills.
Persis the manager writes:
We found Gift out on his own hunting bees, and when asked he said he needed to sell honey so he could buy school books and pay K20 (£1 or $1.25) as school fees. We asked him if he would be interested to learn more about bees and the right way to harvest honey, and his face lit up with joy!
He later joined one of our beekeeping classes and the instructor was very impressed with his participation.
We have now given our youngest members Bupe (aged 11) and Gift (aged 13) a hive to manage at the Centre which they have baited under the supervision of the instructor! Once harvested, the proceeds will go towards helping them pay their school fees, books and pencils.
Gift is pictured below with Mr Chilo, the beekeeping instructor.