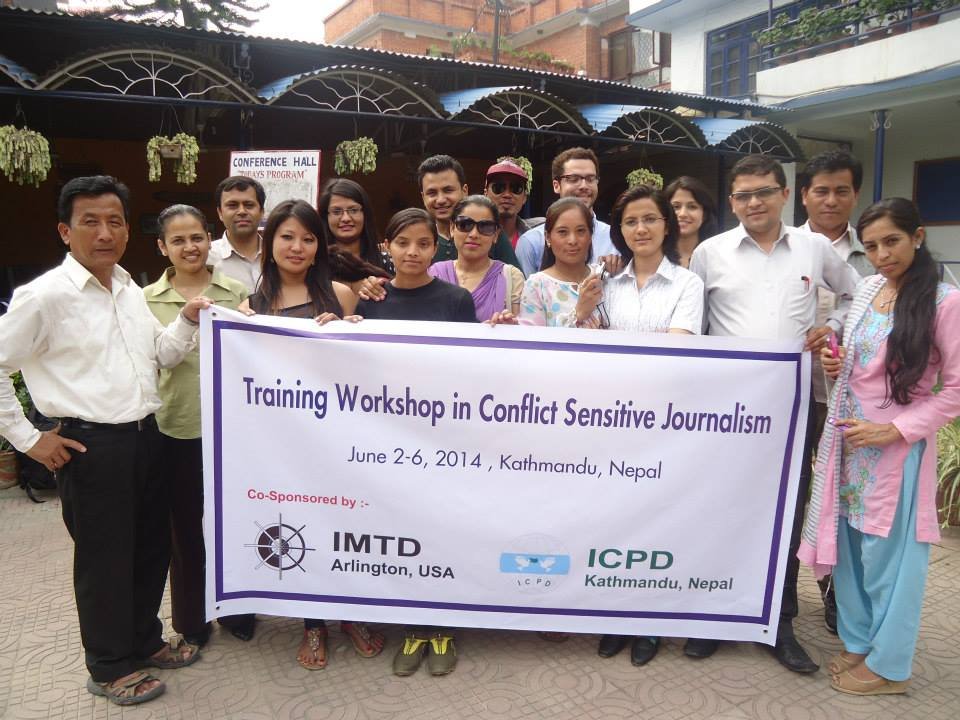 The Institute for Multi-Track Diplomacy is happy to announce that the first phase of the training for Nepalese journalists in Conflict Sensitive Journalism was conducted successfully from June 2 to June 6, 2014. The training was conducted for 15 journalists of the Nepali media in collaboration our local partners, Institute for Conflict Management Peace and Development. Participants were from both the print and broadcasting media. The training was conducted using a combination of lecture and group discussion formats. This enabled us to deliver concepts as well as involve participants in applying the concepts learnt to the daily practise of journalism.
For the purpose of evaluation, samples of reporting were collected from the participants. Additionally, surveys were distributed at the end of the training and the participants opined that the training was useful in
1) developing a vision of what the role of the media might be in Nepal.
2) developing a basic understanding of the cycles of conflict and violence, and learn how conflict resolution fits into that cycle.
3) understanding framing and agenda setting to examine methods of story selection, information gathering andreporting.
4) examining the ways that media can effect the conflict/conflict resolution cycle both positively and negatively.
5) examining the political environment in Nepal to discover specific obstacles that Nepali news media faces in addressing conflict/conflict resolution.
6) developing a plan for Nepali journalists to use conflict sensitivity in their reporting.
Currently, we are trying to raise $ 5000 for the second phase of the training. The second phase of this training involves providing constructive feedback on samples of reporting through the use of video-conference technology. The participants and the trainers will meet once a month for 5 months to discuss how samples of reporting can be made more conflict sensitive. The samples of reporting submitted will be scored using a scale for conflict sensitivity. The use of a scoring scale will help show the extent to which the training has been effective. It will also ensure the participants put into practice the concepts learnt during the instructional phase.
The Institute for Multi-Track Diplomacy requests your donations to raise the funds for acquiring the videoconferencing technology to conduct the second phase of the Training in Conflict Sensitive Journalism
Thank you.