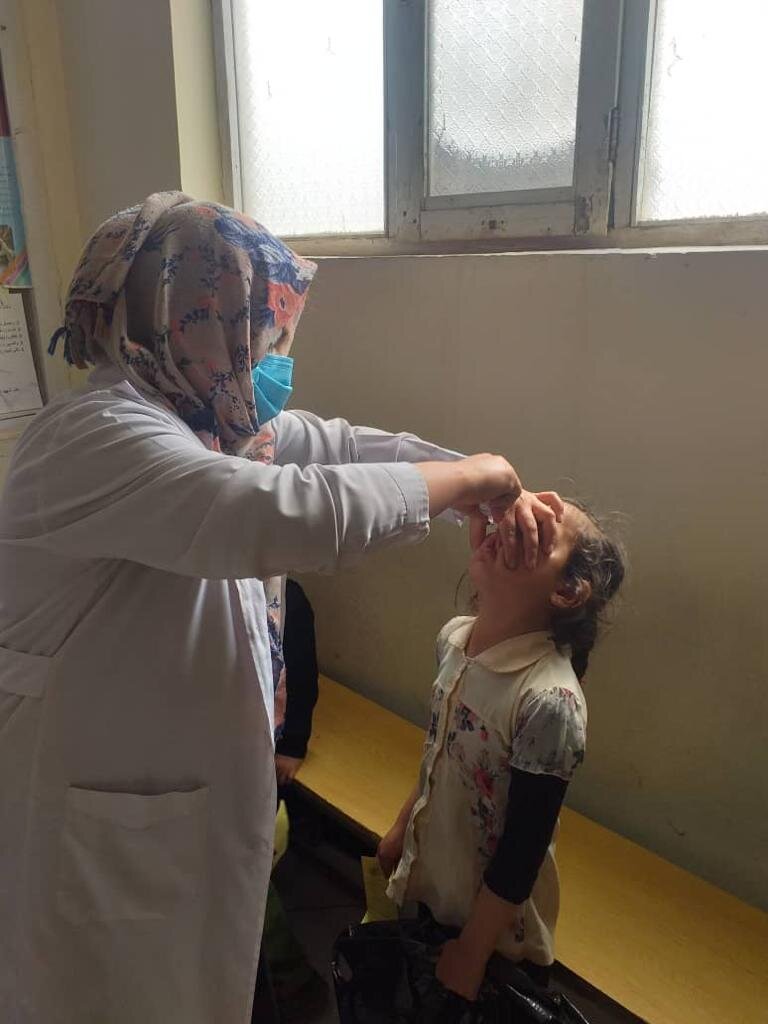 In Afghanistan, the ongoing instability caused by the regime change is affecting every aspect of people's lives, down to their very first one. Indeed, it is estimated by UNICEF that infant mortality rate gravitates around 52 deaths per 1,000 births, and maternal mortality rate approximates 640 deaths per 100,000 live births, and these figures continue to rise as access to healthcare has become more challenging. As a result, only about half of all births in Afghanistan are attended by trained medical professionals, and rural areas have been facing a shortage of midwives and female health professionals, although they account for the majority of births and delivery supervisions.
What are we doing to help?
Despite the complexity of the current political and social contact in Afghanistan, AFD is determined to continue supporting the training of medical personnel on the field to ensure a safe birthing experience for both mothers and infants.
This year, however, we have had to reckon with unprecedented difficulties. With the change of regime came new institutions, new ministries, and a new administrative context with which we have yet to find appropriate agreements to continue to provide quality trainings and promote the access of vulnerable populations to essential health services.
In these critical times the accessibility to health services is prohibited in some areas due to insecurity, however, some areas are still partially secure and there is a possibility to set up trainings for women, by women specialists, and we would like to use this momentum to safely train an additional 350 midwives to reach our initial goal. We have taken all the necessary measures to ensure the safety and well-being of our staff and the midwives we would like to train.
Until present, AfD received close to 25,000 USD through additional fundraising mechanisms and over 4,000 USD online through the GlobalGiving platform and generous donors like yourself. However, we are urgently looking for additional funds to support the implementation of our midwifery training programme and other emergency services.
These sustained efforts and continuous support have enabled us to continue making a difference on the field, and to measure it, we've gathered testimonials from the midwives that we've helped train in Kabul to understand how this program helped them in their professional advancement and in making a difference in their community.
The interview with Sherazade, who asked us to use this nickname instead of her real name amid concerns for her safety, can be found below:
- Hi Sherazade, thank you so much for being with us today for this interview. Could you maybe start by summarizing the role you took into this program, and for how long?
"Good morning from Kabul, I'm happy to be here! I am actually a trained midwife here at the Health Center, I started working around spring last year, so I joined about eight months ago"
- When did you start?
"I actually started overall about a year and a half ago, as I initially joined the center as a volunteer for an entire year before being offered this position"
- What was your first appointment? Did you get any promotion, since you started? Why? How? When?


"I have been a midwife since the first day I joined this clinic, and I still am, but now I specialize in juvenile care and in family planning"
- Are you happy with your job? what makes you feel happy when you attend your job? or which part of your job do you like to most?
"I adore my job! I would say the part I like the most about it is to be able to have a special relationship with my patients, which you could perhaps not have in other medical professions".
- Why did you join the program? What did you think it could do for you?
"I joined this health center because I wanted to specialize myself in family planning from early on, and improve my skills, learn more things, and increase the arsenal of methods I knew so I could better care for my patients."
- How did you learn about this Health Facility? Why did you choose this clinic specifically?
"I joined this health center specifically because it was the one providing me with the exact training that I wanted, it was a unique opportunity for me in that regard!"
- So, which are the training have you received so far?
"I learn new things every day here, but the two main trainings I've received have been in certain surgical interventions, IV drip placing for instance, juvenile care in general, and as I mentioned, in family planning."
- What was your first day feeling when they offered you the job? Did you experience overwhelm, joy, serenity?
"I was very overwhelmed, mostly with joy! I remember exactly when they called me to offer me this position at the Health Center, I was so happy! I knew it would be a challenge, but I also knew that I was going to be helpful to my community, that meant the world to me!"
- After you got the training, which areas do you feel you improved the most?
"I feel that I've learned to use many more different methods that what I knew when I joined the facility. I've improved a lot in small surgical interventions too, especially on mothers and infants, and I can offer a more adapted care to my patients".
- Tell us about a day from your life that you were proud to be a midwife?
"Honestly, I am proud to be a midwife every single day, it's a rewarding job in itself, but being able to place and IV drip for the first time was definitely a moment to remember! It was so intimidating, and I was proud to have managed that on my own."
- What do you want to achieve in the future?
"The goal for me is to help my people and my community, and to continue specializing in midwifery, improve my skillset, and make a difference in the lives of my patients, one at the time, especially in the lives of my female patients, mothers, infants and girls".
- Is there any moment you regretted your choice to become a midwife, did you ever experience any doubts?
"I absolutely experienced challenges, but I never regretted my choice to become a midwife, not even for a second. It is definitely challenging, it is not an easy job, but I enjoy it and I wake up every day knowing that I love it, and that I am being helpful in the community."
- How do you see your role as a midwife - now, under the new regime? are you able to work? are you able to move freely? What changes have you experienced since the change of regime?
"Professionally, not so much. The job and the clinic are able to function almost normally on a daily basis. But we are people also, and we had to make a lot of personal changes since the new regime, even in a big city like Kabul, there's a huge difference. Especially in the medical profession, face coverings are mandatory for women for example, they [The Taliban] are in the street permanently, revving their engines, driving by fast, we feel their presence constantly."
- How do patients experience the difference since the new regime? Has it changed your professional relationship with your patients?
"The change has been drastic in my relationship with my patients. They are a lot more reluctant to seek our help, most of the time because they are concerned that they will not have enough money to both eat and get medicine, and they feel they might have to choose. The influx of patients that have to be treated at the clinic has also increased significantly under the new regime, even as some people and even doctors are displaced from Kabul to the countryside.
- Thank you so much for your time Sherazade, is there anything else you'd like to share with the world? A special message?
"Thank you for having me!
I guess if I had a message to share with the world, it would be to keep fighting. Keep fighting for us, keep fighting for the women and girls in Afghanistan and for their future. The new regime is making their lives particularly restrictive and dangerous. It is truly heartbreaking to witness on a daily basis these women and girls who cannot go to school, get an education, contribute to their community the way they feel is right or at their full potential. I'd say that now more than ever, we need your support and we need you not to give up.