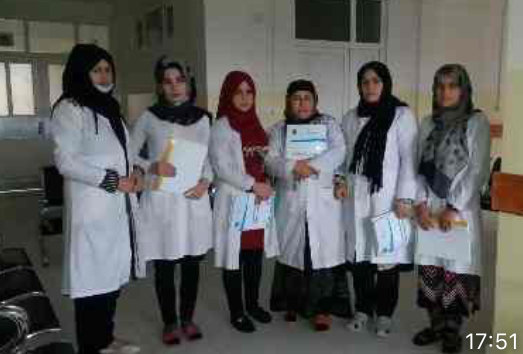 259 midwives and nurses receive skills-gap training in Panjsher and Takhar Provinces to provide better services to mothers and newborns!
Giving birth in Afghanistan is still a dangerous ordeal that many women are risking their lives for, especially in rural regions. The country has one of the highest infant and maternal mortality rates in the world and 25% of children die before their 5th birthday (UNICEF). Most maternal deaths (80%) are preventable however, as the health-care solutions to prevent or manage complications are well known. In spite of this, women in Afghanistan have a 1 in 52 chance of dying from pregnancy related causes, compared to 1 in 4900 in developed and 1 in 180 in developing countries. This highlights the consequences of breakdowns in health systems in fragile states like Afghanistan as well as the importance of all births being attended by skilled health professionals, as timely management and treatment can make the difference between life and death for both the mother and the baby.
Since 2014, AfD has been working to reduce infant and maternal mortality by providing midwifery skills-gap training to midwives in rural Afghanistan. AfD's program focusses on the major complications that account for nearly 75% of all maternal deaths (pre-eclampsia, eclampsia, complications from delivery as well as severe bleeding after birth). From 2019, five new training modules will also be available.
Current Modules
New modules, 2019 onwards
1. Care of the Newborn
6. Family Planning
2. Pre-Eclampsia
7. Nutrition
3. Eclampsia
8. Manual Vacuum Aspiration
4. Management of 3rd Stage of Labour
9. Vacuum Extraction
5. Postpartum Hemorrhage
10. Sepsis
These modules were developed in partnership with the Geneva Midwifery School (Haute École de Santé de Genève, HEdS). They have been adapted for the country needs, aligned with Afghan government regulations and translated into local language.
In 2017/18, AfD conducted training for 259 midwives in the Panjsher and Takhar provinces. These provinces were chosen due to an acceptable security level, the available infrastructure (availability of training centers, hospitals, accommodation etc) and a sufficient transport network.
The training was conducted in two stages. In the first stage, 41 midwives were trained as master midwife trainers. These trainers then returned to their local health centers where, overseen by the Ministry of Public Health, they shared their new knowledge through cascade training of midwives and nurses in their local geographical area. As a result, the professional skills and knowledge of 218 more healthcare workers in the two provinces was enhanced.
In rural areas such as Panjsher and Takhar, where gynecologists are rarely available, the services midwives provide for women during their pregnancy, the birth and the postpartum period is vital. AfD's collaboration with HEdS has enabled midwives in rural areas of Afghanistan to benefit from continued professional development, allowing them to increase their practical skills and knowledge in vital and life-saving areas, increasing their professional competence and confidence.
Now AfD is seeking funding to use the same methodology to train an additional 800 midwives in 4 other rural provinces; Kapisa, Laghman, Nangarhar and Parwan in 2019 and 2020.
We would like to thank you again for supporting our midwifery project. If you would like more information about the project and our latest project evaluation, please visit our website.
Please share our project details with friends and family. With further support, we will be able to save more lives.
Kind regards,
The team at AfD