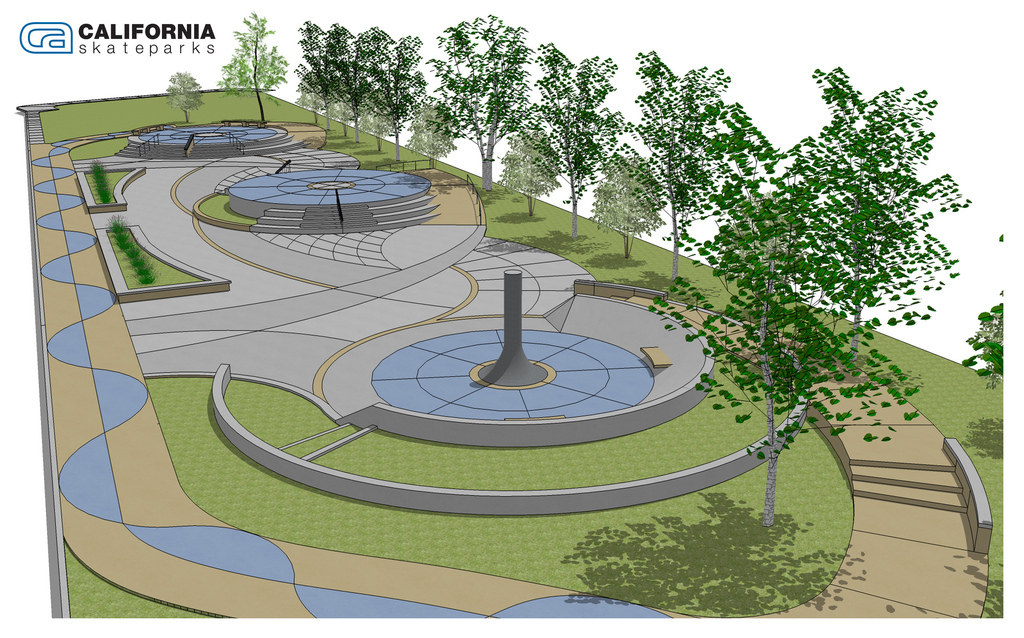 Donate TODAY (Tuesday, January 12) to the Watts Skatepark and help us earn an additional $1,000 by winning today's Bonus Challenge. And please spread the word through your facebook and other networks to encourage your friends and family to get involved!
At a meeting of Watts community leaders and local agencies last week, the enthusiasm and excitement over the skatepark plan was overwhelming.
Representatives from the Los Angeles Mayor's office, local Council Member Janice Hahn's staff, the Community Redevelopment Agency, and other local organizations discussed the impact of the skatepark on the site of the historic Watts Towers landmark, and the general consensus was that the skatepark at the Watts Towers will benefit the community in several ways:
• Skateboarding, an inherently creative activity, will give local skaters a "canvas" to express their style and technique in the heart of Watts' "Cultural Crescent," a redevelopment district designated around the Watts Towers that includes community arts centers and cultural facilities.
• The attraction of the skatepark will bring local youth to the site to experience the Watts Towers landmark and learn to appreciate their own local history.
• The Street Plaza design of the skatepark will blend with the aesthetics of the Towers and the existing amphitheater at the site, and will also accommodate multiple uses--festivals and other public gatherings.
• The design will be refined with additional input from top-professional skateboarders and local youth, who would be the park's primary users.
• The skatepark isn't only for the youth who will finally have a safe, sanctioned place to ride, but will allow non-skating community members the opportunity to see what these young athletes can do--the skatepark will be as exciting to spectators as it will be for the youth who will get to use it.
• The skatepark construction is being funded by private donors, so there will be no fiscal impact on the community or City of Los Angeles to create the landmark skatepark.
• The Watts Towers already attract many tourists to come see the 100-foot spires, and the skatepark will show another type of local creativity that will also be an attraction to visitors.
Currently a series of public meetings is being planned to collect more community input and answer questions about the skatepark plan. But fundraising efforts are ongoing, and through this special Global Giving campaign that ends Friday, January 15 you can help make this dream a reality for Watts youth.
Donate TODAY (Tuesday, January 12) and help us earn an additional $1,000 by winning today's Bonus Challenge. And of course your donation will be matched by the Tony Hawk Foundation.
Spread the word!