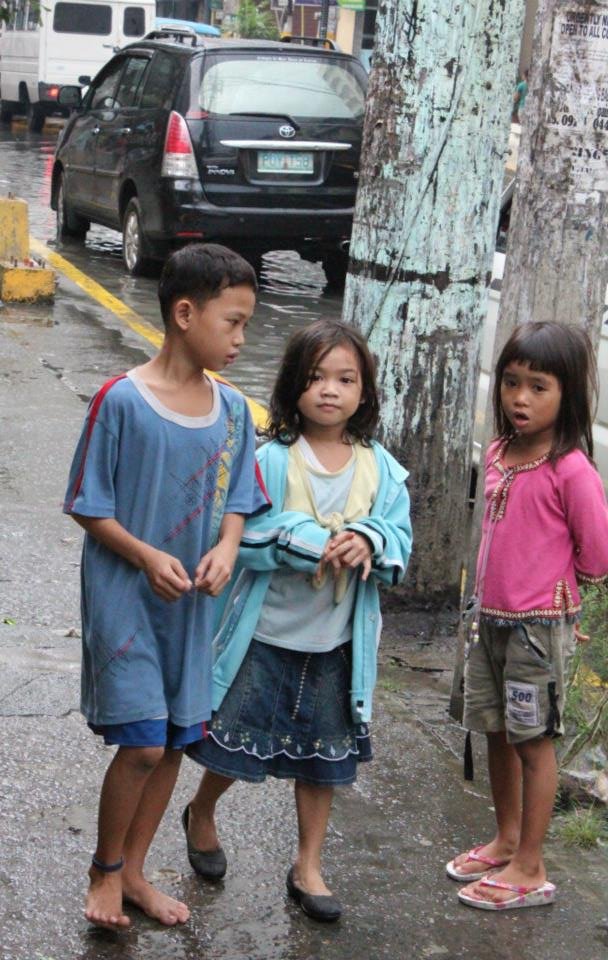 Besides running a hotel of his own, Dick has one other dream. He hopes he can finally convince his 65-year old father to leave the streets and stay at a place they can call home.
"Mahirap gawin, matigas kasi ulo ni Papa. Ayaw niya umalis sa Luneta kasi nakasanayan na niya (It's difficult because Papa is hardheaded. He does not want to leave Luneta because he is used to staying there)," said the 24-year old Dick.
"Mas gusto niya tumira sa Luneta, kahit na walang permanenteng tulugan doon (He prefers to keep Luneta as his home, even without a permanent place to sleep on.)," he added. Dick is currently renting and staying with a relative in Manila.
Dick said his father works hard as a carpenter to provide for the two of them. When the old man could not take up the cudgels, he took his son to an orphanage. Dick stayed at the Asilo de san Vicente de Paul for most of his childhood. He left when he was already in fifth grade.
Dick and his father managed to survive the streets through wit and grit, one day at a time. His father was always out during the day, looking for work.
"He got clients who needed someone to fix their roof or any part of their house. Luckily, there was always construction work," said Dick.
Dick, for his part, tried his best to stay in school while managing the challenges of living on the streets. He was very independent and took care of his own ---- ironing and washing his clothes, finding food to eat, and looking for a place to study.
"Kailangan makipagkaibigan ako sa mga caretaker ng Luneta para makapagaral ako doon sa tinatawag namin dati na kweba, ngayon Senior Citizens Garden at Luneta park (I learned how to befriend the caretakers of Luneta so I can study at the place we called 'cave.' Now, it has been turned into a Senior Citizens Garden," said Dick.
"Bawal kasi yun so tatakbo na lang kami pag may gwardya na. Pag umuulan, panangga mo kariton (That was prohibited so we had to run when the guards caught us. During stormy weather, we used cardboards to protect ourselves from the rain)," Dick said.
THE STREETS AS HIS TEACHER
Despite the hardships, Dick has learned to love the streets of Manila. It is also here where he got the inspiration and drive to pursue and finish his studies.
"I saw Kuya Jessie teaching street children in Luneta. I was very curious. My life turned for the better since then," said Dick.
More than the basics of reading and writing, Dick had a firm grasp of his rights, responsibilities, and values ---- through Childhope Philippines' street education program.
"Childhope's street educators and social workers assist children through an alternative learning system ---- giving them pointers on how to protect themselves from the different kinds of abuse," said Dr. Harvey, Executive Director of Childhope.
"The main goal is to guide and motivate the children to pursue dreams and a life outside the streets," Harvey added.
"Natuto ako makisalamuha sa ibang tao, natuto akong humarap sa kanila. In my simple ways, natuto akong maging lider (I learned how to deal with different kinds of people, and handle myself around them. In my simple ways, I learned how to be a leader)," Dick said.
By consistently participating in Childhope's programs, Dick became an active junior advocate and junior health worker. He was very passionate about sharing his experiences to other street children like him.
"Bilang junior health worker, natuto akong manggamot ng sugat ng mga bata. Bilang junior rights advocate naman, namulat ko sila sa kanilang mga karapatan at responsibilidad (As a junior health worker, I learned how to treat wounds of children. As a junior rights advocate, I was able to educate the children on their rights and responsibilities," Dick said.
Dick was consistent and persistent in attending the sessions that slowly built his self-confidence. He eventually found himself in college, as a beneficiary of Childhope's educational assistance program. It was a rough journey, though, juggling different jobs while trying to maintain high grades. At one point, he thought he could not make it.
"Pero lagi akong kinumbinsi ni Nanay Gerney na bumalik at tapusin ang pagaaral ko," said Dick of his social worker Gerney whom he fondly calls "nanay."
"Nung nasa ospital ako at kailangang operahan, di alam ng tatay ko. Si Nanay Gerney ang kasama ko. Kung wala ang Childhope, pilay ako. Di ako gagraduate (My father did not know that I was hospitalized and had to undergo surgery. It was Nanay Gerney who was with me. Without Childhope, I would be crippled. I would not be able to graduate," said Dick. At one point, Dick had to undergo surgery because of the disease hernia. He relied on help from his Childhope family.
DREAMS, FAMILY
Dick plans to take on a number of jobs and earn money, so he can help his father and his family. He has not seen his mother and siblings for a long time since they were separated when he was young, but he hopes to be reunited with them.
Dick wants to improve his skills as a graduate of a bachelor's degree in human resource management (HRM). He says he could not believe that he was able to finish, considering his worries on finances and expenses.
"Nagawan ng paraan ng Childhope. Ngayon, gusto kong ibalik ang tulong sa pamamagitan ng pagtrabaho ng mabuti at pagangat. Gusto ko magsimula sa baba pataas. Balang araw, gusto ko maging manager (Childhope found a way to help me finish my studies. Now, I want to give back by working well and succeeding. I want to work my way up --- I want to be a manager someday," said Dick.
Dick says a most valuable lesson he learned in his struggles is to always give a helping hand in any way, despite the hardships.
"Kahit mahirap ka tumulong ka pa rin kahit papaano kasi babalik sa iyo yun, mas magiging blessed ka (Even when you are poor, help others in the best way you can. It will come back to you and you will blessed)," he said.
Dick says he believes that the best way to get through things is to have a mindset of not giving up even when it's too hard and hopeless. He says it's important to hold on to your faith because God will always make a way.
Links: