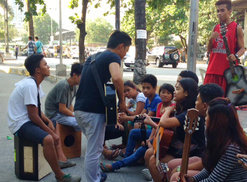 Louie is a man of the streets, and Luneta has been his playground.
He spent his childhood scavenging for plastic bottles and selling them to help feed his family. He would also beg for money so his family could survive.
Now, Louie still goes around the streets of Manila but with a higher purpose --- to share his passion for music with the street children he cares for.
ROCK-ED
Louie used to join Childhope Asia Philippines' Street Education program for street children. He attended alternative education sessions --- where he learned about reading, writing, children's rights, good values and spirituality. He enjoyed watching videos that taught him about important life lessons.
But it is in music where he truly found himself.
"I was very excited to hold a guitar. I had always wanted to be in a band and play," Louie said.
So he tagged along when his friends invited him to join a RockEd program in 2009. It is a project created to teach music to the Childhope street kids by the employee volunteers from Deutsche Bank Group's Deutsche Knowledge Services (DKS).
"The lessons covered guitar, bass, piano, drums, dance, and vocals. We would go to the DKS office every Saturday to learn how to play," Louie said.
DKS says its Rock-Ed is based on the belief that music plays an essential role in empowering children and helps them discover their own music talents as well.
Little did Louie know that he would develop a passion for music, and a yearning to share it with other children like him.
MORE THAN MERE MUSIC
Through Rock-Ed, Louie and his three friends formed a band. But what he cherished was the bond they shared. They called themselves 'Abstract.'
"Di ko alam na magiging solid kaming apat. Abstract yung tawag sa amin kasi magulo, kanya kanyang interpretasyon, pero may nabuong harmony (I did not think we would be that close. We called the band 'Abstract' because we were very different people, to each his own interpretation, but there was harmony"), Louie said.
Louie was in fourth year high school and his bandmates were also studying. There were difficulties in juggling school work with practice and personal problems, but they pursued their dream. 'Abstract' was able to release an extended play (EP) with four songs representing the voice of street children's hopes and dreams.
PASSING IT FORWARD
Six years later, Louie still finds himself fascinated with the power of music. Only this time, he shares this with street children who have no idea how to play tunes. Every week, he goes around Manila to introduce the wonders of music to the street kids.
"Masaya akong ibinabahagi yung nalalaman ko, hindi lang sa music kundi paano din ako na-mold as a person. Overwhelming na makita silang natututo. (I am happy to share the knowledge and skills I have not only about music but how it helped shape me as a person. It's overwhelming to see that they are learning," Louie said.
Louie said the street kids are slowly building their confidence through practice and determination. He said it's hard to get their attention at times, but they are learning the values of respect, discipline, and having a positive attitude. Louie said music also helps in protecting the kids from vices or addiction as it diverts their attention to more important things.
As a full-time teacher for Childhope Asia's mobile music school, Louie said he has a lot of dreams for the street children he serves. He said had he decided to give up on his dream to pursue music, he would still be the same kid lost on the streets.
"Kailangan matutuo kang maikasabay sa takbo ng mundo, at sa genres ng buhay. Wag kang susuko para maabot ang pangarap (You need to learn how to go with the flow, with the genres of life. You should not give up in achieving your dreams)," Louie said.
"Mabigat naman na mawala ka sa mundo ng walang nakikinabang sa iyo. (It's hard for me to bear leaving this world without making a difference. In my simple ways, I hope to encourage street kids to set goals, to attain a better life," Louie added.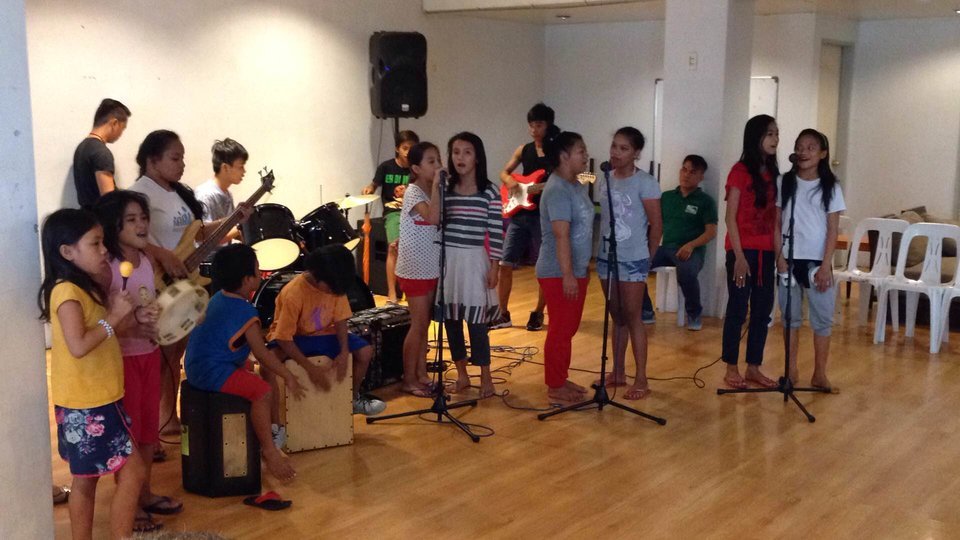 Links: