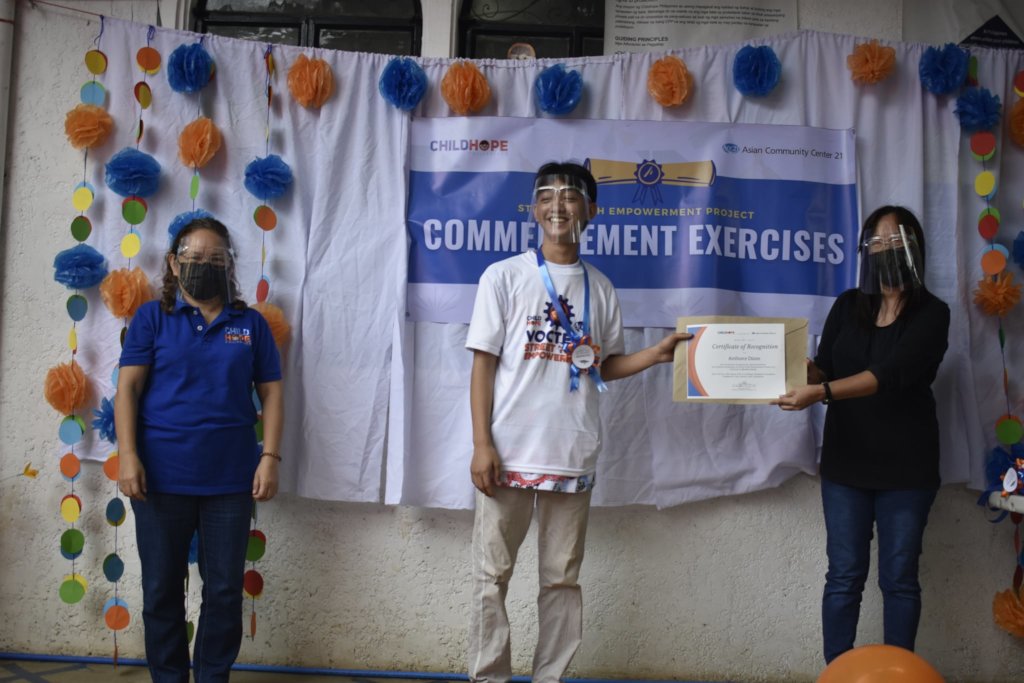 A joint program of the Childhope Philippines Foundation and the Asian Community Center (ACC21) of Japan has produced its new batch of graduates of street youth who were once unschooled.

Following months in training in their chosen vocational-technical courses under Street Youth Empowerment Project (SYEP), 18 street youths are now certified TESDA specialists and ready for work.

SYEP Project Coordinator Amante, Childhope's street educators, led the recognition of the graduates in rites at the organization's headquarters in Paco, Manila.

"They may have missed out on schooling, but found hope on vocational-technical education through this joint program of ACC21," Amante said.
Meanwhile, the President of ACC21 and Japanese co-organizer of SYEP, Mr. Ito, expressed his congratulatory message to the participants through a virtual message. He salutes the perseverance of the street youth participants to finish their training despite the hurdles brought by the COVID-19 pandemic.
"Because of the pandemic, there may not be enough employment opportunities as you wish. Yet, the pandemic may also pose the same difficulties to graduates of other schools such as high schools and colleges. I am sure that the values, knowledge, and vocational skills you have acquired through SYEP will be certainly of high value for you." Ito said.

The two agencies partnered for the program to give a boost to vocational-technical training by making it within reach of youth students who could not continue their studies because of poverty.

Another highlight of the event was featuring the story of the former participant, Myla, who was able to apply what she learned from the program and now she is a successful online entrepreneur. By that, she already achieved her ultimate dream of having her own house.
Capping off the event, Ms. Salen, Childhope Program Manager, expressed her closing heartfelt gratitude to graduates for choosing to be part of the program as their second home. Aside from education, she also reminded the graduates to always carry with them the good values that the institution has instilled in them.

The event was also graced by the presence of Childhope Ph staff wherein everybody strictly and properly followed the health protocols such as all graduates were wearing face masks and shields all throughout the event, checked body temperature before the event, sanitized all the materials before and after the event, and strictly maintain physical distancing.
Watch the full video of SYEP Recognition Day on Youtube: Childhope PH Produces 18 Street Youths Voc-Tech Graduates