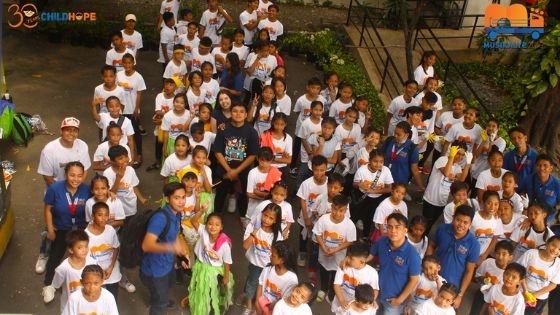 MANILA, Philippines — One cannot walk the streets of Metro Manila and not come face to face with poverty. You will see beggars asking for alms, families living on sidewalks, elderly with crutches approaching cars stuck in traffic for spare change, and young children peddling anything from sampaguita to peanuts to small toys for cash toward their next meal.
As you see their tattered clothing and grimy faces, one can't help but ask: Is there hope for these men, women, and children to escape poverty?
Germinating seeds of hope
More than 30 years ago, that sad state brought individuals from different agencies to establish Childhope International. Their mission was to address the plight of children in need of special protection, particularly children living on the streets.
Three years later, they set up a regional office for Asia in Manila to facilitate networking and collaboration among agencies working for street children in the region. That same year, Childhope International became Childhope Asia and launched programs ranging from outreach to protection to education on the streets, tackling the urgent needs of Manila's marginalized children. In 2013, Childhope Asia became known as Childhope Philippines Foundation Inc., aptly so to show its focus on streamlining programs and services for Filipino street children.
Three decades of hope
This year, Childhope Philippines marked its 30th anniversary, and the children under its care took center stage in a celebration showcasing their talents in arts and music.
Themed "Helping Street Children's Dreams Come True", the non-profit also took the opportunity to recognize its partners and stakeholders in sharing its mission to make a positive impact in the lives of the street children.
There is much to celebrate after 30 years, according to the President and trustee Sherwin O. "We have witnessed how our street children have grown out of their dirt-covered faces into contributors to society and even registered social workers now helping other street children."
He added that through their flagship Street Education Program, they have helped thousands of children through the years, "pulling them away from harm and giving them a much better chance at a brighter future."
In thanking donors and welcoming beneficiaries, he was joined by Childhope Philippines' founder and long-time president Teresita Silva and Vice Chairman and trustee Samuel Guevarra.
Childhope Philippines' annual MusiKalye affair, usually held on National Children's Month, doubled as the non-profit's anniversary celebrations.
Art lovingly crafted by the street children, ranging from sandpaper paintings, chain beads and accessories, greeting cards, and many more were put on sale, to raise funds for various programs including alternative basic education, counseling, relief and material assistance, and primary health services for about 500 street children all over Metro Manila.
Over 100 street children later showcased their talents in singing, dancing, rapping and playing musical instruments. For the first time, MusiKalye also exposed the acting talents of the street kids, where they symbolically portrayed their current situation and their rights as children.
Donors from the country and overseas also showed their support including Duestche Bank Singapore, Australia-based Transurban Co., and International School Manila. Childhope Philippines also recognized 10 companies with the Hero of Hope award for active participation in its many volunteer-led activities.
O also acknowledged the contributions of his predecessor. "The values of Childhope that have made it possible to sustain its operations and its advocacy for 30 years is largely due to the leadership of Ms. Teresita Silva. She has dedicated her life to helping street children. Her passion and love for street children is very infectious and have led to the numerous partners that have supported Childhope through the years."
Links: