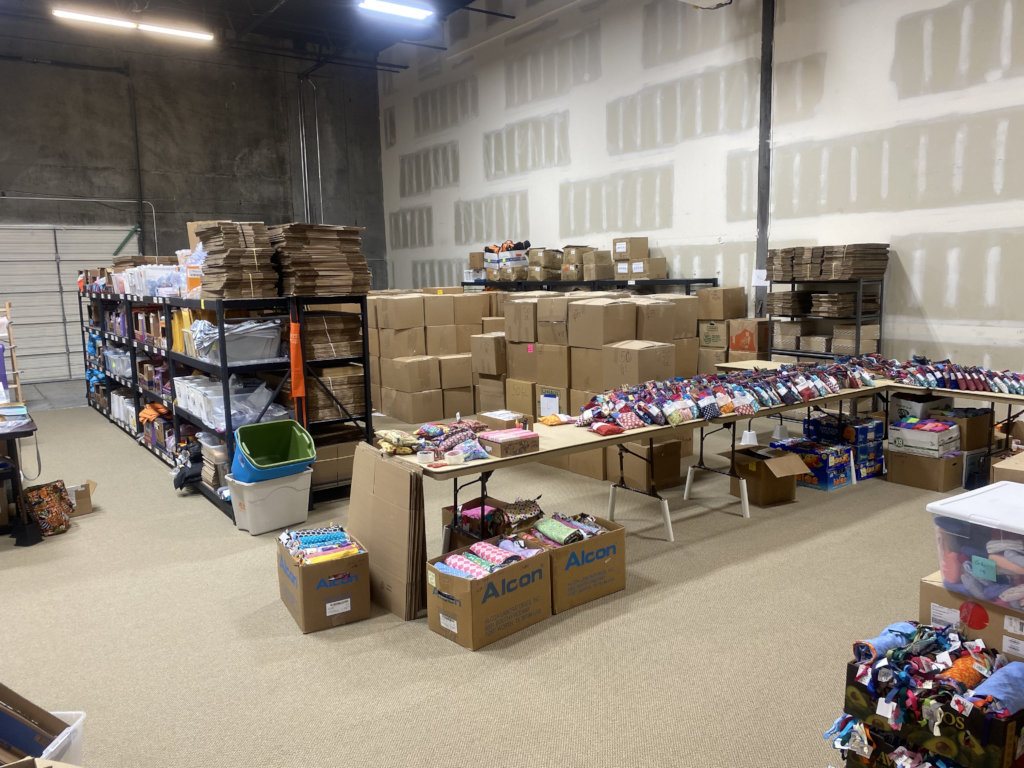 Thank you for your donations to the Dignity for Refugees and Internally Displaced Women project through GlobalGiving. With your support , on August 15, Days for Girls sent 21,001 DfG Menstrual Kits to Chad. We expect the kits will arrive in-country in early October. Starting in mid-October, we will be conducting virtual training sessions for 134 individuals (80 women and 54 men) for Ambassador of Women's Health and Men Who Know courses. Those trainers will then conduct kit distributions (including vital health education) from late October through the end of 2021. Distributions will be conducted in 13 different refugee camps in Chad. This enormous project would not have been possible without your support!
I hope you take pride in knowing what this means to thousands of women and girls. Because of your gift, we are able to mitigate the negative effects of a number of issues surrounding menstruation and female dignity for refugees and internally displaced persons (IDPs). The following are three of the specific ways your donations are bringing dignity to women and girls in refugee camps and IDP communities:
Problem #1: Disposable pads in a refugee or IDP setting are a temporary and often unsustainable fix. Disposable pads posed a challenge during lockdown because their use requires a steady supply of product month after month. When supply chains were disrupted, school-based distribution programs shut down, funding streams were reallocated, and product costs rose in some countries. As a result, access to disposable pad products decreased significantly. Supply chain, funding, and inflation issues are not unique to the current pandemic. Access to disposable menstrual supplies can also be affected by political instability, weather related disasters, inflation, and other health crises from which a region or nation may suffer. Any one of these issues can drastically reduce refugee and IDP's access to disposable supplies.
Solution: Days for Girls pads give women and girls control over their own menstrual hygiene, month after month, without being dependent on supply chain issues. Once a refugee or IDP receives a patented Days for Girls Kit, her menstrual needs are covered for at least three years.
Problem #2: Disposable pads are often the cause of unfair stigma against women and girls who reside in areas which lack adequate infrastructure. Refugee camps often do not have sufficient waste disposal. If menstruators are not able to dispose of their soiled pads properly, their pads often remain in the communities for all to see. This creates shame, embarrassment, and stigma against women and girls for the otherwise healthy process of menstruation.
Solution: When a menstruator has her own washable, reusable Days for Girls Kit, she has no need to dispose of anything. She is able to wash and reuse her kit over and over. Days for Girls Kits are purposefully made to not resemble a typical menstrual pad. The brightly colored, heavily patterned components hide stains and resemble typical washcloths. So even if the menstruator hangs the components outside to dry, she won't have to feel embarrassed.
Problem #3: Menstruators in refugee camps often struggle to access accurate and timely information about menstruation. Lack of access to sexual and reproductive health information for both boys and girls can result in menstrual stigma and taboo, unwanted teen pregnancy, and sexual and gender-based violence.
Solution: Days for Girls distributions include vital health education. Girls learn the menstrual cycle, hygiene, anatomy, self defense, proper kit care, and ways to avoid becoming victims of human trafficking. In our Men Who Know courses, boys learn the menstrual cycle, anatomy, human trafficking, and ways to support women and girls.
These are just three of the ways that Days for Girls is using your funds to support some of the most vulnerable women and girls (and boys too!) in Chad. It is our goal to end period poverty, even in refugee settings, and with your help, our goals will become a reality.
Thank you!