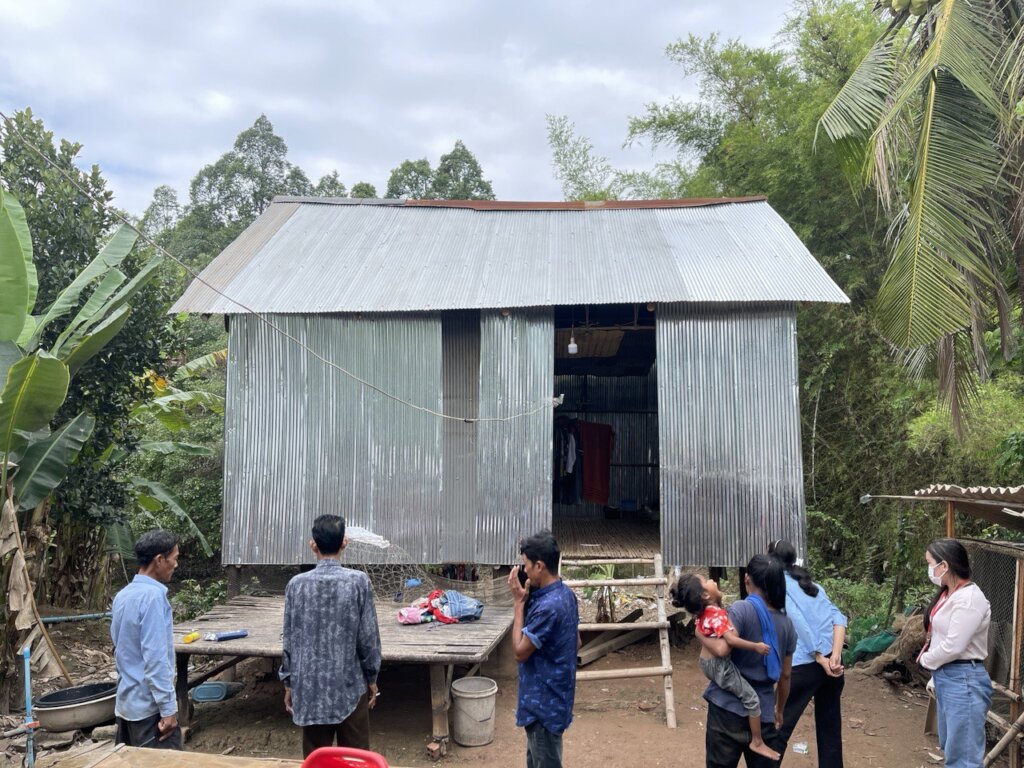 During harvest time, Dara* and Kunthy* earn a living in nearby rice fields. However, when the harvest ends, work is more challenging to come by. The day I met her, Kunthy had finished cutting the grass at the local pagoda using a long knife. Stooped in the brilliant morning light, she painstakingly worked her way across the vast grounds; her daughter, Sokea*, laughed and chattered from the custom wheelchair the ABLE Projgram recently outfitted her for, placed in the shade of a tree nearby. Her mother talked with her as she worked.
Years earlier, a much grimmer reality existed for mother and daughter. Children In Families (CIF) was alerted about a woman with a daughter with disabilities who were starving to death in a tiny rented room in the city. Taking pity on her, the landlords would give her portions of their dinner, but it was not sufficient for them. Kunthy was highly vulnerable. Married as a teenager, with no more than a few years of schooling, she had fled abuse but had few options to care for her daughter, born with cerebral palsy. Her son was safe with extended family in her village, but she could not return out of fear for her daughter's well-being.Sokea was failing to develop and thrive.
Her husband, Dara, from a similar background, was young, and the frustrations of poverty drove him to addiction. He loved his family but felt shame for not being able to provide well for them. This created a cycle he struggled to break.
When CIF was alerted to the dire state of Kunthy and Sokea, the whole family was brought into a process of restoration. Given the support of their village community, extended family, and CIF's social workers and ABLE Program, Dara found dignity and could walk out with consistently better life choices. When shame was replaced with hope, he found he had much less anger and began to learn better ways of communicating and caring for his family.
Reunited, the couple began to learn about Sokea's disabilities and how to care for her so she could grow and develop. Their nutrition also greatly improved with support from CIF. Then, their son moved back in with them. He and his sister bonded and loved each other immensely. Both parents actively participate in Sokea's physiotherapy and care.
Their home, a simple wooden structure on stilts, recently began to fall apart. Rather than fix the problem for the family, CIF staff members helped them look at their finances and find solutions, even on seasonal income. They found that by saving little by little for the house, they could repair it. First, they set aside enough money for new posts, then a roof, and eventually, each part of the structure was replaced and significantly better. Dara and Kunthy had done it on their own. They also learned that small steps can yield great results when they remain faithful to growth.
As I watched CIF's physiotherapist do exercises and stretches with Sokea, her grandmother passed by and stopped. Sitting nearby, the woman smiled and chatted with the little girl, who lit up in her presence. In the few hours at their home, I met many family members who lived nearby and were involved in their lives.
When Kunthy and Sokea were at their most vulnerable, it would have been easier to separate them, put them in a safe house, or put the child into a facility for care. And both would have benefited to a degree, at least for a time. It would have been easy to judge Dara for his behavior and to want to keep his wife and children far from him. Still, we would have also taken away his God-given responsibility to become a good father and provider. Kunthy and Sokea would have remained vulnerable as a single parent household, separated from extended family. The most sustainable and holistic approaches often take time and involve buy-in from the community and family. It was not the easiest or most expedient way to care for this family. Still, years later, sitting in their village, watching all of the beautiful interactions, and seeing the bonds of this family, it was the right way because family is where children belong.
* Names changed for purpose of confidentiality