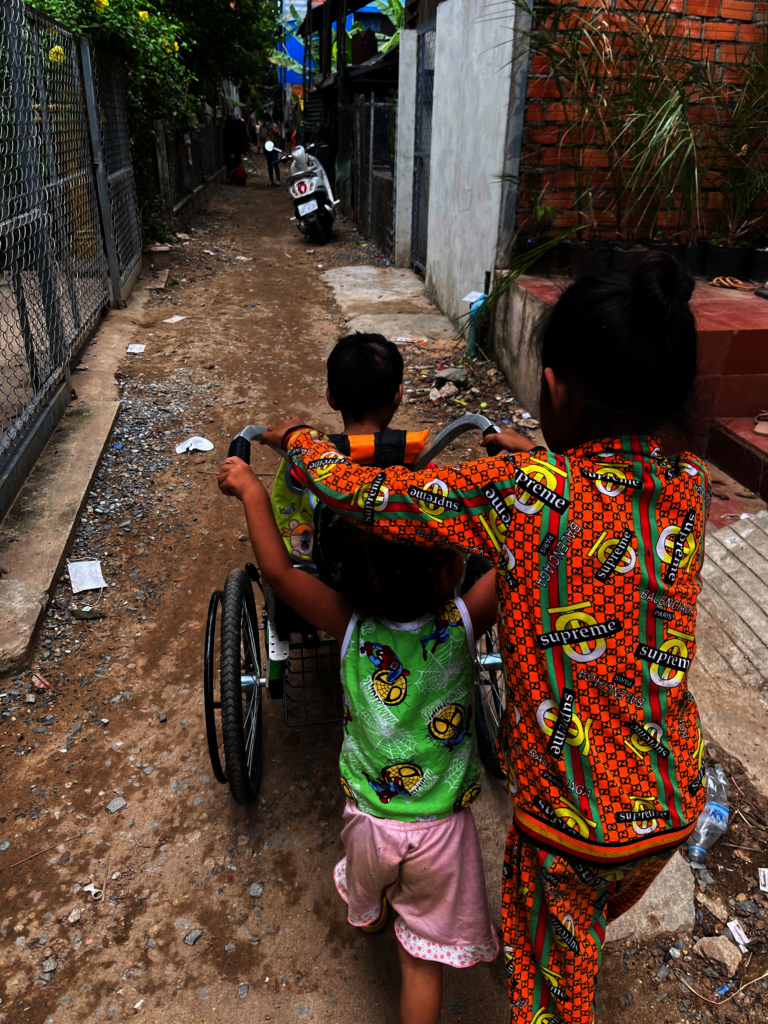 Imagine spending most of your life on your back, staring up at a ceiling of rusting corrugated tin. From time to time a face appears to feed you basic nourishment or give you a bath, but the world passes by you as your head becomes flat from pressing the hard floor most hours of each day. Your siblings run and scream, coming in and out of the house. Yet, you lie there, unable to move your muscles well. Flies and ants assail you, but you do not have to strength to swat them away. You can understand much of what they say but no one speaks directly to you. Because of this, facial expressions and language are delayed.
This was little Phanna's life for the first two years. Born with cerebral palsy (CP), his family who lived in desperate poverty had no idea how to care for him. There was no support within their community and since they knew no one else with a child who had CP, they had never seen a better way to care for him. Struggling to survive daily life, his parents would disappear all day to work. Meanwhile, Phanna lay there. Alone.
Poverty and lack of education mingled with disability, Phanna was in an unsafe situation and at risk of abandonment. In addition, even medical professionals in Cambodia rarely understand what it means to have a disability or care for a child with a disability. Even when examined by a doctor, his parents left discouraged and shamed because they lacked the knowledge needed to care for him well. It further isolated Phanna as his family kept him hidden from the community.
Thankfully, his story does not end there. Children In Families (CIF) learned of his situation. Soon after, CIF enrolled his family in our Kinship Care and ABLE Programs. After assessments by CIF's social workers, they determined it was not safe for him to stay with his parents. Instead, a loving Auntie took him in. This was the best living situation for him, giving him the safety and care he deserved.
The ABLE staff took an active role in training and supporting his Auntie to care for his special needs. He remained in his community and sees his siblings constantly. The Physiotherapy and interaction with his extended family allowed him to significantly develop physically, emotionally, and mentally over these past years.
At six-years-old, through a partner organization he received a special wheelchair. A whole new world opened for him as - not only Auntie - siblings and cousins can now take him out of the house to play and interact in his neighborhood.
Every day, Phanna is learning his new opportunities and challenges. The community is getting to know his special abilities. We are excited thinking about the opportunities for Phanna, as well as the impact he will make with friends and neighbors. We hope as the community interacts with him more, they will take the opportunity to learn about, embrace and include him.
Four years later, imagine waking up, being able to lift your head and then sit up with assistance. Your kind Auntie greets you with a smile and speaks directly to you. You eat alongside your family. Then, someone places you in your wheelchair to explore your neighborhood with other children. You laugh and scream and throw a ball. You are safe. You are loved. And you belong.
The reality is that Phanna's story is not unique. Many children with disabilities are loved by their families but do not receive proper care and attention due to stigma, lack of understanding, and lack of resources. Usually all it takes is a little support, continued knowledge, and paradigms begin to shift. This is where CIF and the ABLE Program shine.