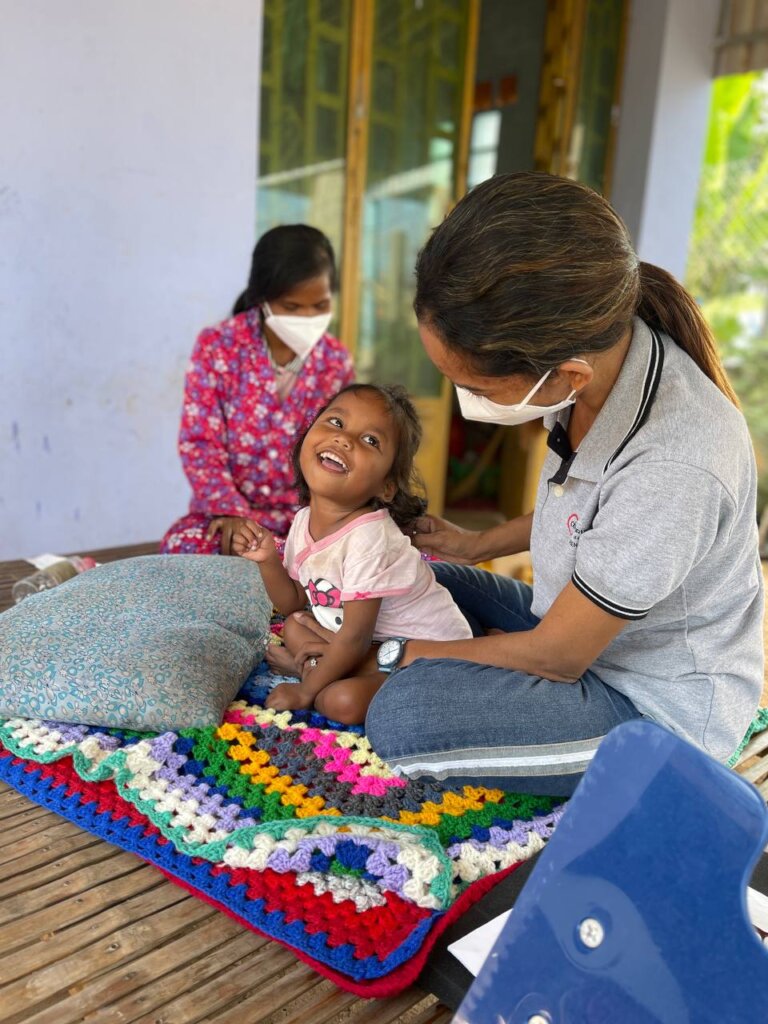 We are so thankful that, while Covid-19 continues to be a challenge globally, the measures taken by the Cambodian government along with our own modified strategies and procedures for doing things allowed us to resume direct services for all clients. We have been able to take care of some needs that had to wait when the situation was more restricted.
One of those needs was the need for equipment. While the direct therapy services and family training that the ABLE staff provide are critical to enhancing the quality of life for our clients, some children need more than that. A wheelchair or walker for a child with mobility restrictions often means the difference between isolation and impediments on the one hand, and engagement and community participation on the other.
Recently, our staff met with Nala* and her family to bring a long-awaited wheelchair. It is clear from the photo of Nala* that she is thrilled to have access to greater mobility for the first time in her life.
This wheelchair was provided by Wheelchairs for Kids, an Australia-based organization who manufactures and provides adjustable pediatric wheelchairs around the world. Nala is one of the children who had to wait for the resolution of Covid-related travel restrictions to receive this life-changing piece of equipment. We are so thankful that now, at last, she is able to engage so much more easily with other children in her village and really take in the world around her.
While Nala was the one most impacted by isolation and mobility restriction, the benefits of having access to the wheelchair are far reaching. It allows her family members to move about the community more easily with her. She could hardly be left at home alone, while they visited and worked. It also influences her community. Minds are being changed about people with disabilities as neighbors and friends gain more exposure to families and children with disabilities.
Nala is a beautiful child with a smile that melts hearts. Her joy is infectious and needs to be spread, especially in these difficult times. Your generosity allows children to be impacted by the love and care of a family, but it also allows communities to be changed from within. Nala's mobility is also part of a paradigm shift for her neighbors.
The ABLE Project staff also helped to provide the gift of mobility to two children from a partner organization here in Cambodia. Our physiotherapists were excited to fit them with wheelchairs, also from Wheelchairs for Kids.
We are so appreciative of the support from all of you who have contributed to this project through GlobalGiving. We hope that you are encouraged as you see the impact that your giving has on the lives of these children.