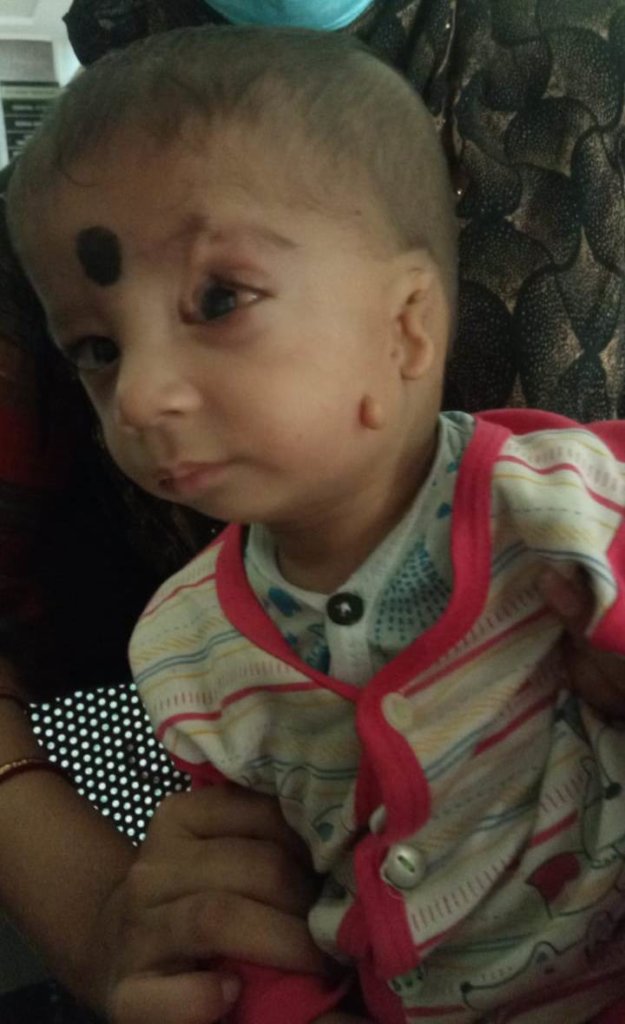 Learning disabilities are another concern with school-age children. Vision problems are common among school-age kids. In this age group children have vision problems that, if left untreated, can affect their learning ability, personality and adjustment in school. School-age children also spend a lot of time in recreational activities that require good vision but playing outside or participating in a team sport may not be as fun if the child faces vision problem. Frequent eye exams are important to identify eye ailments in children.
1. Traumatic Cataract
A 13 year old female child was seen at our hospital on 10.02.2021 by Dr.Vandana Sayra, Consultant & Surgeon - Cornea & General Ophthalmology Services. On examination the child's father gave a history of trauma to her right eye 5 days ago while tearing a piece of cloth which hit her right eye while doing so. The child did not inform the parents out of fear. When her right eye became red ; her parents noticed and purchased eye drops in pharmacy and instilled to her right eye; when the redness did not subside and the child complained of dimness of vision; parents consulted eye doctor nearby where she was advised surgery.Her visual acuity in right eye was presence of projection of rays and hand movements close to face. Anterior segment examination showed cortical matter in anterior chamber with anterior capsule breach, + traumatic cataract. Bscan was done to assess the status of retina; the scan findings showed retina ON. The child was advised to undergo RIGHT EYE CATARACT EXTRACTION + ANTERIOR VITRECTOMY+ 3PIECE INTRAOCULAR LENS IMPLANTATION UNDER GENERAL ANAESTHESIA
The child underwent the same on 11.02.2021 and as on 27.03.2021 she is doing well and her visual acuity is 6/12, ph 6/9.
2. Medial Coloboma with lipodermoid
A 9 months old male child with Goldenhar syndrome was seen at our hospital 06.04.2021 by Dr. Smitha- Squint and Orbit surgeon. Goldnhar syndrome is a craniofacial syndrome, which means that it causes certain abnormalities in the formation of the face and head. It is considered a rare disease and a congenital one, meaning it is present at birth. In people with Goldenhar syndrome, abnormalities appear mostly in the areas of the ears, eyes, and spine. This condition can also affect the structure of the face, and some internal organs. The most recognizable symptom is the presence of facial abnormalities, in particular hemifacial microsomia. These occur when the bones and muscles in the face are underdeveloped on just one side of the face. Those with Goldenhar may also have a cleft lip or cleft palate. Other characteristics of the syndrome include defects in the eyes, ears, and spine. This can mean growths on the eyes, small eyes, missing eyelids, small ears, missing ears, ear tags, or even hearing loss. A dermoid is an overgrowth of normal, non-cancerous tissue in an abnormal location. Dermoids occur all over the body. The ones in and around the eye are usually comprised of skin, hair, and/or fat. The child was advised for upperlid reconstruction + lipodermoid excision + amniotic membrane + tisseal glue under general anaesthesia.
The child underwent the surgery on 07.04.2021.