As 2021 has drawn to a close, we look back on the lessons learned throughout the year, we think of those who we have lost and we begin looking forward to what 2022 has in store. We are heading into 2022 with a cautious hope that the lessons learned in 2021 will carry us in good stead for the year ahead.
Regardless of the challenges ahead our main aim continues to be to make Woodside a "home from home" for all who live here, by creating a happy and safe environment for those in our care. We continue to strive to assist each resident to acquire skills that bolster their independence, individuality and self-esteem, as well as providing those in our care with outstanding nursing care, physiotherapy, occupational therapy and medical services, so that they may live full and happy lives within their limited abilities.
Here is a brief breakdown of what has been happening at Woodside Sanctuary during the last few months of 2021.
Fundraising during COVID-19
The world as a whole has been affected by COVID-19 for almost 2 years now, and has made the task of bringing in much needed funding a great deal more challenging. To try and overcome these challenges we have had to become more creative in our approach to fundraising. We are more active on our various social media platforms, to try and raise awareness and garner more support for Woodside and for persons with intellectual disabilities, and we have also launched a number of additional "needs specific" campaigns to try and bring in funding, especially to assist with the ever increasing COVID-19 expenses. In 2022 we will continue to utilise our various social media platforms and will continue to try and think of new and innovative ways to bring in funding in support of our cause.
COVID-19 Vaccinations
Over the last few months Woodside has been assisted by the Netcare team who have generously given of their time to come through to Woodside and vaccinate our residents and staff. Thanks to their efforts Woodside has managed to achieve 82% vaccination coverage within our home.
Woodside has sadly had a couple of residents, staff and family members who have experienced adverse reactions after receiving the vaccine, we are unsure as to what exactly the cause of their reactions were, but these issues have been reported on the VAERS (Vaccine Adverse Effects Reporting System) and we are awaiting further feedback in these matters.
Students
Woodside continues to offer practical training to nursing, care worker and Social work students, and while COVID-19 has had a large effect on the number of students that Woodside has been able to assist this year, we have still been able to offer training to 10 care worker students as well as 1 social work student. Woodside feels very strongly about assisting these students in their training as it will provide them with indispensable knowledge in their future careers and will allow them to be better able to assist anyone with disabilities in the future.
Training
Woodside is dedicated to providing our care and nursing staff with training throughout the year. This includes in-service training which is provided by our registered nursing sister, and covers many topics such as feeding, positioning, practical CPR, dermatology, AVL (Activity of daily living skills), dehydration, anatomy and more.
This year, we have also had the privilege of receiving training from firefighters from the City of Johannesburg Fire department on fire safety (11 November 2021) as well as Basic Life Support training for our nursing department, from an AHA certified instructor (12 November 2021). This type of training is critical in ensuring that our care and nursing staff are properly equipped to handle any situation.
Woodside's 1st ever Family Fun Day
On the 4th of December 2021, Woodside had our 1st ever Family Fun Day; a wonderful day filled with fun activities for residents and their loved ones, where families were able to interact not only with their resident, but with all of Woodside's angels.
The past few years have been extremely challenging, not just for us at Woodside, but also for the families of our residents, who were often unable to visit their loved ones for months at a time. This sacrifice was done in order to help us to be able to protect all at Woodside, as much as possible, from COVID-19 infection. So, we decided that it was time to do something special for the families and their loved ones, thus we hosted a Woodside Family Fun Day. All in all the day was a huge success, and we will be looking forward to having more Fun Days in the future.
Mental Health and Audits
The Department of Mental Health Johannesburg has undergone some significant operational changes during the last year, and as a result will be conducting audits with Johannesburg's NGO's four times a year, instead of only once per year which has always been the practice before now. Woodside has worked closely with the audit teams from The Department of Mental Health Johannesburg, and they have always been extremely impressed with the various procedures which we have in place. Woodside has been successful in passing every audit which we have taken part in with flying colours.
Christmas at Woodside
Christmas is a time of celebration and at Woodside this is no different. Each year we try to make Christmas a memorable and special time for not only our angels but also for our dedicated staff. In order to help us do this Woodside runs a special Christmas campaign to help raise the funding needed for these special functions.
Our resident's Christmas function took place on the 15th of December 2021, and was a stupendously happy day! Thanks to the generosity and kindness of our amazing donors and Woodside's families alike we were able to give our residents the most magical Christmas party ever, which included a DJ, Face painter and Balloon artist. We received such tremendous support through our families and an initiative started by one in particular, "the Santa's shoe box project", that we were able to ensure that every one of our angels received a gift from Santa.
Our staff functions took place on the 1st and 8th of December, and with the help of our families and supporters, we were able to give every one of our incredibly hardworking and dedicated staff a beautiful Christmas food hamper as a token of thanks for their incredible efforts throughout the year.
Long Service Awards 2021
We celebrated our annual Long Service Awards on the 8th of December 2021 with our staff and honoured guests. What an incredible blessing it is to have such wonderful hardworking staff at the Sanctuary who are responsible for the care and treatment of our angels, some of the most vulnerable in society, the profoundly intellectually and physically disabled.
Every year we proudly gather to show our immense appreciation and to celebrate the awardees remarkable achievements. This year we had thirteen (13) staff who received awards for their dedicated service to Woodside ranging between five (5) and twenty five (25) years of service. We and the families of those in our care, are beyond grateful for their commitment and devotion to ensuring that our residents receive the care they deserve.
In Closing
Our primary focus continues and will always be the provision of exceptional full-time care to all of our intellectually disable residents. We strive to make Woodside a real "home from home" for all who live here, by creating a happy and safe environment for those in our care, where we are able to help and ensure that Woodside's residents remain safe and that we are able to continue to help and assist each resident through the provision of outstanding nursing care, physiotherapy, occupational therapy and medical services.
Like many NPOs, Woodside Sanctuary is heavily reliant on the kindness and generosity of our donors and supporters and it is only with their compassionate assistance that we are able to continue to maintain the highest standards of care, provide excellent nursing, medical and residential care for all who live here. On behalf of Woodside Sanctuary and especially the angels in our care, we offer our deepest and most heartfelt thanks to our GlobalGiving donors and supporters for their outstanding generosity and kindness, which has helped us to raise an incredible $9317 during this exceedingly difficult time. Your care and compassion is what keeps us going, and we are eternally grateful to you for all you have done to help and support us! Thank you!
2021 has been a year of many challenges but Woodside has succeeded in overcoming those difficulties and we have continued to grow as an organisation. We feel confident that by utilising the lessons we have learned and with the continued support of our wonderful donors, staff and families, we will be able to face whatever lies ahead in 2022.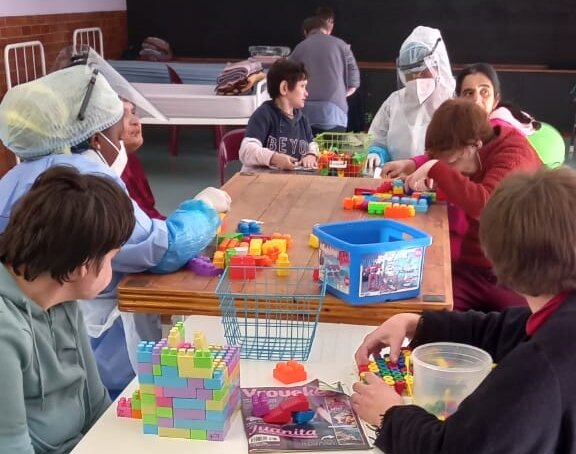 Links:
Attachments: