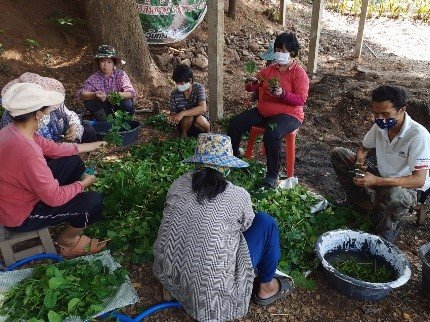 "Building together"
Since the establishment of HUG GREEN, many villagers have been helping us. Elder villagers help put pillars for a shade and share us knowledge, women help us expand the meeting and café zone, and kids also help clear. During working in rain, we still do not forget to dance and smile with kids!
Plant gymnema and build nurseries
We visited Ajarn Aey in Rajamangala University and were given another kind of gymnema. We cut them into small branches, put them in a pot, and wait until glowing bigger. We built nurseries that helps visitors understand how it glows. You are invited to come and see!
Products development of Hug Nam Jang
With a support from Ajarn Aey, refreshing spray by Hug Nam Jang has become nano, which soak into our skin better. We developed the package design as well. Try the new nano spray to spend your days refreshing and relaxing. Lots of mangos from P Pare were made into tasty dessert!
Reflecting our 2 years and a half…
There was nothing or just greens. Now you see the differences. It is still in greens, but we have come "here", thanks to supports by many people. HUG GREEN keep on the same track. Come and join us to work together for the community in happiness.
Joining YMCA activity in Chiang Rai
Thanks to invitation from P Pare in YMCA Chiangmai, HUG GREEN had an opportunity to work to build a check dam with locals, students from Laos who has studied agriculture, and govt. officers. We learnt together our responsibilities for environment.