Project Report

| Sep 12, 2022
HEALTH CARE FOR THE REMOTE VILLAGES IN NEPAL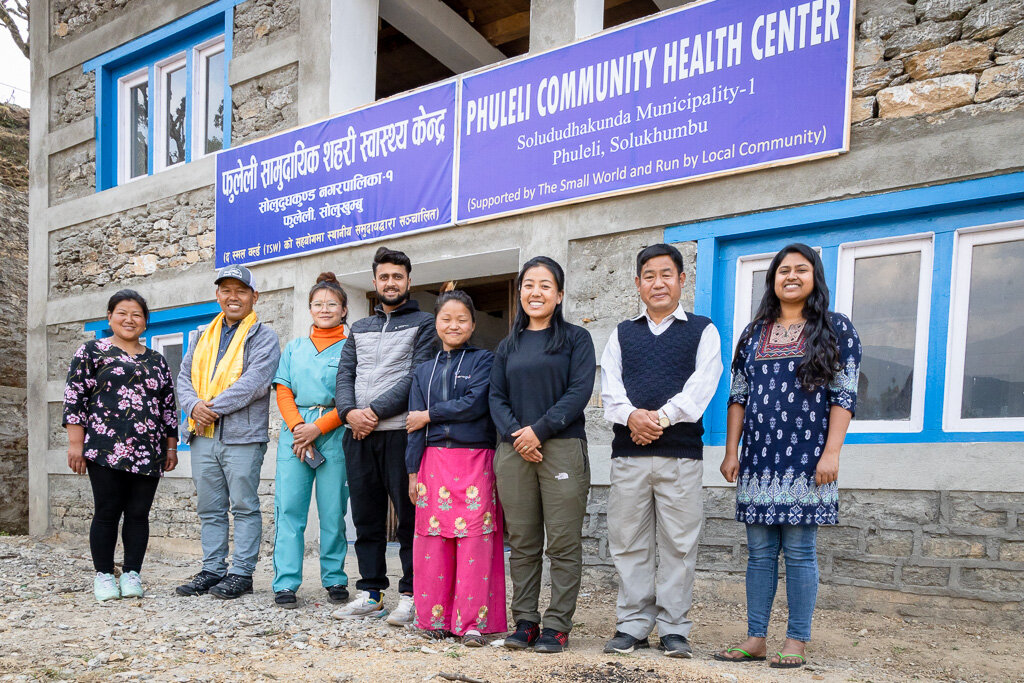 Phuleli Community Health Center
We are very pleased to announce that The Small World has launched the full-time operation of the Phuleli Community Health Center, which serves the population of the lower Everest region. This area is home to many porter and farm communities in one of the most remote regions of Nepal, and its approximately 2,500 permanent residents, consisting of a mostly older population as well as many children, have for a long time desperately needed good quality health services that were available free of charge.
Normally, one in five children die in these villages due to preventable and treatable illnesses, with people in most of these villages unable to afford any health care. Until now, any sick person had to travel eight hours by foot to see a doctor; for many, this was not feasible. As I make this report, I have just learned that an eight-year-old boy, who had a high fever for two days, died on the journey to the health center with his parents. This is a tragedy that happens quite often.
But there is some good news to report. After completing the building construction, our talks with the government have resulted in their agreement to help with some medication expenses plus one of the full-time staff salaries. Thus today, we have two full-time Health Assistants and one Assistant/Helper, all of whom will be able to provide 24-hour service.
Shanti Rai, one of the center's full-time Health Assistants and a graduate of The Small World, is from the Phuleli community and has been instrumental in all the arrangements. Her ability to plan, organize, and coordinate has been extraordinary, but what is also important is that she is pleased to be a role model for these village girls who, for many reasons, still struggle to complete their education. For them, an educated and successful girl from their community is a beacon of hope and inspiration as well as proof that their dreams and goals are possible to attain.
"I am very proud to be working back in my community in the health sector," Shanti said. "For all I am today, I will forever remain thankful to The Small World and my sponsors. These villages still lack very basic health facilities and everyday people die of simple health conditions like diarrhea. I am doing what I can here in the Phuleli community health center. People are economically poor here but they are very thankful for this service. I wish you all could see their wide smiles after receiving service here. Their smiles and gratitude keeps me going each day."
At this point, the health center is focusing on providing primary health care, but also offers services for children's nutrition education, pre-natal and post-natal care, and regular health checks for older residents.
However, its establishment provides the opportunity for more comprehensive services, and with our plan to provide ongoing medical care and free medication for years to come, we are also hoping to have the means to treat more health issues, such as those that became apparent after an assessment of the population needs. This study showed the need for the set-up of a basic lab with x-ray and USG; introduction of dental care; maternal care with safe deliveries; child health care; and more specialized prevention of disease. We would love to include these vital services at the center.
If you feel the same, we heartily welcome and would highly appreciate any contribution you can offer so that we may achieve these final goals. We thank you for your consideration!