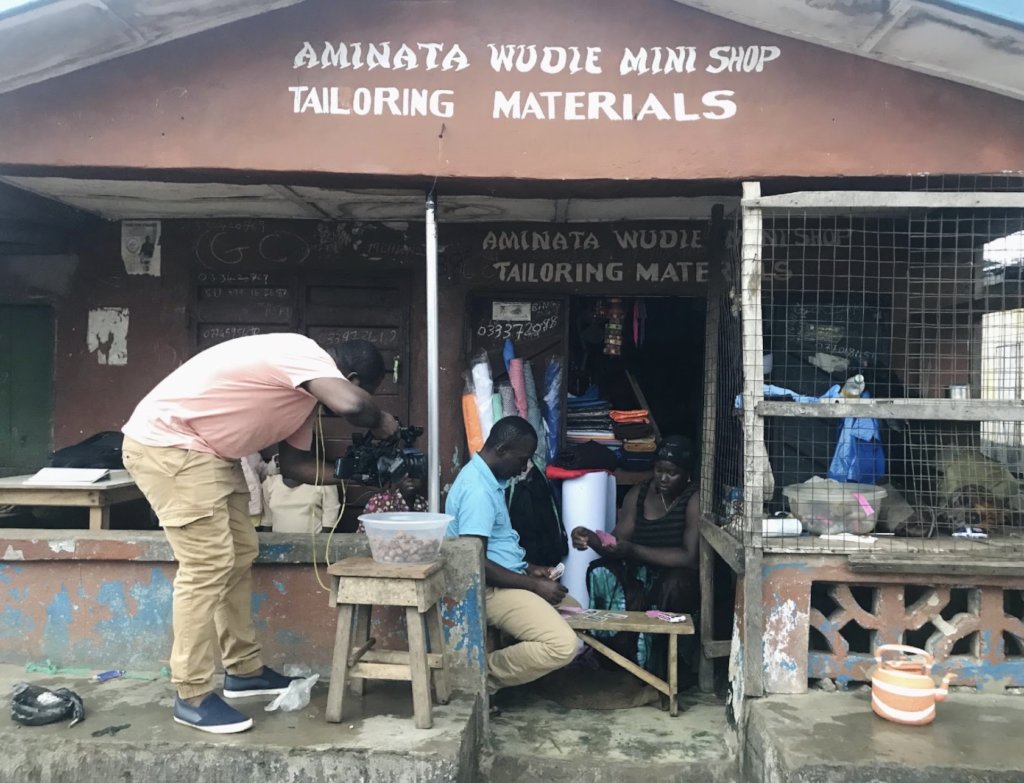 Dear GlobalGiving supporters,
We are excited to share our latest update with you, our community of support! While the COVID 19 outbreak and its adverse restrictions has posed certain challenges to a fishing community like Tombo, the last few months have also seemed to bring families closer together. In Tombo, people live in dense settlements and spend a lot of time out and about throughout the day. Wearing face masks, handwashing, and going through military and police checkpoints with temperate checks has become the new normal.
We wanted to write and update you all on how our characters are coping with these new challenges. We met with Wudie, and he reported one positive aspect to the new changes is that he now gets to spend more time with his wife and children at home, keeping safe. His wife (Aminata) runs a tailoring material shop call Aminata Wudie Mini Shop.
There had been reports of misinformation and rumors that have affected Tombo and other seaside communities. For example; bathing in saltwater kills coronavirus; or the coronavirus doesn't survive in seaside communities because of the salt water, therefore fishermen don't get the virus. Initially, this made it difficult for health authorities and the government had to deploy the military and the police to enforce health measures. Given our experience for the deadly Ebola outbreak, Sierra Leone people are adherent to the health measures, and we are happy to report that Tombo, like the rest of the country, has accepted these new health measures.
Here is the latest COVID-19 country report: The infection rate is low and going down. The National COVID -19 Emergency Response Centre report 8 new active cases today 7th November 2020 and the total number of deaths so far stands at 74.
Of course, the economic effect of the outbreak has been difficult, but all our characters in this film and their families are doing the best they can. We are committed to continuing to film with all our characters even in challenging times like these to capture the impact of COVID 19 in their lives and the Tombo community.
There are some great matching opportunities coming up on GlobalGiving. Please consider making another donation as we try to reach our goal by the end of the year. Of course, #GivingTuesday on Dec 1st and GlobalGiving's Monthly Donor Drive (Dec. 14-18) is the boost you'll need this year-end fundraising season! From Dec. 14 - 18, GlobalGiving is matching all new monthly donors at 200%.
With Gratitude,
Barmmy