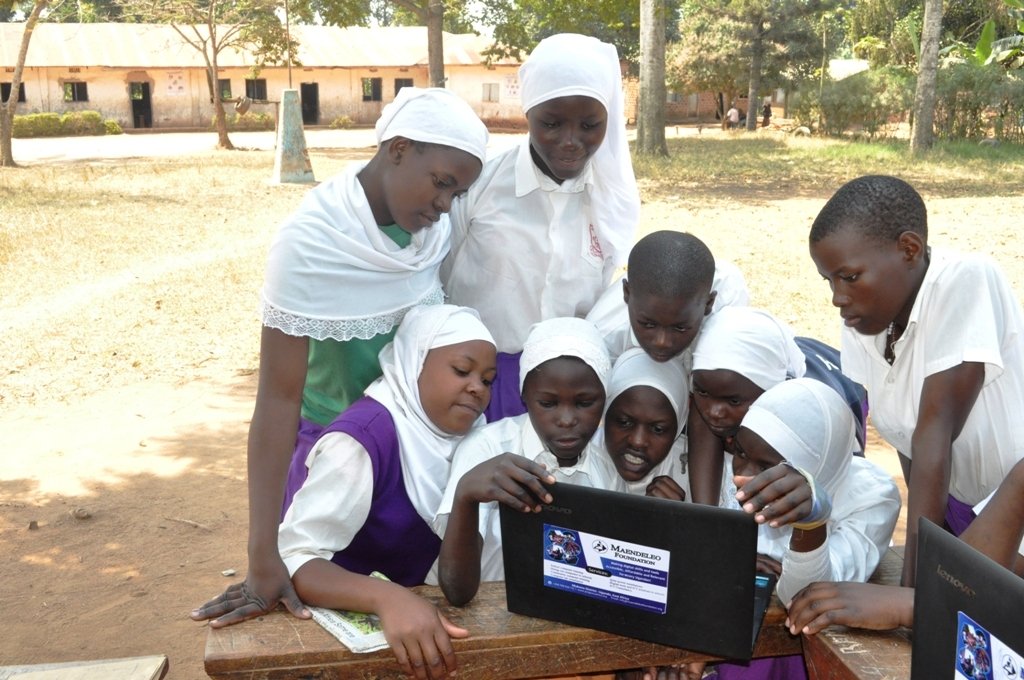 "Every Monday, at our school St John's Educational Centre Kigombya, we get computer lessons. Every lesson we have is always enjoyable and important because of the games we always play like keyboard games, mouse games and typing puzzles. I have been able to improve on my performance in English because of the writing and spelling practice I get during computer lessons. I learn a new word and spelling every Monday and I have used these words in other subjects. My favorite that I learnt during the computer class is "wonderful"and I enjoy using it to construct sentences in my English exercises. "Trisha Mukoya, P.6 Class.
Overview
Throughout the year, Maendeleo Foundation has continued to reach students, teachers and youth in suburban, rural and remote schools, libraries and communities with the Mobile Solar Computer Classroom (MSCC). Our dedicated two training teams of 2 instructors and volunteers have spent time training people to use computers in order to enrich their educational, work and life experience and opportunities.
Impact
The Mobile Solar Computer Classroom (MSCC) has actively provided services to 10 schools and 2 rural libraries and 1 community centre across Uganda. The project has reached over 3,000 students, 20 teachers and over 150 community members this year. Our trainers have seen firsthand, children improving in other areas such as grammar, reading and writing, collaboration, research, problem solving and creativity.
Parents have expressed their delight to see their children teaching them various skills on the computer and explore their mobile phones.
All the schools we have worked with this year registered an increment in the number of student's joining their schools as a result of introducing computer lessons in the schools. Parents are yearning for their children to get an opportunity to acquire technology skills and our partner schools are an answer to their need. With the ever escalating unemployment levels in Uganda, out school of youth are always at a disadvantage due to lack of practical skills. Through community outreach ICT camps, over 140 youth have been empowered with basic ICT skills to help them write CVs, access job and entrepreneurship information as well as learn how to take advantage of the internet to look for opportunities.
Future Goals
In the coming year, Maendeleo Foundation will continue to expand the MSCC project to new primary schools, libraries and communities. Our staff and trainers are constantly working to improve and add to the curriculum we have developed for students, teachers and youth and we look forward to partner with computer programmers to improve our software and games that our trainees enjoy so much. Most importantly, we will continue to do everything possible to eliminate the challenges faced by the MSCC including;- limited number of computers, limited number of staff, low literacy levels, constant breakdown of our vehicles, and inconsistent attendance of children (especially in rural areas), We are confident that all of these obstacles can be overcome with time ,dedication and the right partnerships.
Conclusion
The Mobile Solar Computer Classroom passionately continues to extend computer skills and knowledge to rural schools, libraries and communities, supporting; girls, youth, farmers, health worker and other community groups get skills and information to improve on their livelihood thus closing the gap between the rural schools and urban communities in terms of ICTs and modern Technology.