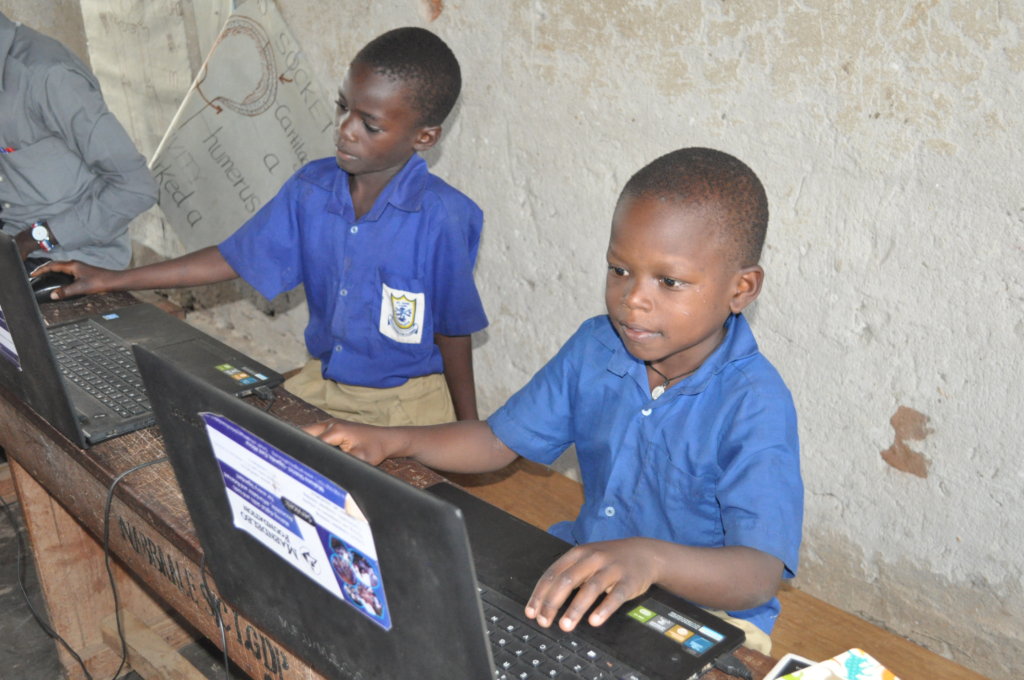 "At school St John's Kaama Educational Centre every Friday we get computer lessons. Every lesson we have is always interesting because of the games we always play on the computer like keyboard games, mouse games and typing puzzles. My computer teachers have taught me how to open up a computer programs, for example mouse games and Microsoft Office Word. I am proud of my computer teachers. Thank you for teaching me. May God bless you." – Joseph, primary four student
Overview
Throughout the months of April, May and June, Maendeleo Foundation has continued to reach students in rural and remote schools with the Mobile Solar Computer Classroom (MSCC). Our dedicated instructors have spent time training these students to use computers in order to complement their educational experience.
Impact
This term, the MSCC is active in seven schools across Uganda. The MSCC continues to empower children and provide them with essential technological skills. Maendeleo sees the value in introducing children to technology as early as possible, and offers services to students starting in primary three. Many of our students report that they have never seen or touched a computer before, and we have been extremely impressed with their progress over their time with the computer classes. As expressed in the following table, the MSCC reached nearly 1,600 students in recent weeks and 1, 984 community members.
Number of Students reached per school (P.3 through P.6)
Kiyunga Islamic Primary School - 264 students
Kibiribiri C/U Primary School -177
Naggalama Junior School -339
St John's Kaama Education Centre -74
St John's Education Centre, Kigombya -268
Suubi Primary School- 224
St. Augustine Primary School -238
Total - 1,584
Proud Accomplishments
Recently, our ICT trainers have reported many achievements from the MSCC classrooms. Students did exceptionally on their computer exams from the past school term, with nearly 54% of students testing above average and every single student showing great improvement from their initial knowledge. In addition to scores, the trainers are proud of their MSCC students for improving their grammar and English skills, working diligently to complete their computer class homework, using their creativity and problem solving skills, and using teamwork from very young ages.
Through partnership with Caezaria Public Library, the project sensitised community members and demonstrated the power of technology in improving literacy. This letter written by the Library Director, Mr. Kigobe Francis best describes the project's impact in the community of Buikwe.
"With gratitude, we extend our appreciation to MAENDELEO FOUNDATION and the Mobile Solar Computer Classroom Project for making our Book Week Festival that took place on 14th-18th March 2016 at our library in Buikwe, Uganda, a great succes. Your Mobile Computer training program left many of the participating schools in need of this service in our area and the community members fullly aware of why they need computer skills.We appreciate all your commitment towards the efforts your towards literacy improvement and reaching the unreached with computer skills."
Future Goals
In the coming months, Maendeleo Foundation will continue to expand the MSCC project to new primary schools. Our staff and trainers are constantly working to improve and add to the curriculum we have developed for students, and our computer programmers work to maintain the software and games that our students enjoy so much.
Most importantly, we will continue to do everything possible to eliminate the challenges faced by the MSCC including limited resources, disruptions by our cars that constatntly breakdown, uncertain conditions, inconsistent attendance of children, and language barriers when students' English is not proficient. We are confident that all of these obstacles can be overcome with time and dedication.