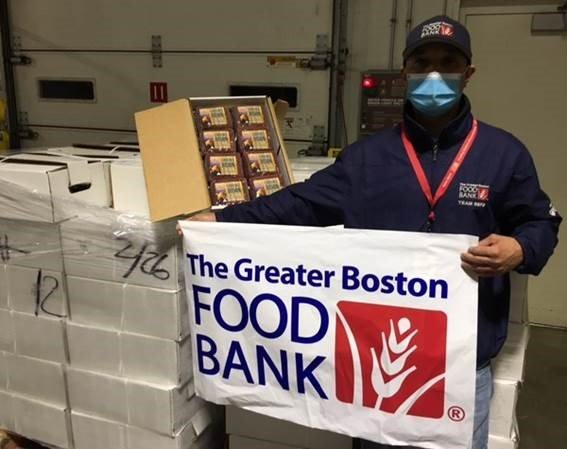 When the demand for food skyrocketed across Eastern Massachusetts, The Greater Boston Food Bank (GBFB) stepped up to provide for those in need, especially those most acutely affected by this pandemic—our seniors.
Through our network of partner food pantries, GBFB has served roughly double the number of seniors during this pandemic than at the same time last year.
"As we know, seniors are an extremely vulnerable group and many are scared to leave their homes. I've really been impressed by our program partners who have stayed open and found creative ways to serve their clients safely," said GBFB Assistant Director of Programs and Community Capacity Christina Peretti.
Christina oversees GBFB's direct distribution programs, including our program designed specifically to serve seniors—the GBFB Brown Bag program. GBFB works with 13 different sites in Eastern Massachusetts to deliver monthly grocery bags to seniors. This spring, we saw a 21 percent increase in the amount of food we were distributing at these distributions and a 67 percent increase in the number of clients served, compared to pre-pandemic levels.
Your generous gift helps us meet the need for our most vulnerable residents.
Like many seniors living on a fixed income, Dinora struggles to keep enough food in her cupboard, especially when trying to stay safe during the COVID-19 pandemic.
A retired teacher, Dinora lives alone at the Julia Martin House, an apartment complex for seniors in the Jamaica Plain neighborhood of Boston. When the COVID-19 pandemic reached Massachusetts in early 2020, the building, like many others, went into lockdown.
"We had to stay only in our rooms at the beginning of COVID. I didn't see anyone for a month," Dinora said. "A lot of the people here don't get outside at all to go shopping for food or anything."
As the need for food in Eastern Massachusetts dramatically grew due to the pandemic, The Greater Boston Food Bank (GBFB) began looking for new distribution methods and partners who could distribute large amounts of food to the community.
We began working with partners like the city of Boston, to directly distribute 20-pound boxes of fresh healthy food and some shelf-stable items to vulnerable residents across the city, including at senior housing complexes like the Julia Martin House.
"This food is so helpful. It's good and I can save some money," said Dinora. "I get all kinds of fruits and vegetables, it's about a week's worth of food."
With food insecurity on the rise across the country because of the pandemic, estimates show that food insecurity rates have increased more in Massachusetts than in any other state.
GBFB is distributing more food now than ever before in our 40-year history. Because of your generous support, we can continue getting healthy food and basic staples to people like Dinora, and all our neighbors struggling with hunger.
Links: