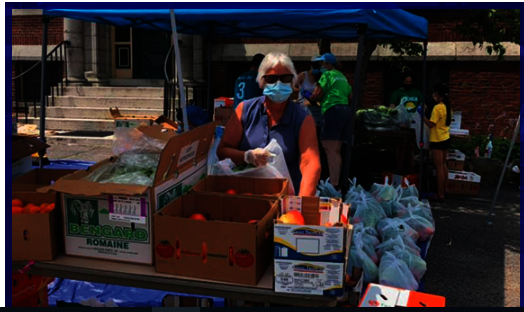 When COVID-19 and the ensuing economic shock caused a surge in demand for food assistance this spring, community organizations across our service area stepped up to meet the need. In few places was this more apparent than Waltham.
"The increase in demand is something I've never seen before. These are my neighbors, families my kids play with, it's surreal. And it has not slowed down," said Myriam Michel, executive director of Healthy Waltham, a local health and wellness nonprofit.
Healthy Waltham began partnering with The Greater Boston Food Bank (GBFB) four years ago by helping us run one of our School-based Pantries at the Waltham Public Schools. Before the pandemic, Healthy Waltham was serving about 250 families at the monthly School-based Pantry and about 100 senior households through additional food distributions.
Since COVID-19, however, Healthy Waltham has been serving 600 families each week, taking over the monthly distribution from the schools, and adding two additional distributions each month. They partnered with other local organizations like Brandeis University, the Waltham Rotary Club, local senior centers, and Africano Waltham, a Ugandan community organization to help Waltham residents in need.
According to Myriam, Healthy Waltham has served over 8,500 families and distributed over 250,000 pounds of food from April to September.
"I spoke to someone at the Market whose family member lost their job due to COVID. It's been hard for them to pay their bills and buy groceries. COVID has had a big impact on this community," Myriam said. "For many, our food pantries have been a lifeline. We couldn't have done this without partners like GBFB."