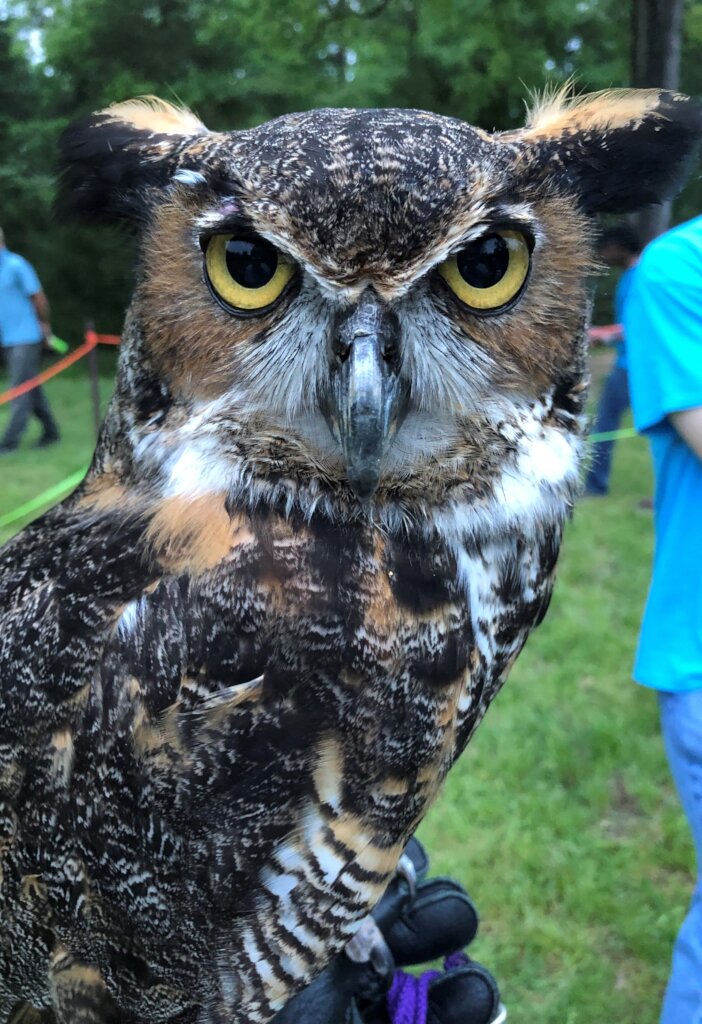 Hi Friends,
We have some sad news to share from Piedmont Wildlife Center. We are heartbroken to share that Bella, the great-horned owl, passed away earlier this month.
Bellatrix (Bella) was found in January 2014 in New Ellenton, SC, by the side of the road with a broken wing, likely from colliding with a car. Her injuries were treated at Carolina Raptor Center, but because she never fully regained her ability to fly, she could not be released. Bella arrived at Piedmont Wildlife Center in September of 2014. Over the next 8 years, she helped teach thousands of students and adults about the great-horned owl's importance in North Carolina, and inspired awe in everyone who looked into those big yellow eyes.
Most of our Ambassador Animals, including Bella, came to us from wildlife rehabilitators and other rescues. Their life histories before receiving treatment are usually unknown, and some have long-term health issues. It's our responsibility to give these beings the highest quality of life possible, from the minute they enter our care to their very last day with us.
We're able to do this because of YOUR support. Whether you worked with Bella as a volunteer, donated to our Wildlife Ambassador fund, or met her at a program, thank you for helping us tell her story, care for her, and keep her life intersting to the very end.
We would love to see your pictures and hear your memories of Bella. If you would like to share, please email our Conservation Team at conservation@piedmontwildlifecenter.org.
Thank you for all of your support!