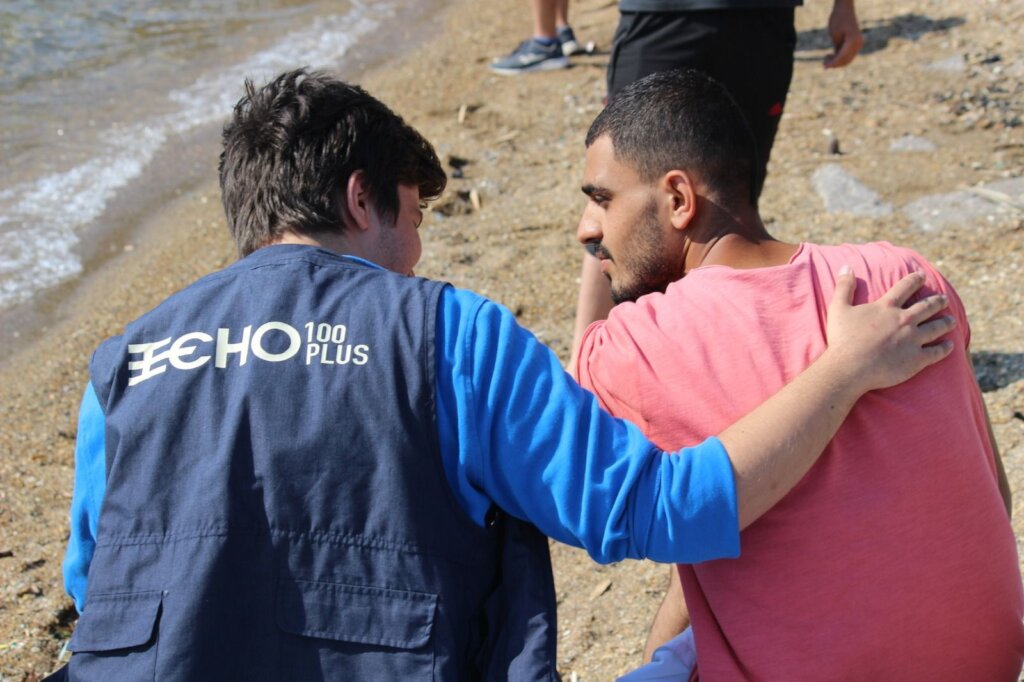 One of the hallmarks of Heraclitus' philosophy is flux – panta rhei, everything flows, nothing ever remains the same. A concept that over time has become associated with the metaphor of a flowing river, which cannot be stepped into more than once. Even if the river's identity, marked by its name, is immutable, it never remains the same. This ancient Greek theorem has been confirmed again and again for us on Leros. Every time we returned to the small Aegean island in the past years, we found it changed. Nothing ever remained the same and par force, we had to change as well, embrace the flux, and adapt to the ever-evolving situation in order to stay afloat.
But let's go back to the beginning: The first ECHO100PLUS volunteer team arrived on Leros in the autumn of 2015. We, the organization's founders, had learned about the crisis on Leros from the media and from a quick visit a few weeks earlier. The small island, a few sea miles off the Turkish coast, was one of the Greek islands most affected by a huge influx of refugees arriving by sea. That summer, daily arrivals from Turkey amounted to hundreds and the local authorities were by no means prepared to deal with the situation. While the police were checking IDs and issuing travel papers, refugees were provisionally accommodated on the municipal dump (!) in Lakki port. It was largely the island's civil society that guaranteed their physical and mental well-being; individuals and members of grassroot initiatives tirelessly prepared sandwiches, cooked meals, handed out clothes, entertained children of distressed parents, took people to the hospital, and comforted the ones who had lost loved ones while fleeing.
It was these people, islanders and tourists alike, who inspired us to get involved. We organized the first team of volunteers to come to Leros and support their endeavors. We expected this to be a temporary mission lasting maybe a few weeks. But more than seven years have gone by and over 750 volunteers from across the globe have come to support our mission, a mission that was shaped by the flux while never changing its core identity - solidarity: Solidarity with Greece, a fellow EU member state, that at the time received but little support to deal with the refugee influx; solidarity with the small island's population, who lived with the human tragedies on a daily basis; and last but most importantly, solidarity with the arriving refugees, who had risked everything for a life in peace and freedom.
Over the years, tens of thousands of people have been in transit on Leros, some stayed for days, others for years. At times there were no or very few refugees on the island, at other times the refugee community accounted for one-third of the island's population. And whereas in the beginning, the authorities were totally dependent on the support of civil society, they gradually gained control by implementing standardized official policies and structures designed and financed by the EU. Later millions of EU money flowed into Greece and dozens of legal amendments were issued in order to promote systematic response mechanisms that are mainly defined by border security including the performance of illegal pushbacks and deterrence. Today, Leros houses a so-called CCAC or Closed Controlled Access Center, which can accommodate up to 2500 asylum-seekers
Still, for a long time, these two approaches – let's call them the bureaucratic and the humanitarian approach – existed alongside each other, with humanitarians (both in- and outside of the system) constantly striving to find the cracks through which the individual refugee could be reached and cared for. Sometimes this meant providing food or warm blankets, other times it was about getting winter clothes, hygiene items, or medicine to the camp residents – literally, thousands of individuals have benefitted from our distributions over the years. But closest to our heart was certainly our ECHO HUB, a small community center in town, where camp residents could join educational and recreational activities in order to do something meaningful while waiting for their papers to materialize. The HUB was a happy place. People of different origins, cultures, and religions could meet and learn from each other, join a language, art, and computer class or play on the basketball or football team. It was a place where the focus was on the individual, where the degrading conditions of the camp and the European asylum policies could be forgotten for a few hours. Most of our former HUB students moved on a long time ago. The majority has left Greece and is now living and working in Germany, France, the Netherlands, etc. They keep telling us how much the HUB experience has helped them to start a new life and integrate into their respective societies. Some regularly donate to our organization, some have even returned to Greece to volunteer with us.
For the time being the bureaucratic approach has won. Everything to do with the management – from providing residents with the basics such as food and accommodation to the examination of their asylum applications – now happens behind the camp's barbed wire fences in a remote 'non-place' far from the public eye. Civil society is not supposed to come into contact with refugees anymore and is systematically shut out. We had to close our HUB already a year ago, and we are also in the process of winding up our clothes distribution. Showing solidarity with refugees has become impossible on Leros. – With a heavy heart, we have therefore decided to leave the island for good and instead focus our efforts on our integration projects in Athens. We would like to sincerely thank all of you who have inspired us, participated and engaged with our work as volunteers, and supported us through donations. None of our work on Leros would have been possible without you! As our work in Greece is not over yet and we will continue to fulfill our mission in Athens, we still rely on your support.
Wishing you all the very best for the festive season and a safe, healthy and prosperous New Year!