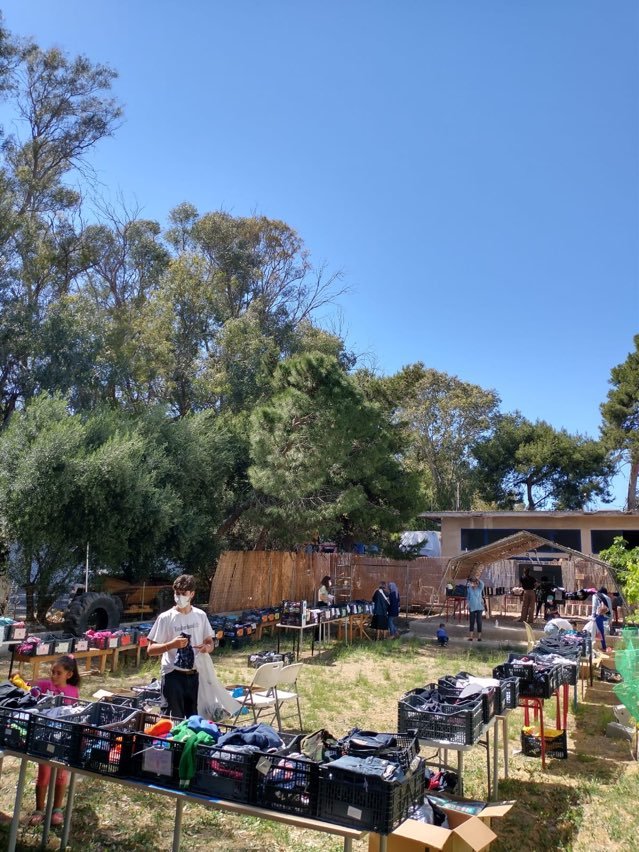 Since our last report in May, the number of asylum seekers in the Leros Hotspot Camp has further diminished. On the one hand, no new refugees made it across the heavily guarded Greek sea border; on the other hand, all asylum applicants with a positive asylum decision were gradually evacuated to the mainland. The few families remaining on Leros to date all have a negative asylum decision and are now stuck in legal limbo. Greece does not accept them as refugees, considering Turkey to be a safe country for them, and Turkey does not accept any returns from Greece. Understandingly, none of these individuals was too keen to join our HUB programs – the lack of perspective leaves them too desperate to even think about joining a recreational activity or studying a new language that they might never need. Also, none of the camp residents were yet given the opportunity to be vaccinated against COVID-19, which gives the authorities the right to keep them confined and one needs a very good reason to be able to leave the camp premises.
For our small volunteer team there was little to do except of marking a presence on the island in order to reassure these families that they are not completely forgotten. The past months were therefore dedicated to the distribution of non-food and hygiene items that were purchased with the support of some generous donors and grants we had recently received: Like in the previous year, we conducted a big summer clothes distribution in our HUB garden and not in our so-called 'Boutique' in order to stick to COVID regulations. With the support of the CARE UK Charity - RENEW, we were able to purchase 18 baby strollers that were given to families with small children; also, we continued to regularly distribute our COVID-Kits, consisting of a supply of masks, hand-sanitizer and soap, to keep everybody safe. Fortunately, no camp resident was infected with COVID so far, despite lots of international tourists and a significant number of COVID cases on the island. The Leros hospital was supplied with another load of COVID rapid tests and necessary vaccines for newborn babies in the camp. In addition, each pregnant woman received a Baby-Kit containing clothes for the newborn, diapers, baby wipes, and whatever needed for post-partum hygiene. COVID-tests, vaccines, baby-kits were bought with the generous donation of the German Order of St. George and the Malteser Hilfsdienst. Two volunteers from the Austrian charity 'Doro Blancke' visited us on Leros and bought urgently needed mosquito repellant and sunscreen for all camp residents. And last but not least, the TUI Care Foundations supplied all residents with sun caps, sandals and hand-sanitizer.
Eventually, we decided that under these circumstances it no longer made sense to maintain our infrastructure and invite new volunteers to the island. With our ATHENS HUB in place and a lot of unmet needs in the capital, it seemed more logical to shift our focus and enforce our activities and integration programs there. The plan was to just keep our storage and run necessary distributions with the help of a mobile team and our local volunteers. - By the end of July, we were ready to pack up and – after almost six years – say goodbye to Leros, but then two things happened: The situation in Afghanistan escalated and we saw thousands of people trying to escape the country. Despite the deterring rhetoric of Greek politicians assuring the world and themselves, that they were not going to accept any more refugees, we decided to wait and see how things turn out over the next weeks. We don't expect Afghani refugees immediately, but it might well be that in a few weeks' time, some Afghani refugees will arrive. And another thing happened: In late August, Greece opened its border for Turkish tourists, who had so far been banned due to COVID restrictions. Last week, we all of a sudden had three boats with refugees from Iraq, Sierra Leone and Somalia arriving on some random islands close to Leros, and about 100 of them were transferred to Leros where they are now quarantined in a separate area of the camp. Whether these boats signal the start of a new wave of arrivals, which can – at this point – not be pushed back so easily anymore, is hard to predict, but for the time being, we will maintain our infrastructure on Leros, say hello and handle yet another new development.