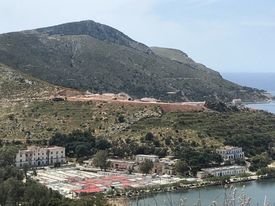 We are now more than 4 months into the year and have so far not been able to re-open our community center on Leros to our students, as health regulations still rule this out. This has certainly been frustrating for everybody, especially for the residents who have been stuck in the camp for months now, but also for our volunteers who have been holding out patiently and can't wait to see the HUB busy and thriving again. However, our small team hasn't stayed idle in the past months: in January, we finished our winter clothes distribution with a major shoe distribution; each resident received a good pair of winter shoes or sneakers in the perfect size, and all the kids in the camp finally received their overdue Christmas presents – beautiful paint-books and pencils, that were kindly donated to us by the 'Bearwood Action for Refugees' team. Also, our 'After-birth-care-kits for mother & baby' and the clothing packs for the very fast-growing babies in the camp need to be assembled and handed out regularly; and the refugees stuck outside the camp premises and now without monthly cash-card support as their asylum applications have been processed, have to be supplied with hygiene items frequently.
Our team continues to prepare and hand out our special COVID-Kits including face masks, hand sanitizer, and soap every 6 weeks, to allow camp residents to follow safety regulations and protect themselves. Unfortunately, there was another major COVID outbreak on the island at the beginning of April with 4 tragic deaths among the locals, but this time the camp was not affected. Due to the protective measures, camp residents are still very restricted in their movement and can only leave the camp for hospital visits and other urgent matters, so there is actually very little contact with the islanders. As sad as this is, in this particular case it certainly turned out to be an advantage. We were very happy to be able to supply the local hospital with another 700 Covid test kits to support its testing and screening efforts during this difficult period.
Construction works on the new Hotspot camp on Leros are proceeding fast and rumor has it, that the camp will already be finished in July, months earlier than planned. The new camp, with a capacity of 1.800 people, is located close to the old Hotspot camp, but higher up on the hill, overlooking the beautiful bay and Lakki town, but unfortunately very exposed to the summer heat and icy winter winds, which doesn't make it the best location. Also, it is much further away from Lakki town now, but this has a purpose, as the new camp is planned to be a closed camp with controlled and very short exit policies, to make sure, refugees stay as secluded and invisible as possible. Nobody knows, though, how things will develop once the camp opens.
Shocking reports by NGOs such as 'Aegean Boat Report' about ongoing pushbacks at sea keep surfacing, and the very low number of sea arrivals in Greece seems to prove that something bad is going on out there. On Leros, not a single refugee arrived in more than a year, and since most asylum applications have in the meantime been processed, we are left with only 300 residents in the Leros Hotspot - 10 times less than a year ago! The ones still in the camp, mostly Syrians and Somalis, are cases with little chance of receiving protection status in Greece, as Turkey is considered safe for them. According to the EU-Turkey agreement of 2016 they are supposed to be returned there, but Turkey currently doesn't accept any returns from Greece. So these desperate people are again stuck in limbo for an indefinite time.
With few refugees left in the camp and with Ramadan going on for another two weeks, the island seems uncannily quiet. But soon Greece will open for tourism and we can see locals slowly starting to prepare for the season, cleaning, repairing, and painting beach bars, and souvenir shops. Whether the warmer temperatures will also bring more refugees onto the island, needs to be seen yet. Considering the size of the new Hotspot camp, the relevant authorities seem to expect that.