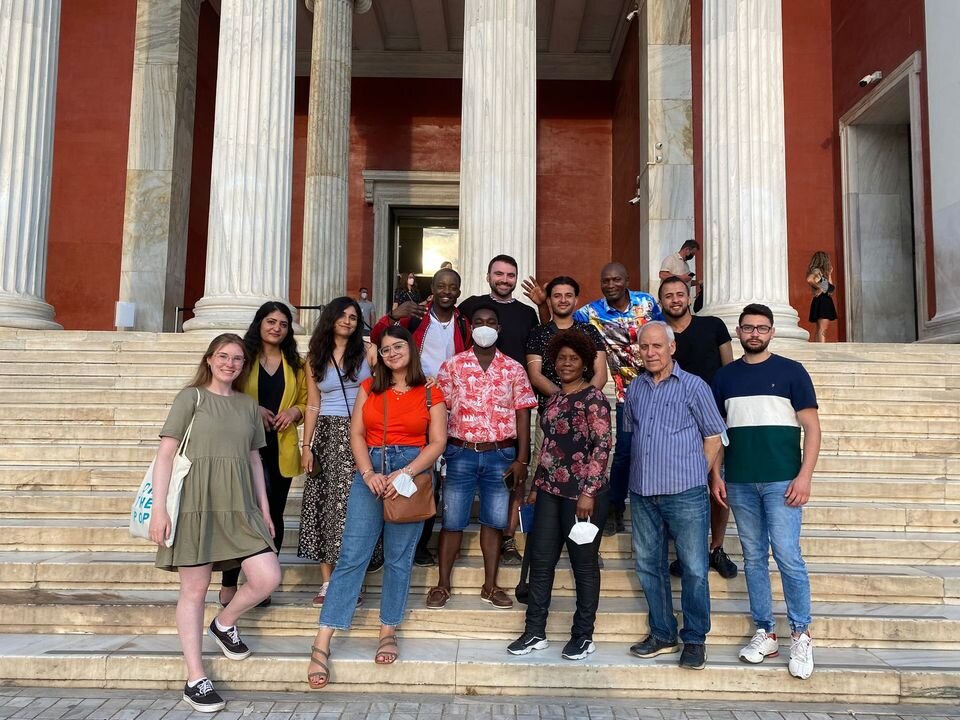 Dear Friends!
Spring has finally arrived after some challenging winter months in Athens - managing Covid's impact and deteriorating living conditions for refugee community members. With it, new energy and exciting new projects at the HUB. Since the Pandemic has loosened its impact on our lives and morale, students gradually find their way back to the HUB. Our teachers are ready for in-person classes and encourage students to join them. Parallel, we still run our online and hybrid courses (half of the students attend from home) to accommodate students who find it challenging to switch back during the term.
The month of May was dominated by preparing some 50 students for the Greek and English language exams. Both students and teachers were under a lot of pressure to complete their curriculums in time and find extra practising hours in an already packed schedule. Teachers were supported by our native English-speaking volunteers who spent many one-on-one tutoring sessions with students to practise their speaking and listening skills.
Our team has grown! In addition to our lovely local volunteers who have carried us through the winter, we have finally been able to receive international volunteers at the HUB again! Julie from Ireland and Bana from Jordan (University of Florida), Cas from Holland (on Erasmus exchange in Athens), Eva from USA/Greece, and Farahnaz from Afghanistan.
We keep adding new programs to our schedule. Our volunteers run computer classes and assist our remote IT teacher in preparing for the ECDL exams. We are now in the final stages of setting up our multilingual library, which will be open also to the community around us. We hope the library will be a tool for integration with the locals. We are already brainstorming to start a book club and invite writers and poets into our space. Also, our cooking project for the homeless is going strong. Thanks to our supporters, our volunteers can prepare 200 meals per week which are distributed by the streetworker organisation - STEPS. Another exciting project we are about to launch is an open art class at the HUB seeking talent and offering some recreational 'down time' for our students. We also reopened our roof for all-inclusive Yoga – students and team practise alongside one another.
HIGHLIGHT!
We have some stunning successes on the job front to report! In collaboration with our partners HR360, our employability services have found employment for 33 students at the Four Seasons Hotel chain. These are well-paid jobs, albeit only seasonal, but can lead to extensions and referrals to other hotels.
Other jobs at Domes Miramare, a Luxury Resort in Corfu, Teleperformance Greece, Zafolias Hotel Athens - just to name a few.
In addition, we are exploring new career paths for our beneficiaries and have run various information workshops in interpreting and caregiving for the elderly as a profession.
Our IT volunteers from INTECHgration ran a successful intensive Coding Pilot with ten talented students who are now equipped with skills to position them at an advantage to find employment in the IT world.
We continue to work closely with other partners and experts in Athens, sharing information and expertise. For example, UNHCR runs regular workshops from the HUB about essential safety issues and legal rights for our students. Furthermore, in our recently created Expertations talks, we invite representatives of open-minded companies, entrepreneurs, etc., to run information workshops about their work and potentially recruit from our students.
Without our supporters' ongoing help via the GG platform, all these services and activities would not be possible!
THANK YOU for making our work possible.
The ECHO100PLUS-Team