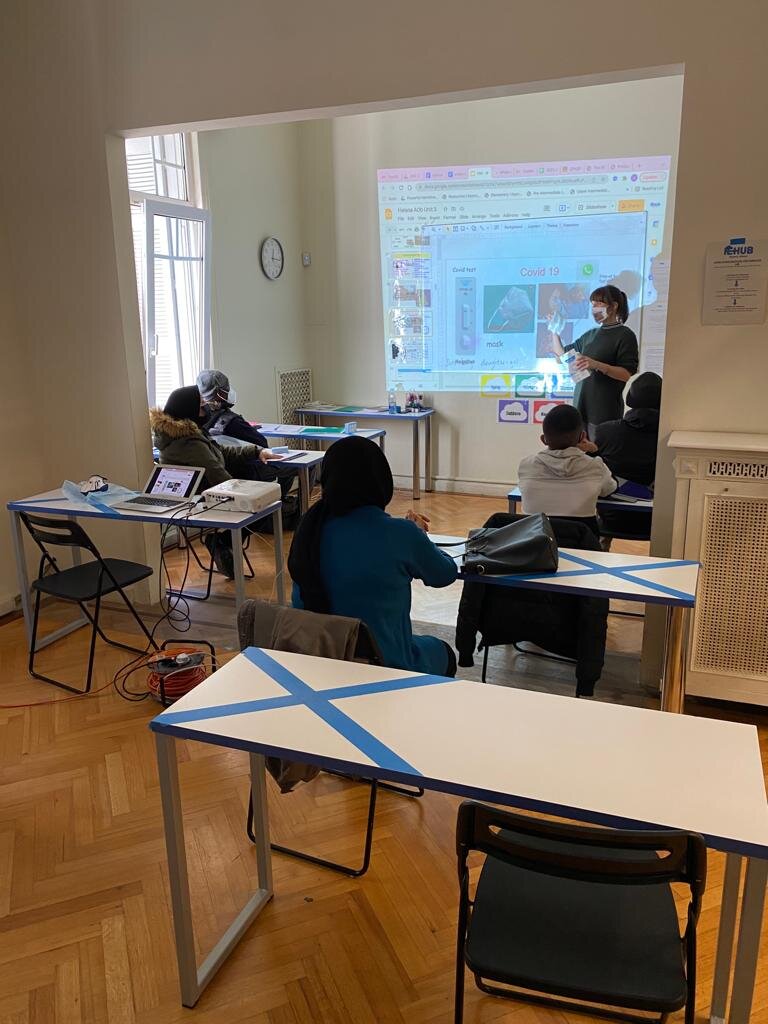 Dear Supporters!
Since our last report in September, we have regrettably witnessed a significant deterioration in the living conditions of refugees and asylum seekers in Athens. This is in part due to the fact that the cash cards program was interrupted cutting off a minimal yet vital source of financial support. This was a consequence of organizational incompetence by the Greek government. The transition back after four months to the Catholic Relief Service to manage the distribution of cash cards is about to be completed and the first cards are being reactivated, thank God for that.
However, this suspension has plagued thousands of families with food insecurity and homelessness (further exacerbated by the cold and wet winter months, the raging Omicron variant and an overwhelmed health care system). If it weren't for the solidarity and support of NGOs, religious congregations, and civil initiatives that scramble to fill the gaps and provide food and basic shelter, the situation would be disastrous. To help alleviate the deteriorating situation in Athens, our Athens HUB team cooks hundreds of hot meals per week which are distributed to the increasing homeless population. In addition, we have allocated funds to buy 30 food and hygiene packages per week that get distributed to the most vulnerable families through STEPS- a partner organization focusing on Street work.
Despite a myriad of difficult problems, we keep our spirits high and never lose focus of our mission: to offer a community space with educational and employability services to refugees and migrant communities in Athens. During the worst months of Covid-19, our English and Greek language classes took place online. However, in recent months, we started reintroducing in-person classes, as well as hybrid options of offline/online to be as accessible and inclusive of our students as possible.
Many of our students are in quarantine, frightened to attend physical class, or are otherwise busy. But we do everything in our power to make our students feel safe and to offer stable, uninterrupted coursework for a sense of security and continuity. At the HUB, we enforce social distancing and lots of fresh air; students and staff test daily, and we provide FFP2 masks to all. This is an enormous organizational challenge and is only possible because of our excellent teaching staff and support team! Later this year, we proudly expanded our English and Greek classes by adding more experienced staff who currently teach 176 students on seven different levels. We also sponsor our students and help them prepare for exams, from the intermediate levels to the certified language exams. We offer employability programs such as computer classes which are necessary to obtain the ECDL qualification, as well as a coding training pilot for advanced IT students. These are in fact run by members of the refugee community. In addition, we run a CV clinic and assist with employability and vocational training opportunities. With a grant from the Austrian Ministry of Social Affairs (our first-ever governmental funding source) explore developing new career paths for our students in Athens. Currently, we have two projects in the pipeline. The first is an informational workshop to empower and assist students to work as interpreters, which is run by a qualified professional. The second is to set up a professional home caregivers training course to care for elderly people or people with special needs. We are researching for partners locally and internationally to make this a reality. We believe this is an underserved sector with a lot of employment potential for our communities.
Highlight!
We received yet another generous book donation from Book Aid International for our library at the Athens HUB, which we want to open to the locals as soon as we have built a presentable stock! We are so excited to start unpacking hundreds of copies of novels, non-fiction, science, dictionaries, and many more– Thank You, BAI!
And THANK YOU to all our supporters on GlobalGiving – returning and new - we could not have gotten through these difficult months without your generosity! Thank you so much!
In solidarity,
Gabi, Catharina, and Gabriella, and the ECHO-Team