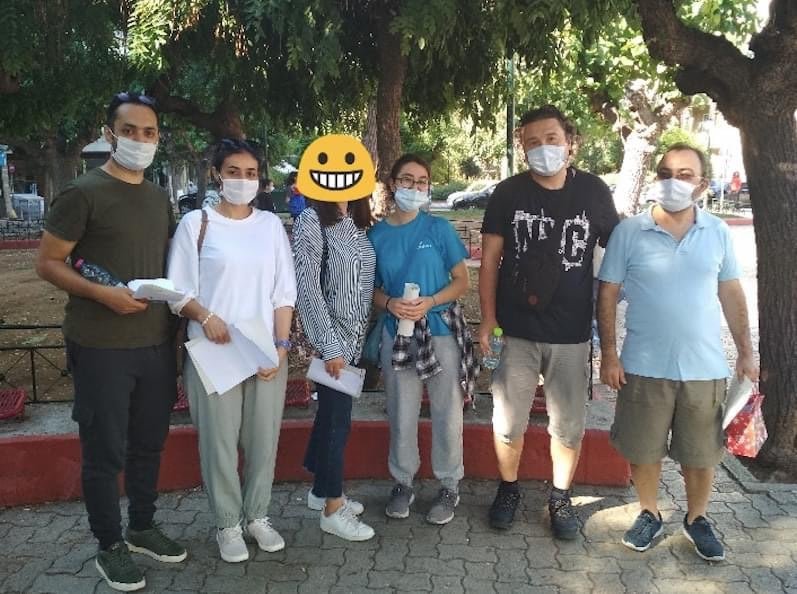 DEAR FRIENDS!
Looking at my last report reminds me never to say never again! Corona is still around, and we have to do our best to protect the most vulnerable in our societies!
The beginning of September marks the return to education worldwide, and our HUB in Athens is no different! Although this is a stranger year, without students physically in the HUB, we have managed to continue with online classes, and our teachers have been working hard at creating the same back-to-school spirit through zoom. We are almost used to the new normal of speaking through masks and elbowing colleagues. Despite the lockdown, we distribute lesson packs and homework from the HUB and pens and notebooks for our students. We have also welcomed new volunteers; Noora, Caitlin, and Euan, who you may have seen at the front desk or helping us out in the kitchen. And a warm welcome to our new Greek teacher, Lambrini, and to Maria, who will be our coordination and administrative support, and much more. It is great to see so many familiar and new faces for a new term and increase our capacity to develop new projects. We are now preparing a soft opening of in-class attendance with strict social distancing rules and mandatory vaccination for all or regular rapid tests. All our team is already fully vaccinated, but we nevertheless self-test twice a week to add another layer of safety. As announced, we have created an ambitious training program for this term! At the beginning of September, we restarted and increased the capacity of our intense Greek and English language program, adding more experienced teachers and volunteers to our team. In addition, we offer financial literacy/life skill workshops, a variety of computer courses, including ECDL certificates and Basic Coding training! Also, we are developing new projects to increase the employability of our students by offering information workshops for career pathways as interpreters and home caregivers. Some facts and numbers for the last months of our work at the Athens HUB: Despite being locked down between February and July, our teaching staff taught 1093 online classes across all levels! In addition, we just reopened registrations for our language program, adding more courses in both and Greek languages to accommodate students from waiting lists and recruit new ones. As a result, we aim to accommodate190 students in total (max ten students per class is the Corona capacity) in the following weeks for language courses. In addition, we are also recruiting for our ECDL computer evening classes and our Pilot in Basic Coding. Also, we increased the number of meals to 120 per week as part of our ECHOSTEPS UP project to support the homeless on the streets of Athens. Thank you to the cooking team for your hard work and creativity to provide nutritious and delicious meals.
Highlight!
We want to say a huge congratulations to all our 26 students who sat ESB English Language Exams in June. Every student passed, and we saw some wonderful results with 11 Merits and 6 Distinctions - a testament to their hard work and dedication.
Learning online definitely has its challenges, but we managed to make it work and ended up having a lot of fun along the way! We prepared throughout February - June with Zoom classes three times per week, plenty of homework, and regular practice exams.
And it certainly paid off! Well done, everyone!
Also, a huge well done to our teachers! They have pulled together in this challenging situation and have done an incredible job!
We thank all our supporters who make all this possible!
Gabi, Catharina, Gabriella and the ECHO-Team